If you're working as a flight attendant and looking to step up into a new role, or if you are looking to start your career as a member of cabin crew, you will need to write a résumé that is tailored to the role you're applying for, that showcases your best skills, education and experience, in a design that reflects the industry and your personality.
If you're not sure where to start, look no further, as we have you covered with the best résumé examples and reviews below. Each of these résumés has been written for various stages of a flight attendant's career and, with a bit of tweaking, can be used for applications at all levels.
1. Experienced flight attendant

This résumé is traditional in design, with clear sections, logical progression and a simple font. The title, profile and experience section clearly represent the experience level of this flight attendant. Their credentials are backed up with the education and certifications section, which even at a glance show that this person is highly qualified and engaged in professional development.
Keywords and accomplishments are made very clear, adding to this person's credibility and supporting ATS compliance.
Sometimes, simplicity is key. Don't be afraid to keep it simple; just make sure you only add the most relevant skills, as well as making sure you write a standout career objective or summary, so the recruiters know you mean business.
2. Flight attendant with no experience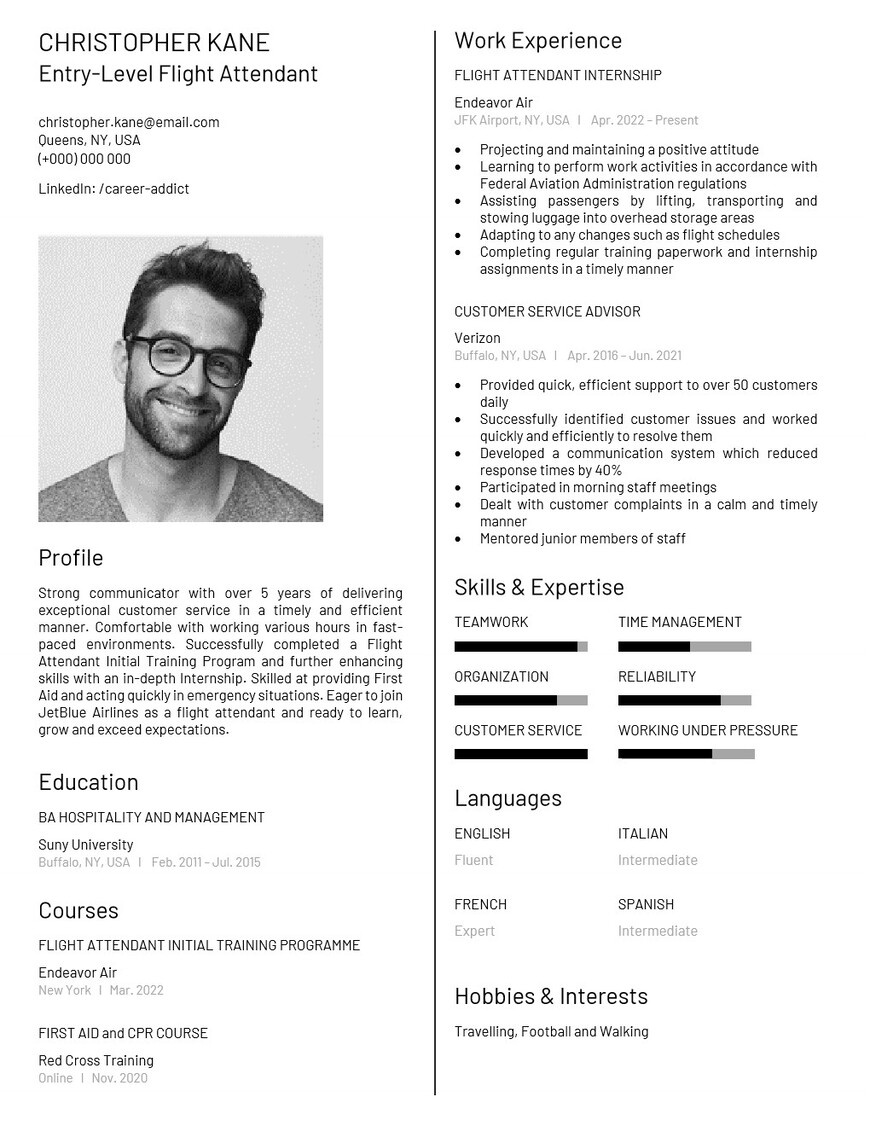 This résumé is a good option for someone with little or no experience because the design isn't so heavily dependent on experience. It's divided into columns and the first column is devoted to education and courses, as well as a profile to address the lack of experience by highlighting other qualities.
This allows the reader to understand Christopher's abilities and how they translate to a flight attendant role, before seeing that he has no experience. In Christopher's case, he has an internship to draw on, which is highly valuable if pitched right like it is in this example. There are also prominent sections for skills and languages to show how he well he will fit within an organization.
3. Chief purser/senior flight attendant

This résumé moves away from a traditional design, whilst keeping a chronological format. It is eye-catching, like a page from a magazine, whilst still maintaining black font, lots of white space and bullet points to keep it professional.
David's profile immediately lets the reader know his level of experience, and even though there is only one prior employment entry, it's clear from the dates and details that he's been in this role for a long time and amounted many accomplishments, which are well documented in the experience section.
His photo looks professional and adds an element of interest to an otherwise simple looking résumé, but be careful to check whether a photo is required in the country you are applying in.
4. Private flight attendant

This résumé template is professional and clear, whilst also adding a bit of personality with the photo and color blocks in black. It starts with a strong summary that outlines Natalia's level of experience and skills. As she only has three years of experience, she's focused on courses and training that may make her stand out, which is highly effective and is backed up by the section at the bottom of the résumé.
It's important to list your skills section clearly within your résumé, like Natalia has done in the above example, as well as including keywords from the job ad. The skills section here draws the eye after her photo and it uses all the right keywords, as well as demonstrating that Natalia is an expert in all the skills listed. This résumé is a good option for a private flight attendant who has a little experience.
5. Graduate flight attendant

A graduate résumé tends to focus on education over work history, because it is most likely that a recent graduate has not has much time to gain skilled employment. This résumé by George is an excellent example of this, with his education listed above experience. George has taken some additional courses, as well as a degree, and showcases them near the top, which is going to make him stand out.
The profile is highly skilled focused, given the lack of experience, but still highlights the professional skills he's gained from his one year as a flight attendant.
6. Purser

This résumé adds a bit of color and depth in its design to make it stand out, whilst still maintaining a professional appearance. The yellow/gold text across the picture that continues through the design gives a message that this person is happy and positive. The clean lines and confident font give an air of sophistication and trust. When writing your résumé, make sure to check the meaning behind certain colors, like Fernando clearly has, as you can use these to portray your persona.
Fernando's summary/profile is strong and highlights many of the qualities that the colors portray, focusing on his skills, passions and ambitions.
The photo is a great addition to the overall appeal of this résumé, but make sure that you check whether a photo is required in the country you are applying before including one.
7. Flight attendant with a career break

This résumé uses the same colors as the one above, showing that this person is feeling excited and ready to return to work. This is also reflected in the wording, making use of adjectives such as "eager", "enthusiastic" and "confident". You should also consider using action words within your résumé, like John has here. He uses words like "conducted", "assisted" and "promoted" to get his point across.
Given that John has had a short career break to work in a different field, his résumé places skills above his work history in order to help the reader see that they have all the necessary abilities to do the job, before they see that they have had a break from the industry. This skills-based résumé is a very effective way to present a career break.
Even though he's taken a career break to work as a waiter, he has listed skills under this professional experience entry that are transferable to working as a flight attendant.
8. Flight attendant recruiter

The design of this résumé stands out, as it's quite different. It has columns, color and black blocks to define each section. The design is effective in standing out whilst also being easy to read and the color pink symbolizes trust and good interpersonal skills. These are great qualities for a recruiter.
The summary clearly outlines what Jane can do and what she enjoys most, and her professional experience section includes accomplishments as well as duties, which really highlights her credibility. Her skills and languages are easy to read and add value and she has added a section titled "awards", which shows she has a little something extra amongst competitors for the role.
9. Flight attendant instructor/trainer

The summary section on this résumé gives a strong start and demonstrates this jobseeker's years of experience, showing that he has amassed a great deal of skills in the industry. Even though there is only one prior job mentioned, it's clear from the summary and listing itself that this is a long-term position.
In addition to experience, skills and certifications are clearly listed and stand out through variations in text color and a clear, professional layout.
10. Career change into flight attendant

At first glance, this résumé may not seem to match the job, as it is titled "Health and Safety Assistant", however, once a recruiter starts to read the summary, they will see immediately that this person is looking to transition into a role of flight attendant, and the transferable skills all become clear.
This person has done a great job at demonstrating how her background in health and safety is relevant to a role as a flight attendant. This is continued into the experience section, where relevant transferable skills are highlighted, and in the skills section, too, where the focus is languages and relevant soft skills.
If you're wanting to change careers, it's worth thinking about your existing skills and how they apply to the career you're wanting to move into. If you're used to working under pressure and giving great customer service in your existing role, then these would also be applicable to the new role, for example. However, if your specific skill is unrelated, it's best to leave it out.  
Final thoughts
There is no one size fits all when it comes to writing a résumé, so it's important that you find a template that you like, that reflects what you have to offer and one that can be tailored to your situation, skill level and experience.
Give thought to the font you use, the colors and design, as well as the wording, so you are able to offer something that is professional and clear. Keywords are important when writing your résumé so that you can make it ATS compliant and pass applicant screening software.
Using an existing template and adapting it to your needs is an excellent way of ensuring you have a professional design that is going to be welcomed by recruiters.
What do you think of these flight attendant résumé examples? Did you find them helpful? Let us know in the comments below!