The dreaded employment gap — it feels like a big red X on your résumé, deterring anyone from interviewing you! If they would just give you an interview you could explain the gaps in your employment history, no problem, but how do you do that prior to the interview?
Employment gaps, as we all know, can be tricky. It doesn't matter if you have one small gap in between jobs or a few larger ones, explaining them feels overwhelming, especially prior to the interview. Is it even possible to do so? We are here to help you write a job-winning résumé by crafting it to focus on your strengths, and less on those employment gaps. With our tips, the employment gaps on your résumé shouldn't bar you from interviews again!
What are employment gaps on a résumé?
An employment gap is simply a period of time (duration does not matter) when you were unemployed. Unfortunately, even though three in five Americans (59%) have been unemployed or had a gap in their career, these gaps on your résumé can raise red flags, mostly due to the ambiguity that surrounds them, when in reality, employment gaps aren't always negative. Let's look at a few common reasons why a candidate might have employment gaps to begin with:
School
Travel
Job seeking
Parental leave
Whether the gap is due to taking care of a sick family member, welcoming a new addition, layoffs out of your control, furthering your academic career, changing careers, seeing the world, or even actively seeking a career, any time on your résumé that is not filled with employment is qualified as a gap. But don't worry, it does not have to be the end of your career as you know it, there is still hope! 
Ways to address employment gaps
If you have employment gaps due to some of the items listed above, don't panic! There are lots of different ways to approach the issue, including hiring a résumé writer or getting a résumé review to highlight any potential issues.
If you want to tackle it yourself, here are some things you can do on your résumé to avoid those gaps sticking out like a sore thumb and highlight the skills and previous work experience that really should matter when applying for a job.
1. Omit the month
Some jobs may not have overlapped ideally. Maybe you spent a month or two searching for the next best thing, or maybe you took some time off in between jobs on purpose. Either way, omitting the month from your résumé may avoid this being an issue at all. Let's look at this in an example:
Job X, August 2015–January 2017. Job Y June 2017 – Present
Job X 2015–2017. Job Y 2017 – Present.
As you can see, omitting the month takes out the gap all together. While it doesn't erase it (it's not a time machine), it may allow a little wiggle room that could get your foot in the door for an interview where you can use that time to explain more about your employment history and what you did with your time off between jobs.
2. Detail longer employment gaps as career advancement
Perhaps you're coming up to a long career gap where you were taking the time to find yourself professionally, and that should be enough for any prospective employer, right? Most of the time, even if you found a level of zen that we can all hope to achieve, this will not be enough, so try to turn those gaps into ways you advanced your career.
Did you spend time evaluating which career would make the most sense for you? Were you focused on getting a degree to pursue a career change you have always wanted to achieve? Did you spend a gap year traveling the world? Whatever the reason may be, focus on highlighting its career advancement aspects and it helps bridge that gap. Let's see how this would look visually on your résumé:
Full-time student, 2018–2021
World traveler, 2018–2021
You could focus part of your résumé detailing where you traveled or what you studied in school to qualify this as a separate section. Ensure this stays professional, while still qualifying the gap all the same.
3. Choose a different résumé format
There are many different résumé formats to choose from, while we have a preference for these 8 best résumé formats to land a job, sometimes it's as simple as selecting the correct format that highlights your assets.
For a résumé focusing on strengths and hiding those career gaps, maybe the chronological résumé would not be for you. Detailing your work experience sequentially would put the employment gaps out for all to see.
Maybe a skills-based résumé (or functional résumé) would attract the right employers by highlighting your key skills, instead of the time you spent at each employer. Or, perhaps the combination résumé would make the most sense in order to highlight your skills while not overlooking the detailed work experience.
While we do want to work on bridging the employment gap, nearly 91 percent of employers prefer that candidates have work experience. Find a résumé format that allows the light to be shone on what you can bring to the table, not the employment gap that accompanies it.
4. Add a note
Adding a note can be helpful but be sure you're adding it in the right place. There are a few options of where exactly to add it, should your organization request a cover letter, that would be a great place for the note. Or, without the cover letter option, this would go in the details section of the most recent job before the employment gap. It could read something like this:
Project Manager, 2017–2021. "I left my last position to bring my daughter home and take care of her during her first year of life. Currently looking to return to the full-time workforce in a project manager role."
It's not uncommon for interviewers to ask the question, "What have you been doing since your last position?". Adding a note, such as the one listed above, can take out that extra legwork as they are evaluating your résumé. You're qualifying the gap in employment prior to when you actually have to prepare for a job interview and allowing recruiters the information they need to keep you in the candidate pool.
5. Add a "career break" placeholder
Typically, if your gap is a bit longer, maybe a specified placeholder would set your résumé apart. By doing this, you're saying, "I have a gap for a good reason that should in no way deter you from hiring me!" A career break placeholder could look like:
Planned Career Break 2018–2021. "Took intentional time off to focus on full-time caregiving. Proactively continued my certifications while enhancing my self-management skills and ability to focus."
Turn that time off into something positive you could use for your prospective employer. While you may have not been being paid to work during the gap in this instance, you can still see the beauty in how the gap made you a better person, and your future employer should have the opportunity to see that too.
Tips for addressing employment gaps
While employment gaps often cannot be avoided, it doesn't mean you can't learn a few things along the way. Here's a list of our best tips for addressing employment gaps.
1. Stay positive
It can be extremely exhausting applying for jobs, especially when you're applying for job after job and still not receiving any interview requests. After some time, it becomes difficult to stay positive.
Try to focus the time you have working on something productive and keep sharpening your skills while you wait for the opportunity that is undoubtedly right around the corner.
Once you receive that call for the job interview, the last thing you want is to be grumpy about how long it took someone to recognize your brilliance. That's a surefire way to not be called for a second interview. Stay positive and stay productive, the employment gap may have happened in the past, but it will not dictate your future. 
2. Be honest
After waiting for what seems like forever, it can be easy to think that the only reason you're not getting called for an interview is because of those gaps, and if you could just omit them all together, maybe it would help. Don't do it! Always be honest, you shouldn't lie on your résumé, no matter how down in the dumps you are feeling.
Use the tips above to bridge the gaps on your résumé and focus on starting your new employment on a high note with transparency and honestly.
3. Avoid future gaps
Lastly, and perhaps the most important of the three tips, is to avoid future gaps. While we recognize that gaps happen, as there is sometimes no way around them, what if we told you maybe there was?
You may not have the ability to work full time or even part time right now, but that doesn't mean you have to take the career gap hit. To avoid future gaps, look into the following:
Contract work
Temporary work
Volunteering
Speaking engagements
Training
If the gap is truly unavoidable, look into some temporary or contract work to fill the time, or perhaps volunteering would be a great fit.
Consider evaluating furthering your career through training or even utilizing your skills by being a guest speaker at seminars or local career chapters. While the gap may be unavoidable, what you do with your time during the gap can truly help!
Résumé example
We have spent time equipping you with the appropriate information to bridge the employment gaps on your résumé, now let's look at an example of how this would look on a résumé.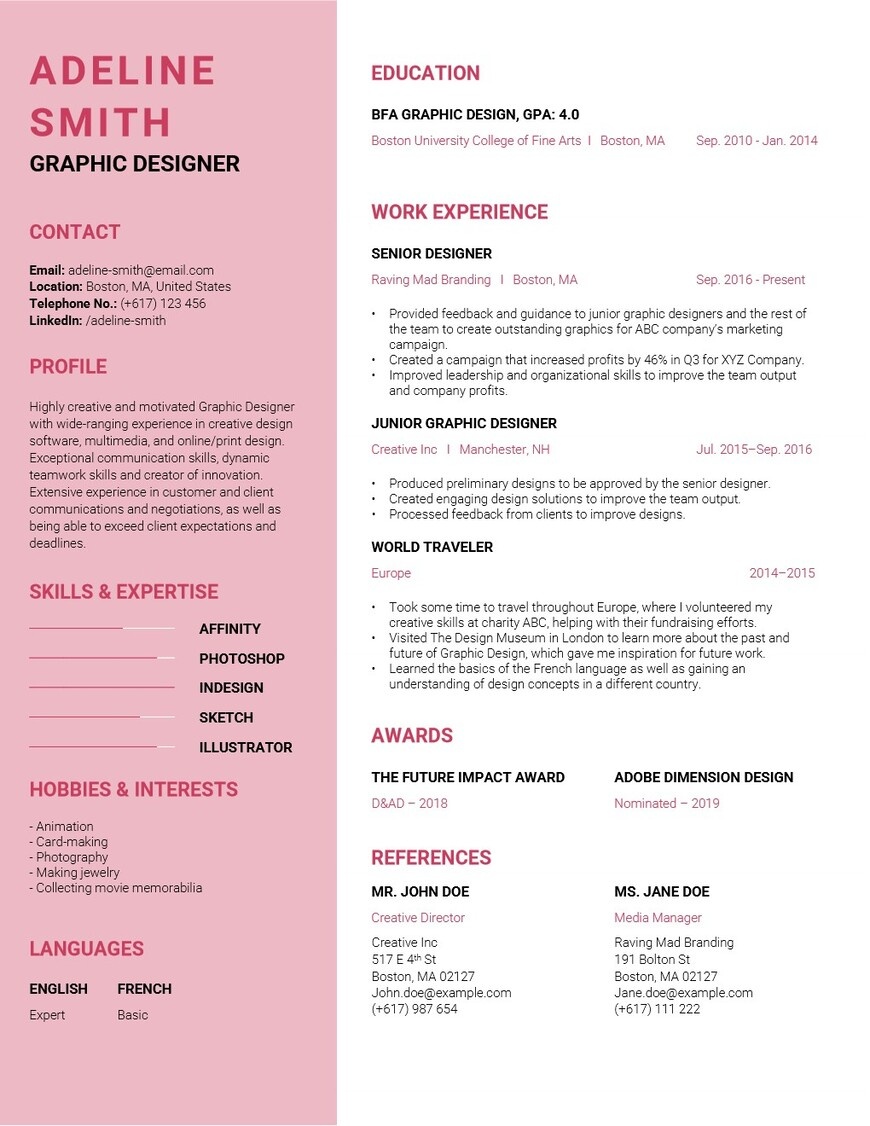 Get the Pink Aesthetic template
Key takeaways
It doesn't matter how you spin it, when you have employment gaps, it feels like you're running the wrong way on an escalator, but remember:
Address the employment gap
Always be honest
Avoid future gaps
If you can confidently move forward with those in the forefront of your mind as you approach your employment gaps, you're sure to succeed.
Have you ever had to fill in any employment gaps? How did you approach it on your résumé? Let us know in the comments section below!