Deciding to become a teacher is a wise career move. It pays well, there are plenty of holidays, and there's undoubtedly a lot of job satisfaction to be had from seeing children progress and develop under your tutelage.
As a result, though, teaching can be quite a competitive profession – especially in countries where the supply of educators outweighs the demand. If you're having a hard time landing a role, then you might need a little help in setting yourself apart from the crowd, especially when it comes to your CV or résumé.
In order to assist, we've compiled a great list of teaching résumé examples and templates that you can use for inspiration in your job hunt, so put your job search worries to rest.
These are 10 of the best CV samples for teachers.
1. Secondary/High School Teacher
High (or comprehensive or secondary) school teachers need to balance an educational background in their chosen subject with the ability to understand curriculums and key teaching objectives. They also need to demonstrate a pastoral commitment to teaching young adults, with an understanding and sensitivity of the issues and problems that they might face.

TopResume
This is a simple example to start with; it is professional, and it focuses on the personal attributes and characteristics of the applicant while highlighting the key skills that they can bring to the role. It doesn't really spend any time discussing educational qualifications or certifications, which is handy if you're not overly qualified and, instead, lets skills, qualities and experience lead the way.
It is also formatted in a clear and easy-to-follow way, meaning that the recipient doesn't have to try and focus on finding their way around the page.

Novorésumé
If you'd prefer to jump off of the page a little more and add some colour to your application, then this is a strong template to follow. It is more rounded than the first example and shows off not only the candidate's key skills but their education, certificates and linguistic abilities, too.
This is important, as this particular candidate doesn't have much actual teaching experience; if you're in a similar boat, then you need to emphasise what else you can bring to the table. By highlighting – and giving precedence to – their volunteering experience, the applicant is demonstrating that they're enthusiastic, keen to learn and proactive: all highly desirable skills in a teacher.
2. Primary/Elementary School Teacher
For elementary or primary school teachers, much of the focus is on showing that you can work well with young children and break down concepts in a way that is open, effective and, in some instances, innovative.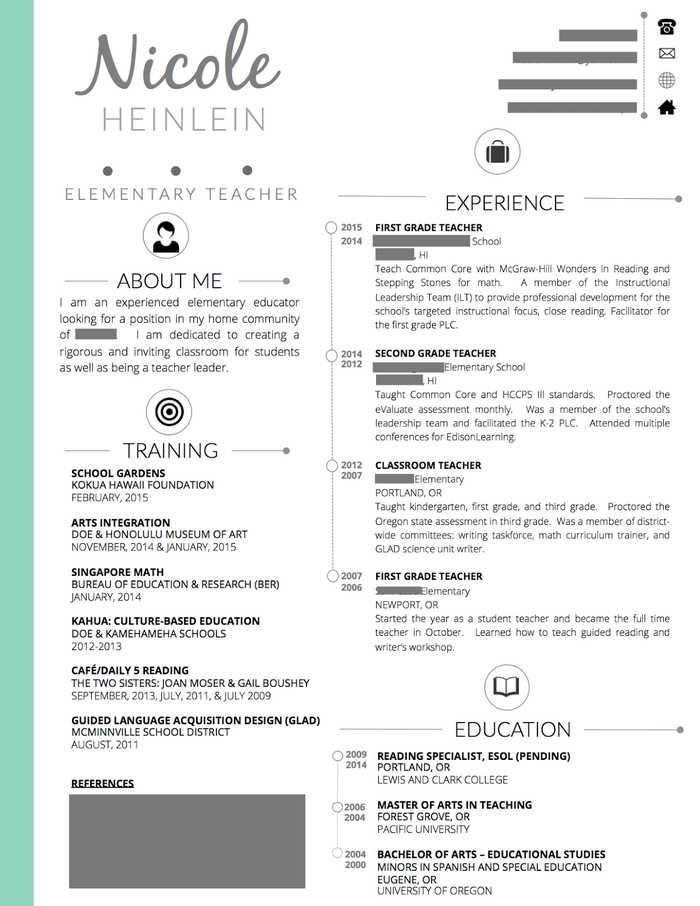 Teaching with Style
This is a great sample résumé for teachers, with the candidate laying out all their key information in an aesthetically pleasing format. She is clearly well-experienced and surmises what she achieved in each of her previous roles well while putting a lot of emphasis on the training courses she has completed. All of this identifies the applicant as a driven, ambitious and well-rounded teacher who is always looking to learn and improve.

Rutgers
Unlike the previous candidate, this applicant doesn't possess as much work experience, but her CV highlights in bullet point format all the things she has learnt and achieved during her student teaching placement. This is a great résumé template for a primary school teacher who is just starting out, and it demonstrates perfectly how you should maximise and make the most of your limited experience.
3. Supply Teacher
If you work in a supply capacity, it can be tricky to find a good teacher résumé template. This is because you will likely have a lot of experience for small periods of time in a lot of different places, which doesn't translate easily onto one page.

Alina Dragoi via SlideShare
This is a fairly good example, however. The candidate markets herself as what she wants to be – an art teacher – and doesn't try to break down her employment history into the various roles she has been fulfilling in the past. She then puts all her placements (not just in art, but other subjects, too) into one section, highlighting her broad range of experience without having to explain in-depth what each placement entailed.
Also, while her translation experience is not related to teaching, including it in her work history demonstrates her language skills (which could be directly relevant to the job application), while also showing that she is skilled in taking concepts and putting them across in a different way.
4. Teaching Assistant
If you are just starting out, or you are a student teacher about to finish your training, then you will need to take a slightly different approach to your CV.

LiveCareer
As your education and qualifications may not be at the same level as a fully qualified teacher, you need to make sure that you highlight your experience in the classroom and demonstrate how you work well with children. The applicant in this example has done just that, drawing attention at the top of his résumé to the key skills that he brings to the classroom.
5. Preschool Teacher
Preschool or early learning teachers play a slightly different role in the education system to primary and secondary school teachers. They don't follow a core syllabus, per se, but rather are more concerned with aiding the early developmental stages of small children.

Monster
While the aesthetics of this CV are not particularly appealing, it's a good example of what should be included in a preschool teacher résumé. It shows clearly that the candidate possesses the right qualifications and credentials, as well as highlights the key skills that preschool recruiters are going to be looking for.
It also even offers testimony from a previous employer, which can help to set you apart, although you shouldn't include this if you can't prove the person said it on record (such as in a performance report that you have a signed copy of or a LinkedIn endorsement).
Make sure you focus on your creativity, too. Working with children requires innovation and the ability to think outside the box, so show off how you are able to keep your pupils engaged.
6. Subject-Specific
In many countries, there can be a shortage of teachers who are trained or experienced in teaching a certain subject; science and mathematics are two good examples of this, as are IT and languages. Therefore, it can sometimes be a good idea to reinforce your suitability for a subject-specific teaching role.

Resume Genius
This example, for an English teacher, highlights the certifications and training they have received in their subject, allowing the recruiter to see right away if they fit the bill. They've also focused on their employment history on how their achievements and experience are directly related to their teaching ability in English, such as the bullet point discussing how they trained four other English teachers. This shows that the applicant is significantly experienced in their subject.
7. Tailored
It is always recommended to tailor your CV, regardless of your industry or job, and teaching is no different.

Zety
This is a good example of a teacher CV that is tailored. The candidate is applying to a specific school (Smith High School) and addresses the recruiter directly, stating that she seeks to bring 'intelligent, enthusiastic solutions to your students'. This personal touch can have a very positive effect, especially if it's backed up in the rest of the CV.
This, of course, comes down to doing your research and understanding the culture and identity of the school that you are applying for. Find out what their mission goals and statements are and align yours to match them. If you are only applying to a few schools, then it's well worth the extra time and effort that this approach can take.
8. Principal / Head
For senior teachers, such as headmasters/mistresses and principals, you can think of your resume as being akin to an executive CV; this means that you don't need to focus on the minute details of your classroom and teaching experience, but more on your ability to manage departments and/or institutions and provide quantifiable results, such as increased exam performance or grant acquisitions.

snefci
This is a great example of a senior teacher CV. As mentioned, recruiters are already aware that the candidate has extensive teaching experience; they want to know in more detail about their management and leadership skills. This résumé focuses on the professional institutions of which the applicant is a member, suggesting that she has a strong network of contacts and is a passionate driver of education issues at important levels.
These template examples can give you a few ideas on how to create your CV, BUT if you're still struggling and feel like you need the guiding hand of a professional, then be sure to check out our handy CV writing service!
Finally, always remember that job search success is not defined by how many CVs you send out, but rather the quality of each one.
Are you a teacher? Do you have any other CV tips? Let us know in the comments section below!