Chief executive officers, or CEOs, are commonly the highest-ranking person in a company. Many organizations have a CEO, and not just blue-chip companies with a global remit — even hospitals, for example, need a leader!
Tasked with driving the business forward, as well as making key decisions and navigating the complexities of owner or shareholder relations, the role of CEO is as responsible as they come. They can often be founders, having started their company from scratch and taken on the role as it matures, or they may have risen through the ranks of a company to get to the top.
This article discusses the role in more detail, as well as how to become a CEO yourself!
What CEOs do
The role of a CEO will vary significantly depending on the size, scope and purpose of their organization. After all, they could be in charge of a small business with a handful of employees and a few thousand dollars of revenue each year, or lead a Fortune 500 company with thousands of workers and millions — or billions — of dollars of revenue.
Some CEOs might need to tackle very different priorities, depending on what their organization is going through. Many companies, for example, will bring on a new CEO to help them navigate challenging times or scandals; others will be best-suited to running a safe and consistent operation.
In general, CEOs are the principal point of contact between a company's directors, its employees and the general public. They perform a functional and important role but also a symbolic one, serving as the figurehead of the organization. Consequently, many CEOs are household names — like Mark Zuckerberg of Facebook, Elon Musk of Tesla, and Mary Barra of General Motors.
Here is a list of the main duties that CEOs are expected to perform:
Manage and guide C-suite executives, such as the chief technology, chief operations and chief financial officers
Develop and ideate business purpose, strategy, core values, mission and vision
Lead and drive this vision into a long-term business strategy, typically over a few years at least
Set goals as part of this strategy and cascade them to C-Suite executives
Sign off on the largest, costliest and most important decisions for an organization
Attend and represent the company in annual general meetings
Attend board of directors' meetings (where appropriate)
Act as the figurehead for the company, leading by example and by company values
Communicate with the media
Visit company locations and spend time with managers and also employees
What the job is like
There's a lot more to life as a CEO aside from simply sitting in an office. The role is varied and busy, and demands a lot of your time. This section covers the CEO's work environment, working hours and job satisfaction.
Work environment
CEOs will often be based in an office, typically the headquarters of their organization. Their office will typically be large and comfortable, given that this is the most senior role in the company. Despite this exclusive-feeling working lifestyle, the realities of being a CEO will mean that you will be traveling a great deal of the time, attending business trips around different sites (and usually overseas), as well as attending in-person or remote meetings. This busy, multi-time-zone environment can lead to many pressures and stresses.
In general, being a CEO is stressful work. You will always be on call and will be regarded as the first point of contact for many complex issues. If there is ever a crisis at work or something that has caused major challenges or presents serious financial or legal risk, you will have ultimate accountability and will need to face the press, directors, owners and shareholders to discuss it. You will need to travel extensively, which might sound glamorous at first, but can be very hard work and demand lots of time away from your family.
Work hours
The reality here is that CEOs will not have typical work hours. The role might be a 9–5 office job on paper, but you'll need to spend a lot of your time out of hours networking with industry groups (as a representative of the company), attending meetings (including over mealtimes such as dinner or breakfast) and spend weeks — or months — away from home traveling. They say that CEOs don't — and can't — waste a single minute of their day. Many CEOs have crazy and grueling routines, as they need to be able to function at their best for many hours, non-stop.
Job satisfaction
It's a common misconception that because CEOs have reached the apex of their career, and enjoy significant responsibility and compensation, that they're happy people. Research suggests that the stresses of being a CEO, as well as the need to be "always on" and ever mobile in order to effectively execute the role, means that they're not always the most satisfied of employees.
Although the same can be said for many roles and careers, finding happiness as a CEO is said to predominantly come from within. If the thrill of leading a company and driving it forward to new or bigger and better things doesn't give you a buzz, then maybe it's time to think about doing something else.
Job market
Seeing as there is only one CEO in each company, there's only ever going to be a limited number of roles opening in this field. Furthermore, many CEO roles are not advertised in a typical way, as the position is often quietly recruited for by a board of directors, advertised internally or posted via niche executive search recruitment agencies. Indeed, the CEO job market is forecast to contract by 6% by 2030, owing to organizational mergers and restructuring activities, rendering many CEO roles obsolete.
Salary
CEOs are paid very well, and people in this position are often regarded as top earners globally. The overall package might be made up of a basic salary, as well as various bonuses and share options.
On average, CEOs earn $213,020 per year (or $102.41 per hour) in the US, according to the Bureau of Labor Statistics. Conversely, the national average salary for all occupations across the country is $58,260. This means that CEOs make 265% more than everyone else.
Earnings, meanwhile, depend on level of experience. New CEOs, for example, earn about $60,300 a year, while those with many years of experience and a track record of success can command salaries as high as $350,000.
Location is also an important factor. CEOs in the District of Columbia are the highest-paid across the US, earning an average $290,560 per year. They are followed by CEOs in the states of Hawaii ($289,860), Washington ($279,590), South Dakota ($272,780) and Massachusetts ($267,070).
Here's an overview of CEO salaries: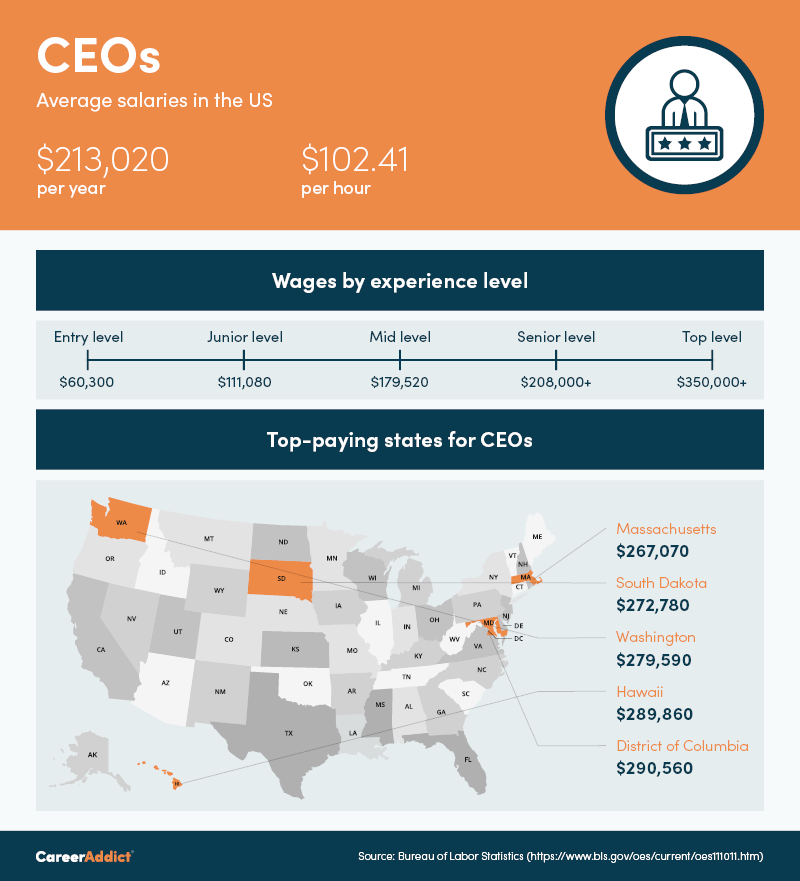 Essential skills and qualities
Being a CEO requires a complex skillset and certain attributes. These skills are not directly attainable in relation to the seniority of the role and are instead often learned and perfected over many years. They will need to be mastered in order for you to be truly effective in a CEO role.
The top professional skills and attributes needed to become a CEO are:
A strategic mindset
Excellent communication skills (including media management)
Ethical awareness, business integrity, and transparency
Networking and relationship management skills
Creativity and innovation
An ability to take risks
Impeccable leadership and influencing ability
Excellent business acumen
Focus and self-management, or an entrepreneurial mindset
Steps to become a CEO
If you have read this far and still feel that becoming a CEO is the dream job for you, then it's time to think about the steps needed to become one. Being a CEO takes many years of preparation, and you need to be ready to play the long game to become one. This section takes you through the journey of rising through the ranks to chief executive level.
Step 1: Determine if it's the right job for you
Becoming a CEO begins with you demonstrating that you're aligned to a company's values and ethos. This is especially important, as the CEO is needed to champion a company's cause and, therefore, must walk the talk, all the time.
You also need to have the personality and inherent skills needed to be a CEO, as noted above.  If these are skills that you enjoy using, and are naturally good at, then being a CEO might be a logical career goal.
If you have considered your interests and skills but are still unsure what role is best for you, then taking a career test, such as our very own CareerHunter, might be the best option. This assessment suggests careers for you based on what you're interested in, as well as what you're good at.
Step 2: Cultivate the CEO mindset
Becoming a CEO requires adapting a certain mindset and establishing certain behaviors early on in life. CEOs need to be hard workers, and typically adhere to tight and exact schedules such as getting up early to clear emails, keeping to a daily wellness routine, and finding daily time to destress and eat well. Establishing a similar routine for yourself will mean that, over time, it simply becomes a part of who you are.
Other elements of a CEO mindset require a little more training rather than simple action. Cultivating an entrepreneurial mindset and learning how to set long-term goals are other important parts of thinking like a CEO, and are often able to be developed through online courses.
Step 3: Get educated
CEOs will typically have some form of higher education (although a few examples have famously dropped out of university to set up their companies). In addition to a bachelor's degree in a field relating to the business or organization they're working in, CEOs might also have a master's or doctorate degree — such as an MBA from a leading business school. CEOs in healthcare, meanwhile, will need to have a medical doctorate degree, and those involved in law will obviously need to have higher education in a legal-related subject.
Step 4: Seek challenging experiences
CEOs will be at their most effective when they know their business inside out and can relate to every part of an organization's purpose. Therefore, perhaps the most important part of becoming a CEO is getting relevant and progressive work experience in a certain organization or industry, or changing into such an industry as soon as you can.
If you're interested in this career path, then you'll need to use every trick in the book to get promoted regularly and often, rising swiftly through the ranks, and making connections inside and outside the workplace. This will involve hard work, being visible, volunteering for projects, attending training courses where needed, and using networking to ensure you're the first person that senior leaders think of when it comes to succession planning.
Step 5: Get certified
An important part of being a successful CEO is continuously learning in order to demonstrate credibility in what you do. This will inspire your teams to do the same.
CEOs can often take various special development courses aimed at senior leaders but can also look at becoming certified in their field of work. This might include HR or accounting certifications. There are also various executive programs (online or in person) that can be useful to take.
Final thoughts
Becoming a CEO is recognition of your tireless efforts and determinedness to ascend to the very top level of leadership. These roles are hard work and require plenty of commitment and skill, but the rewards can be incredible, both in terms of compensation offered and the feelings of accomplishment and responsibility.
It takes a lot of effort to become a CEO. Sometimes, your whole career might lead up to becoming one. Therefore, it's important to put in the hard work early, such as earning the best grades, gaining experience in your chosen industry, and building skills, connections and credentials to ensure you're elevated into the role by others as much as you will elevate yourself. For others, all it takes is a bright spark and the drive to turn this into a business. Good luck!
Are you thinking about becoming a CEO? Got a question you'd like to ask about this exciting profession? Let us know in the comments section below.
Originally published on August 7, 2017.