It's a cultural phenomenon that has changed the way we live, made its owner a billionaire and spanned a Hollywood movie about its creation. Perhaps unsurprisingly, then, it turns out that Facebook is also a pretty good place to work!
Indeed, as well as being renowned for its world-class perks, the social media giant gives employees the opportunity to work with cutting-edge technology under one of the most innovative minds in the world. It's no wonder that it consistently ranks so highly in various job satisfaction lists!
Yet with such glittering endorsements comes an inevitable downside for applicants; competition for jobs is ferocious. One employee, for example, went through a staggering 17 rounds of interviews before securing a role, while the company received over 250,000 applications for its 330 job openings in 2014.
Don't let that put you off, though. If you've always dreamed of landing a full-time position at Facebook, one of the best ways to get it is through an internship. To guide you through the process, we've prepared a handy five-step list and some application letter samples to get the ball rolling.
You're probably buzzing to get started, so let's get to it: this is how to get an internship at Facebook!
Step 1: Find the right role
The first step is to look for a position that you're suitable for. Although there are various external job search resources that advertise roles, it makes sense to go straight to the horse's mouth. Luckily, Facebook posts all its global current internship vacancies in one place.
Alternatively, there are numerous online coding competitions and university networking events where you can get noticed by talent scouts from the Silicon Valley giants. Either way, roles are split into "technical" and "non-technical", and then broken down into several subcategories, as shown below.
Engineering, technology and design
The large majority of Facebook's 12-week internship roles are technical and typically require applicants to be pursuing relevant degrees at postgraduate level (although there are exceptions — engineering interns at the data center facility only require a high school diploma, for example). For most roles, knowledge of programming languages and research or relevant work experience is preferred.
Before you apply, make sure you carefully read and understand the criteria for the position you're interested in. Currently, there are roles available in the following departments:
AI Research
Connectivity
Core Data Science
Data Centre Design and Construction
Data Centre Facility Operations
Data Centre Operations
Data Centre Site Services
Design
Infrastructure
Machine Learning
Oculus (Virtual Reality)
Program Management and Analysis
Security
Software Engineering
UX Research
WhatsApp
Business
Facebook also offers a 12-week non-technical intern opportunity in its Program Management and Analysis department. Candidates must be studying at postgraduate level in a business-related field, and possess prior experience in project management, data visualization or HR management.
Step 2: Work on your résumé
Your résumé is arguably your most important self-promotion tool, as it's the first thing that recruiters and hiring managers see. With such a high number of applications, it's essential to ensure that you stand out from the crowd. Just ask Jessica Pointing, a Harvard graduate who won internship offers from Facebook, Google and Apple.
"It's not enough to just describe your past roles," she says. "What you need to demonstrate is the impact that you made to the company." She also advises that you quantify any previous achievements, as well as resist the temptation of embellishing anything. "If you won't be comfortable talking about it in the interview, then take it down."
Ensure you tailor your résumé to the position you're interested in, too. Talking up your business development skills is great if you're after a business internship, but it might not cut the mustard if you're going for a core data science position.
Step 3: Send your application
Once you've decided on the right role and conjured up the perfect résumé, the next step is to take the plunge and actually apply. Fortunately, the submission process is relatively straightforward.
Through the internships website, you're invited to upload your résumé and provide the following information:
Personal details
Work experience
Areas of expertise
Education history
Additional information such as your LinkedIn profile or online portfolio
Additional eligibility and affirmative action criteria
If the recruiters like what they see, they'll get in touch with you — usually within a few weeks — either to arrange an interview or (depending on the role you've applied for) to invite you to undertake an online coding test.
Step 4: Ace the interview
The interview process is officially split into two stages: a screening interview, followed by a second onsite interview (although some candidates have reported undergoing a third interview). This is what you can expect to see in each one:
Screening interview
Conducted either over Skype or at a university campus, the screening interview is a brief discussion of your career aspirations and motivation for applying, before moving on to some coding challenges. There are many past questions available online that are representative of the kind of problems you'll be asked to solve, so it's recommended that you familiarize yourself with them.
Second interview
If successful, you'll then be invited to spend the day at the offices you're applying to, where you'll again face a series of technical challenges. You'll also be given a 45-minute design interview (based on either systems design or product design), where you'll be required to talk through your answers on a whiteboard. Finally, you'll undergo a more traditional behavioral interview, where you'll discuss your motivations and previous experiences.
PRO TIP
In both cases, you'll be given an opportunity to ask your interviewer anything — and it's highly recommended that you do. But don't ask banal questions; what you ask is a good indicator of your passion, enthusiasm and knowledge for the role, and can reveal a lot about your potential suitability.
Step 5: Get an offer
If all goes well, you'll receive an official job offer, as well as a project assignment that you'll work on for the duration of your internship. According to Peter Goldsborough, a summer intern in the London office in 2016, the process is very streamlined. "They did their homework and I was happy," he says of the team he was assigned to. "It fit perfectly to my background and skills. Whoever makes the project selections is really good at their job — all the interns seemed very happy about their project."
Of course, the longer-term goal is turning those 12 weeks into a permanent gig, a feat achieved by IIT graduate and former intern Utkarsh Sharma. His advice? "Everyone's case is different and there isn't really any one-size-fits-all advice," he says. "However, I [would] say that there's more to coding and software engineering in general than sitting in front of a screen and mashing out code. There are a lot of other skills such as working in a team that are equally important."
Sample application letters
For anyone looking to get an internship at Facebook (or any company for that matter!), leafing through sample application letters really helps. Below, you'll find two sample letters that we created for your inspiration: one oriented around work experience and the other focused on academic achievements.
Experience-oriented application letter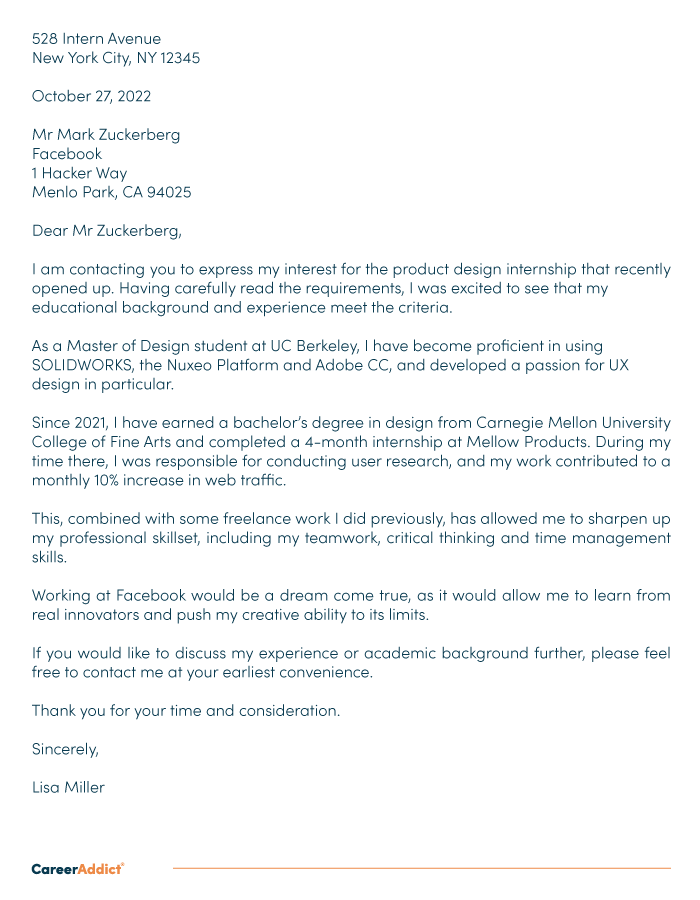 Achievement-oriented application letter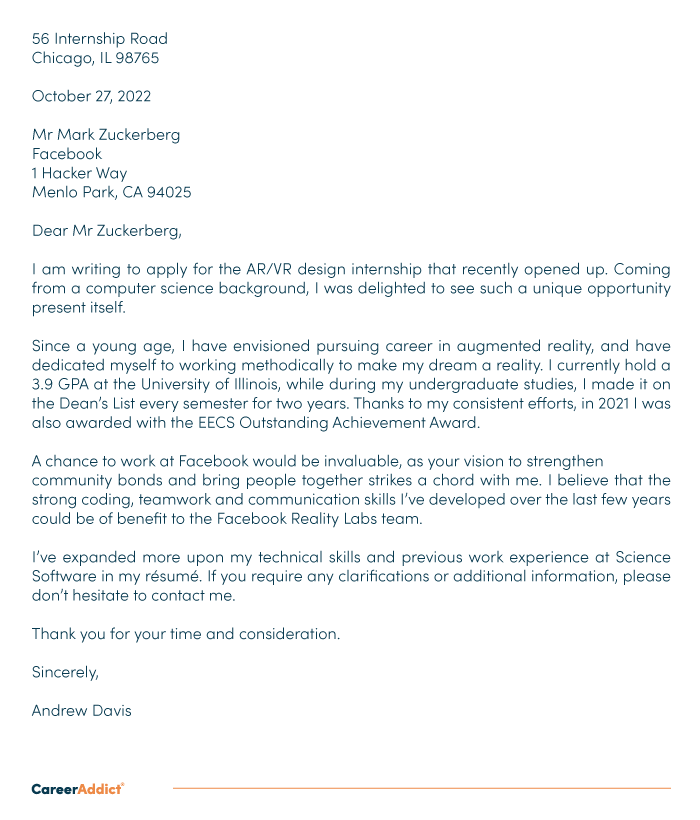 Key takeaways
Though landing an internship at Facebook is challenging, you shouldn't be discouraged. If you can emphasize how you made a real impact in previous work settings and demonstrate an unwavering commitment to your studies, your application should stand out. Before sending out your letter and résumé, remember to:
Pick a role that really suits your interests and skillset, and then tailor your résumé to that specific role. Make sure you include any job listing keywords, like "critical thinking abilities" word-for-word.
Your application letter is a formal letter. Make sure to stick to a formal letter layout, complete with your personal details, date, and addressee details — and then proofread the whole thing thrice.
Look up common Facebook interview questions online, and familiarize yourself with the type of process you can expect. Being prepared should (at least in theory) ease your anxiety, making the interview process less daunting.
Are you planning to apply for an internship at Facebook or have you already done so? Let us know in the comments section below!
Originally published on April 4, 2018. Contains contributions by Siôn Phillpott.