As employers receive hundreds of applications for a single job opening, you want to make sure you write an effective résumé that gets you noticed and sets you apart from your competition.
There are many ways you can achieve this (like tailoring your résumé to the job, optimizing it for applicant tracking systems, and adding a splash of color to your design), but one of the most overlooked tricks at a jobseeker's disposal is the résumé headline.
When done right, it can be a powerful way to create interest in your application — and that's exactly your goal.
But, what is a headline and how do you write one?
Keep reading to find out, plus check out our custom examples to get some inspiration for crafting your own attention-grabbing headline.
What is a résumé headline?
A résumé headline (also known as a résumé tagline) is a short phrase that summarizes who you are and highlights your credentials to potential employers.
Think of it as the tagline to your personal brand, or the slogan that kicks off your marketing campaign for your next job — "The happiest place on Earth" is to Disneyland as your résumé headline is to your job search.
How does it differ from a résumé title?
A résumé title is, essentially, your current job title:
TITLE EXAMPLE
Digital Marketing Specialist
A résumé headline, on the other hand, is an extension of a title, and goes on to promote what you do — and that you do it well:
HEADLINE EXAMPLE
Digital Marketing Specialist with a Proven Record of Boosting Product Sales by 65% in 1 Week
Who should use a résumé headline?
You don't have to include a headline in your résumé, but it is a nice little touch — and one that can make hiring managers sit up and pay attention to your application.
Anyone can benefit from using a résumé headline, whatever their profession and industry or level of experience — whether they're a seasoned professional, a recent graduate, or a career changer.
Where does it go?
The headline goes within your résumé's header, just below your name and above your contact information and (depending on local conventions) personal details.
Of course, its exact location will ultimately depend on the design of your résumé, such as if you're placing your contact information in a column, but it should ideally be placed right under your name, or as close to it as possible. This ensures a direct link between your name and what you can do, making you instantly recognizable among your competition.
How long should it be?
Although similar to a career summary (which also markets your value as a candidate), a headline is much shorter.
It should ideally be about one line long, but it can go up to two lines — at most. If it goes down to a third line, then you might want to consider converting it into a career summary and replacing your headline with just your job title — or leaving it off your résumé altogether.
WARNING
The headline should never replace the summary section, which comes immediately after the header section. While a headline is completely optional, a summary (or, in some cases, an objective statement) is an essential component of your résumé.
How should you structure your headline?
While there's no exact formula to writing a headline, it should contain two things.
First, your current job title.
And second, a notable achievement. This can be the years of experience you have in your field, a few important job-specific skills, industry awards you won, a dollar amount of revenue or sales, a percentage of increase or decrease you created for improvement, or anything else that helps you stand out from the crowd.
Here are a few ways you can structure your headline:
Job Title with X Years of Experience in Areas of Expertise
X Award-Winning Job Title Who Achieved this Impressive Result
Job Title with X Years of Experience Who Achieved this Result
Tips for writing a résumé headline
Here are a few things to keep in mind to write an attention-grabbing headline:
1. Tailor it to the job
The first rule of writing a résumé is to tailor it to the job you're submitting your application for. This applies to every element and every little detail of your résumé, including your headline.
This begins by highlighting relevant keywords in the job description, and then strategically integrating those keywords into your headline (and elsewhere in your résumé). Not only does this help you beat applicant tracking systems, but it also highlights your value proposition — anyone can be a digital marketing specialist, for example, but not everyone can boost product sales by 65% in a single week.
2. Include numbers
Employers love numbers — they provide hard, concrete evidence of your results in a measurable way. And backing up your accomplishments with quantifiable data makes your headline less generic and more unique and impactful, as it shows — not tells — recruiters that you're qualified.
Types of quantifiable data include:
Years of experience
Number of awards won
Number of people managed
Dollar amount of sales made
Dollar amount of money saved
Amount of product sold
3. Avoid clichés
Get rid of any offending clichés that other applicants might also be using and instead let your achievements speak for themselves.
The goal of your headline is to help you set yourself apart from your competition, and using overused words and phrases like "hardworking", "team player" and "highly skilled" will only make you fit in.
That said, feel free to use powerful adjectives like "motivated", "driven", "proven" and "successful" — but don't overdo it.
4. Use title case
A great way to make your headline stand out more is to use title case. This means that the first and last words and all nouns, verbs, adjectives, adverbs and pronouns should be capitalized.
You can also capitalize articles like "a" and "the", prepositions like "in" and "of", and coordinating conjunctions like "and" and "for", if you wish, but we recommend using lowercase for these.
On a side, but very relevant, note, make sure to use a slightly larger font size for your headline than you have for the rest of the text on your résumé — except your name at the top of the page, which should be even larger. You could even bold it so that it really grabs the reader's attention.
5. Write more than one
It's generally a good idea to write a few different versions of your headline for every job you apply for. Yes, it might be a little extra work, but this way, you'll be able to see how each one looks and sounds and ultimately choose the one that's more impactful.
Test out every version with a friend or relative and get their feedback, too. Remember: it's often hard to be unbiased with your own work, and a second (or third) pair of eyes can be a great way to find out what works and what doesn't.
Résumé headline examples
Need some inspiration? Here are 10 examples of attention-grabbing headlines to guide you in writing your own:
Pulitzer Prize-Winning Journalist with 10 Years' Experience Covering Environmental and Technology Issues
Energetic New MBA Graduate with Internship Experience in Business Analytics
Nationally Certified Résumé Writer with 25+ Years' Experience in Helping Clients Land Their Targeted Positions
Dedicated Biology Teacher with a Proven Record of 60% Progress Rate in Middle School
Content Writer with 8 Years' Experience in Developing High-Quality SEO Content
Fully Licensed and Board-Certified Cardiologist with 20+ Years of Experience in Private Practice
Experienced Marketing Executive Who Has Helped Generate $1.5 Million in Revenue
Accounting Consultant with Proven Record of 100% Accuracy in Textile, eCommerce and Business
Award-Winning Photographer with 750+ Images Published in Major Publications like BBC News, Forbes and National Geographic
Web Developer with 10 Years of Experience in JavaScript, PHP, Ruby on Rails and Python
Example of a résumé with a headline
To see a headline in action, how it differs from a summary and how it fits into the overall layout of a résumé, we've put together a résumé example for your reference, using one of our professionally designed and ATS-friendly templates. Check it out below: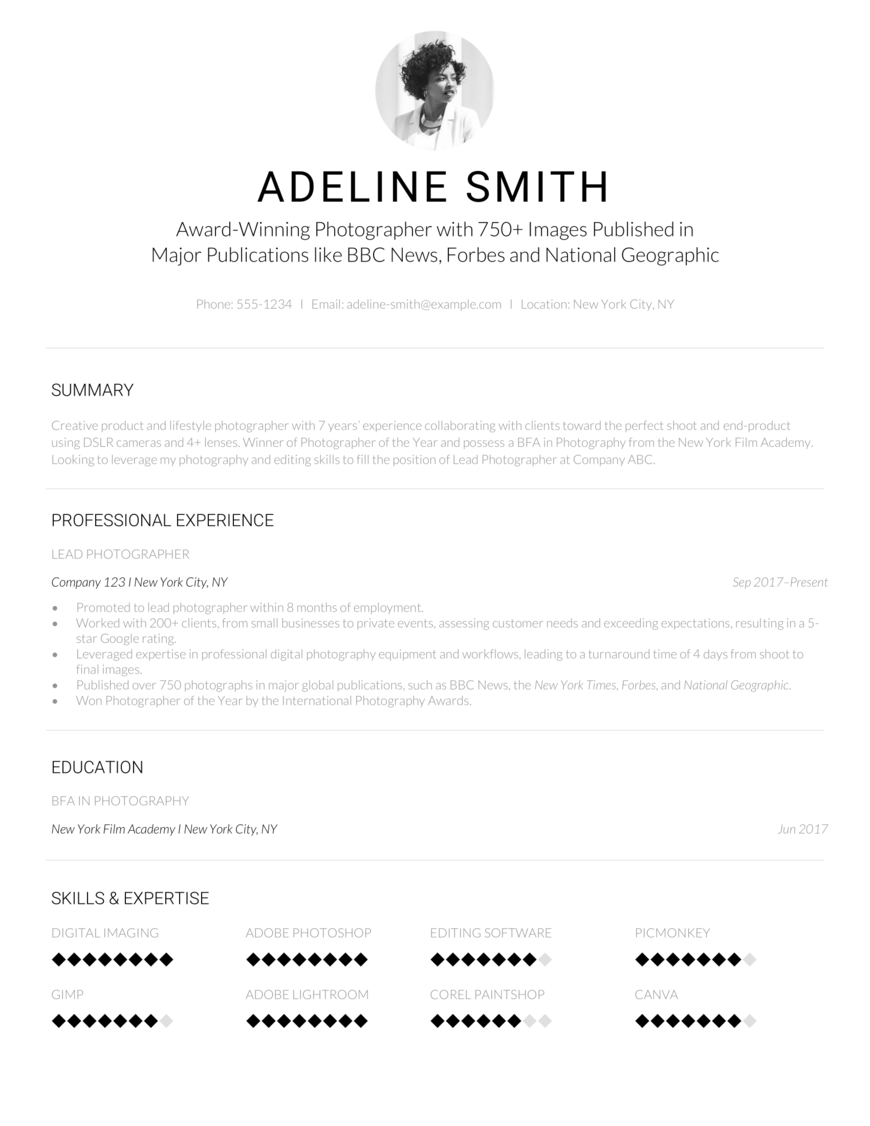 Key takeaways
To sum up, here's everything we learned about résumé headlines:
A résumé headline is a short statement (between one and two lines long) that markets your value to potential employers.
It goes within the header section of your résumé, right below your name and above your contact information.
It should be formatted in title case and set in a slightly larger font size than the main content of your résumé.
It should be tailored to the job you're applying for and feature important keywords from the relevant job description.
Finally, your headline should include your job title and at least one of your most notable professional achievements (such as years of experience, dollar amount of revenue or sales, or number of awards won).
Not sure if you should use a résumé headline or if what you've written ticks all the right boxes? Leave us a comment below, and we'll get back to you!