Having a brand personality goes way beyond brand identity. It's more about texture, style and the human characteristics that a brand has. These components make us relate to the brand and choose to buy a product from them, rather than their competitors.
But for many businesses, forming a brand personality doesn't come easily. As Jennifer Aaker identified in her article published in the Journal of Marketing Research, brand personality is made up of five key factors: ruggedness, sophistication, competence, excitement and sincerity.
And while some have failed to find their brand persona, other companies have hit the nail on the head and built great marketing and advertising strategies around these core dimensions.
We've rounded up the 20 most inspiring brand personalities to give you some ideas.
1. Nike

alexeynovikov / Depositphotos.com
Since the 1980s, Nike has been endorsing the very best athletes across a wide variety of sports, portraying that their persona is exciting, provocative, cool, rugged, innovative and durable. Their marketing slogan 'Just Do It' relates to everyone and offers a sense of confidence when any of their garments are worn.
Their large personality has sparked great brand loyalty, making many consumers opt for their footwear, accessories and clothing over their competitors.
2. Coca-Cola

TKKurikawa / Depositphotos.com
With a loud and vibrant logo, a good slogan ('Delicious and Refreshing', 'Always Coca-Cola', 'Taste the Feeling' — the list goes on!) and a number of successful campaigns, Coca-Cola is a prime example of brand personality.
From the get-go, Coca-Cola has been associated with happiness and excitement, with many selecting to consume its products for the experience, rather than the taste. People purchase bottles of coke with their name on it (without even consuming the product), TV viewers eagerly wait for the bright Christmas advert to get into the festivities, and celebrity endorsements build an even stronger bond with the general public.
3. Dove

Filter Management
Dove, on the other hand, relates to women of all ages, shapes and sizes across the world. With a relatable, simple and elegant brand personality, Dove represents the essence of true inner beauty. And with effective marketing tactics, the skincare company has become an industry pioneer, with a brand persona that's unique to everyone.
4. Harley-Davidson

bizoon / Depositphotos.com
Harley-Davidson is a brand that connects with its rebellious customers. By purchasing their motorcycles, you get a sense of freedom, independence and a luxurious experience of riding — one that you wouldn't receive elsewhere. And while Harley-Davidson bikes are expensive, they are made to fulfill dreams and to allow people to travel to places across the globe.
5. McDonald's

lucianmilasan / Depositphotos.com
When it comes to fast food chains, it's harder to build a strong brand personality, but the one restaurant that stands out from the crowd is McDonald's. Having established themselves as a family-friendly place, the fast-food chain has gained a few traits for itself, including convenient, quick, clean and simple.
The co-partnership with Disney only makes McDonald's even more relatable to young children and families, making it a number one choice for a hassle-free breakfast, lunch or dinner.
6. Victoria's Secret

teamtime / Depositphotos.com
The lingerie leader with the much-anticipated fashion shows has built a brand personality that speaks volumes. A dream for all models to walk the Victoria's Secret runway has echoed into a large selling point for their everyday garments.
With a powerful, sexy, bold, daring and empowering personality, Victoria's Secret has managed to dominate the younger market. However, with many attractive competitors rising in the ranks (like Rihanna's Savage X Fenty lingerie line), Victoria's Secrets will need to work a little harder to keep their leading position.
7. Disney

missbond / Depositphotos.com
Disney — known as 'the most magical place on earth' — has one of the largest brand personas to date. For almost 100 years, Disney has been creating happiness through once-in-a-lifetime experiences. Their secret is that they always put their customers first and build new experiences based on their feedback.
The family-friendly business has succeeded in gaining a place in everyone's heart, making adults reminisce over childhood favorites and compelling children to fall in love with Disney characters. Quite simply, they have captured a creative and positive persona for people of all ages.
8. Tiffany & Co.

stocco.claudio.libero.it / Depositphotos.com
Being one of the most prestigious jewelery brands around doesn't come easy, but it's something that Tiffany & Co. has managed to establish over the years. With a sophisticated, elegant, charming and timeless persona, the jewelery company has made women all over the world long for one of the little blue boxes.
The film Breakfast at Tiffany's, starring the legendary Audrey Hepburn, further enhanced the feeling that a piece of jewelery from Tiffany is the 'only one true love'.
9. Betty Crocker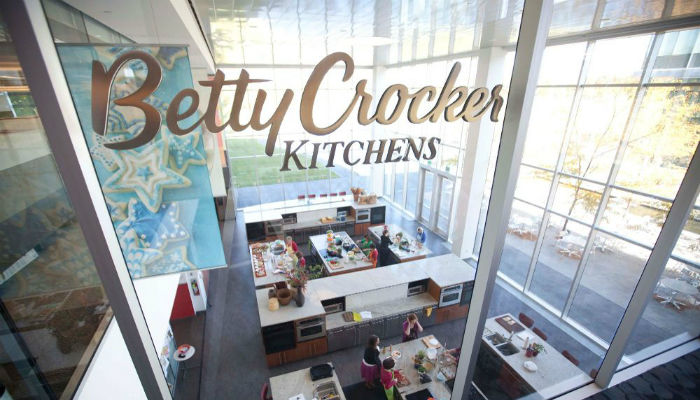 Glassdoor
The birth of Betty Crocker came in 1921 when Washburn-Crosby Company's marketing manager Samuel Gale began responding to cooking enquiries as Betty Crocker (he didn't feel that women would respond well to advice from a man). This personal response from a fictional motherly identity formed a strong connection with the consumer, which is still very much present today.
The homely and nurturing spirit was so powerful that Betty Crocker was even named the second most popular woman in America in 1945, behind then-First Lady Eleanor Roosevelt.
10. Apple

Vividrange / Depositphotos.com
You either love them or hate them, but when you love them, you're a devoted buyer who wouldn't dream of changing any of their Apple products. And for this exact reason, Apple has nailed its brand personality.
Apple relates to the cool, innovative and creative technology lovers that like the simple and superb interface. Their new products and release dates spark curiosity among their followers, making Apple not just a favored brand, but a way of life.
11. Starbucks

bedobedo / Depositphotos.com
The innovative coffee chain Starbucks has become much more than your standard coffee shop — it's become a community. The personality of the brand, and the staff hired, forge real connections with its consumers, making Starbucks the number one choice among all coffee brands.
That's not to say that their products are any better than their competitors, but rather that they are a choice of social status. With a fun, outgoing and personable brand strategy, everyone wants a Starbucks cup with their name on it. It's the attention to the smallest details that make Starbucks stand ahead of the crowd.
12. Red Bull

doroshin / Depositphotos.com
Red Bull is also a company that's known for its customer experience. With a courageous, outgoing and hyper-energetic brand personality, Reb Bull is an inspirational brand that relates to two different types of customers — one being the professional athletes that need to exceed difficult challenges, and the other being the fun-loving person that needs a bit of energy to get through the day and enjoy themselves.
Indeed, Red Bull is known for 'giving wings', but their most recent marketing efforts focus on the brand rather than the products. They dabble in extreme sports, concerts and music, causing a larger excitement around the urban brand.
13. Amazon

wolterke / Depositphotos.com
Amazon has steadily become one of the world's most trusted brands by offering a personal relationship with all of its products. Their sincerity and customer-focused approach is what has built the Amazon empire.
Instead of focusing on what their competition is doing, they have pushed boundaries with innovative ideas and honesty. And with CEO and founder Jeff Bezos being the face of the company, an extra level of relatability and personality is added to the Amazon brand.
14. LEGO

rclassenlayouts / Depositphotos.com
LEGO has formed a brand personality that caters to young and old. Young children love Lego for their fun and approachable, while adults that are true fanatics purchase collectible Lego items. And although their price tag is higher than their competitors, Lego stands out for quality, reliability and familiarity.
15. FedEx

ricochet69 / Depositphotos.com
Branding is a large part of FedEx's success; with an efficient, reliable and trusting service, the courier company has become a staple in their field.
They've elevated the brand by building successful marketing campaigns in order to connect with their clients. And with personal reward plans and great customer service, FedEx continues to expand their marketing strategies and reach new audiences.
16. Good American

Good American
The Good American brand, part-owned by reality TV star Khloe Kardashian, is one of the first all-inclusive brands that stocks clothes from sizes 0–24. They place themselves as not just a brand, but rather a movement, making women of all sizes feel comfortable and included. They are so dedicated to this movement that they won't allow their brand to be sold in a store unless all sizes are included in the display range.
17. Diesel

When you think of Diesel, you instantly imagine the rouged brand that doesn't adhere to specific trends. It's a brand for rebels and long-standing items that you will keep for a while — instead of something that is used for a few months until it falls out of fashion. Since 1978, Diesel has kept the same vibrant image alive through smart branding.
18. Toms

The shoe company Toms offer comfortable and supportive footwear, but has a completely different brand purpose. Their main goal, as a company, is to give back by helping those in need. Their brand purpose is to bring people from across the world together and help offer support in more ways than simple footwear.
19. Google

Google is the interface where we obtain most of our information and knowledge, and, as a brand, they portray themselves as trustworthy and honest, removing any misinformation or untrustworthy sites from their rankings. The progressive brand aims to bring ease and efficiency to its users' everyday lives through smart algorithms and search engine power.
20. Fenty Beauty

Fenty Beauty
The beauty brand, created by singer Rihanna, is one of the first to cater to women of all skin tones and skin types. It launched in 2017 with 40 shade options and now supplies over 50 in its range. Fenty Beauty is not only inclusive of all skin tones, but also doesn't reference gender. The branding is inclusive of everyone, despite racial or gender preferences, and this is why it's now in a league of its own.
Final thoughts
Having a brand personality is important because it makes it easier for people to identify with your product or service, and also serves as a form of advertising if it's done well. If people like what your brand stands for, the better the chances they will like your products. So, take the time to create the right personality and persona for your brand — it is the foundation upon which your brand's success will be built.
Which brand do you relate to the most? Which brand do you think does it best? Let us know in the comments section below.
Originally published on July 8, 2019.