We all have that one coworker who seems to transform into a bit of an Ebenezer Scrooge in the wintertime. Any mention of snowmen, mistletoe or Mariah Carey has them going "Bah!" Most of the time, however, that's nothing that a slice of Christmas cake and a cup of mulled wine can't fix.
Indeed, it's not just the twinkling lights, carols and snowfall (if you're lucky) that make the holiday season magical. Festive food plays a part in that, too, especially when you're sharing it with others. After all, Christmas is a time for giving!
So, if you enjoy cooking or baking and want to bring a bit of cheer into the office, read on for some festive food inspiration. We hope our list of 10 quick and easy Christmas recipes comes in handy in the week leading up to Christmas (or earlier — at the risk of awakening the office Scrooge).
1. Christmas pinwheels

Mary Ellen Valverde via VNutrition
Over the holidays, alcoholic drinks and Christmas desserts tend to take the spotlight. However, there are countless savory foods and snacks to be discovered. Take these Christmas pinwheels for example: a flavorful swirl of pesto and sun-dried tomatoes. In festive colors, too!
Ingredients
8 oz crescent dough sheet
8 sun-dried tomatoes (chopped)
Vegan pesto (or any pesto)
Method
Flour your working surface and carefully spread out the dough sheet over it. Then spread the pesto over the entire sheet and add the sun-dried tomatoes. Roll up the sheet starting from the shorter side, and cut into eight pieces. Place these on a parchment-lined baking sheet, and bake for around 15 minutes at 375F.
2. Pull-apart Christmas tree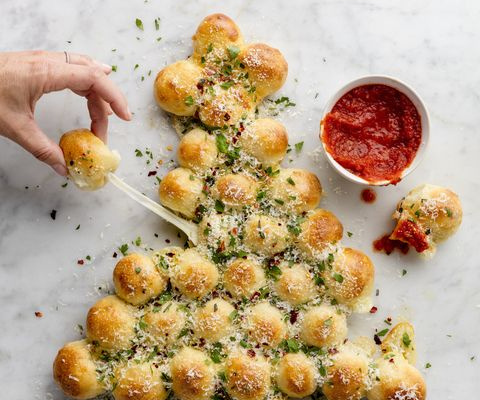 Ethan Calabrese via Delish
Strings of soft, melted cheese will never fail to look appetizing. Toss in some fragrant herbs like basil and rosemary, and serve with a tasty dip, and you'll make a lot of tummies happy! Sound good? Try out this mouth-watering Christmas tree-shaped creation.
Ingredients
1 lb refrigerated pizza dough
Egg wash (1 egg whisked with 1tbsp water)
7 mozzarella sticks
¼ cup melted butter
½ cup finely grated parmesan
1 tbsp thinly sliced basil
1 tbsp chopped parsley
1 tbsp chopped rosemary
Warmed marinara (for serving)
Method
On a floured surface, divide the pizza dough in two, and roll each half into a rectangle. Then cut the dough into two-inch squares, and cut your mozzarella sticks into one-inch pieces. Wrap each mozzarella cube in a dough square and place them on a tray lined with parchment paper. Then arrange in the shape of a tree, brush with egg wash, and stick in the oven for 20 minutes at 450F. Mix the butter, parmesan and herbs, and brush over at the end.
3. Almond-bacon cheese crostini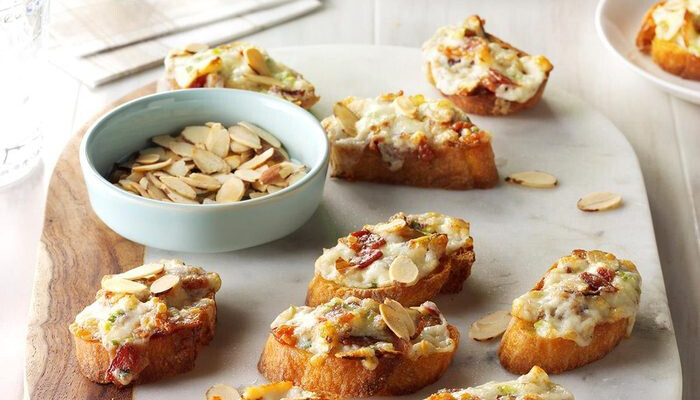 Taste of Home
Most of us have tried roasted tomato crostini. This version, however, is a more unusual and exciting twist on the classic, combining almonds, bacon, cheese, onion and mayo. Super quick and easy to make, they'll be a hit at the Christmas office party.
Ingredients
1 French baguette (1lb)
2 cups shredded Monterey Jack cheese
⅔ cup mayonnaise
½ cup toasted almonds, sliced
6 bacon strips, cooked and crumbled
1 green onion, chopped
Dash of salt
Method
Cut your baguette into 36 slices and bake on an ungreased baking sheet at 400F for 8–9 minutes. Mix your cheese, mayo, bacon, almonds, onion and salt in a bowl, and then spread over the bread once out the oven. Bake once more for 7–8 minutes until the cheese has melted.
4. Cranberry brie bites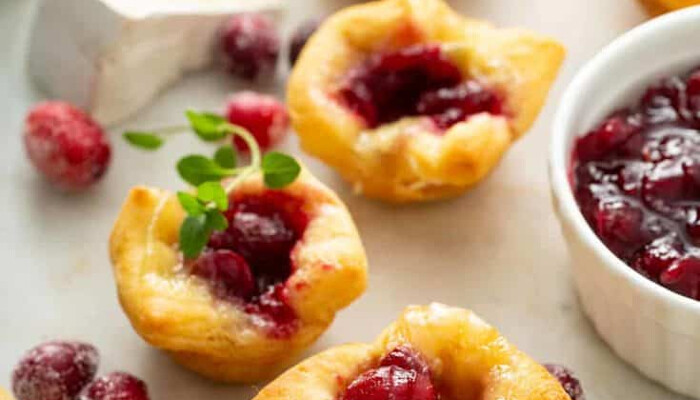 My Baking Addiction
These cranberry brie bites are as irresistible as they are adorable. The best part is that they only take about 20 minutes to make! So, you can try them out even when the approaching Christmas break is transforming you into a frantic workaholic with no time to spare.
Ingredients
1 (8 oz) tube crescent rolls
4 oz brie cheese
⅓ cup cranberry sauce
Method
Unroll the crescent rolls and press together at the seams. Cut the dough into 18 rectangles, placing each one into the cups of a mini muffin tin. Then, cut your brie into 18 pieces and add them to the muffin tin cups, topping them with cranberry sauce. Bake for around 10 minutes at 375F and then immediately remove from the tin.
5. Chicken crescent wreath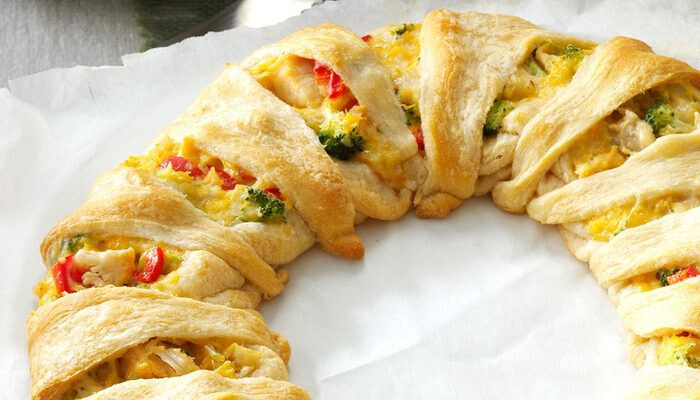 Taste of Home
A savory office treat that looks like Christmas décor? Count us in! This scrumptious chicken crescent wreath only takes about half an hour to make, which is really convenient in the often packed and hectic few weeks leading up to Christmas.
Ingredients
2 tubes (8oz) refrigerated crescent rolls
1 cup shredded Colby-Monterey Jack cheese
⅔ cup condensed cream of chicken soup, undiluted
½ cup chopped fresh broccoli
½ cup chopped sweet red pepper
¼ cup chopped water chestnuts
¾ cup cubed cooked chicken
2 tbsp chopped onion
Method
Arrange the crescent rolls on a pizza pan to form a ring, wide ends overlapping and pointed ends facing outwards. Then combine the remaining ingredients, add them to the rolls, and fold the pointed ends over the filling. Bake at 375F for 20–25 minutes.
6. Cream cheese-stuffed dates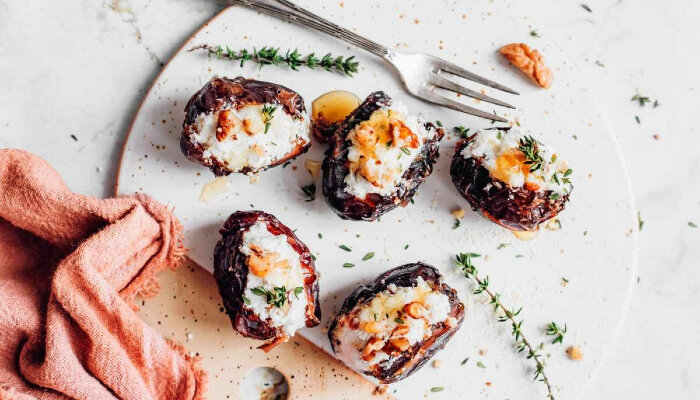 Nutriciously
These cream cheese-stuffed dates are a healthier alternative to all the chocolate-oozing, sugar-coated, rum-dripping desserts we get at Christmas. Preparing this naturally sweet, nutritious appetizer for the Christmas get-together with your colleagues will only take about 15 minutes, too.
Ingredients
10 Medjool dates 
4 tbsp vegan cream cheese (or any cream cheese)
5–6 walnuts, toasted and crushed 
2–3 sprigs fresh rosemary, chopped 
2 tsp maple syrup, to drizzle
Method
Pit the dates, slice them lengthwise and place them on a plate. Then mix the vegan cream cheese, walnuts and rosemary in a small bowl. Using a spoon, fill the dates with your mixture and refrigerate for an hour. Sprinkle some maple syrup on top before serving.
7. Coffee hazelnut shortbread cookies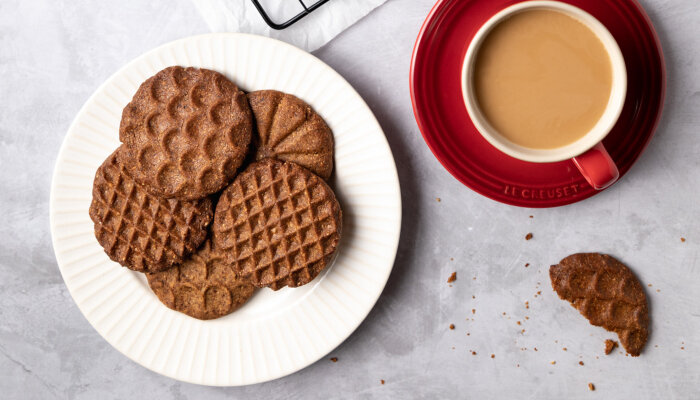 Sprouts and Krauts
If you baked these and stuck them under the Christmas tree, we have a feeling Santa would approve! These festive shortbread cookies not only smell and taste incredible, but they're suitable for vegans too. If you have coworkers who follow plant-based diets, you'll ensure that no one gets left out with these cookies.
Ingredients
8 oz vegan butter, cut into cubes
4 oz coconut sugar
8 oz all-purpose flour
4 oz roasted hazelnuts, finely ground
1½ tbsp instant coffee, finely ground
1 tsp vanilla extract
Method
Add the butter and sugar to a food processor and combine until softened. Add the flour, hazelnuts, coffee and vanilla extract, and pulse until a dough is formed. Divide dough into 20 balls and refrigerate for 30 minutes. Press down the dough balls with a cookie stamp and place onto parchment-lined baking sheets. Bake at 350F for 20–25 minutes.
8. Parmesan crusted Brussels sprouts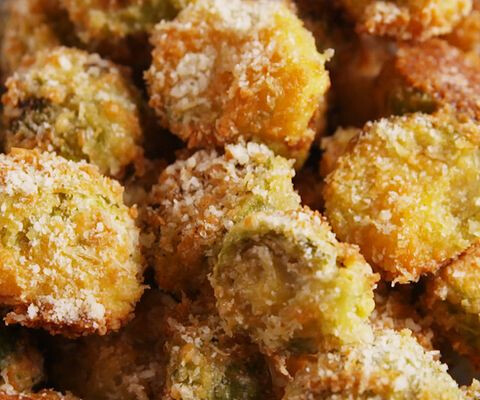 Chelsea Lupkin via Delish
Easy to make and oh-so delicious! Try these parmesan-coated Brussels sprouts on your colleagues first and, if they approve, consider adding them to your Christmas dinner menu at home. As one of your side dishes next to a juicy roast, these transformed Brussels sprouts would make a lot of kids in your family happy!
Ingredients
1 lb Brussels sprouts, trimmed and halved
½ cup flour
2 eggs, beaten
¾ cup panko bread crumbs
1 cup freshly grated parmesan
2 tbsp olive oil
1 tsp salt
½ tsp garlic powder
¼ tsp cayenne
Method
You'll need three bowls arranged next to one another: one for the flour, one for the eggs, and one for the rest of your ingredients. In this order, start by tossing the sprouts in the flour, then dipping them in the eggs, and finally coating them with the panko mixture. Bake at 400F for about 25 minutes.
9. St Lucia saffron buns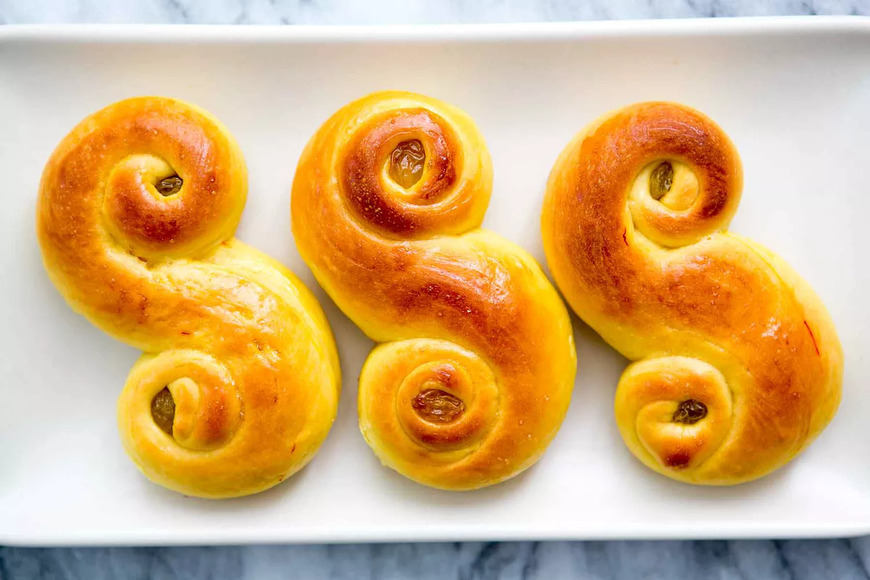 Elise Bauer via Simply Recipes
Originating in Sweden, St Lucia saffron buns can add a pleasant touch to your team's coffee or tea break. Traditionally, these saffron-infused rolls are served with glögg, a Nordic drink involving spices and alcohol. You can keep this in mind if you and your colleagues are up for a bit of daytime drinking…
Ingredients
¾ cup milk
½ tsp saffron threads
1 tsp plus ¼ cup white granulated sugar
1 (¼ oz) packet active dry yeast
3½ to 4 cups all-purpose flour
½ tsp kosher salt
The seeds from 3 cardamom pods, ground (optional)
¼ cup unsalted butter, softened
¼ cup sour cream
2 large eggs
Raisins
Method
Heat the milk, saffron and teaspoon of sugar in a pot until steamy. Then remove from the heat, stir, and let it cool a little. Sprinkle the yeast over the warm saffron-infused milk. Then whisk together the flour, remaining sugar, salt and ground cardamom using a stand-up mixer. Pour in the milk mixture, eggs, butter and sour cream, and combine. Let the dough rise, then break off 2-inch pieces, roll them out into a "snake" and curl the ends to form an S. After 30 minutes, brush with egg wash, add the raisins, and bake at 400F for about 10 minutes, turning halfway.
10. Reindeer brownies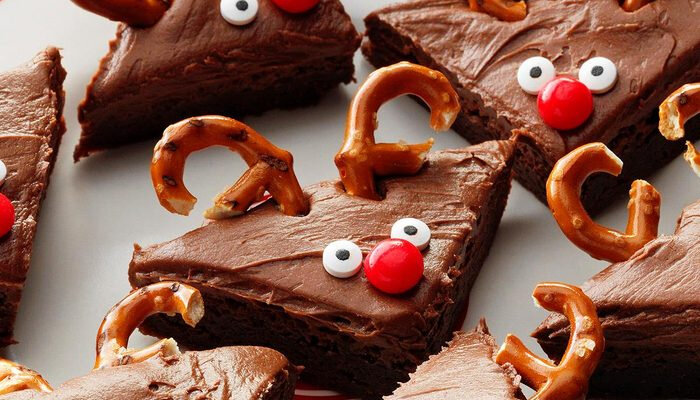 Taste of Home
Okay, we know: these reindeer brownies might look a little out of place in a corporate setting. However, that's another great reason why you should make them! Offices aren't typically the most colorful of places. And at Christmastime especially, we should try to change that!
Ingredients
4 oz unsweetened chocolate, chopped
¾ cup butter, cubed
3 large eggs
2 cups sugar
1 tsp vanilla extract
¼ tsp salt
1 cup all-purpose flour
1 can (16 oz) chocolate frosting
48 candy eyeballs
24 red-hot candies
48 miniature pretzels
Method
Line a baking pan (13" x 9") with foil, with the foil extending up the sides, then grease. Melt the butter and chocolate in the microwave, and stir until smooth. Whisk together the sugar, eggs, vanilla and salt, and stir in the chocolate mixture once cooler. Stir in the flour gradually and spread into the pan. Bake for around 30 minutes at 350F. Once cool, spread the frosting on top and cut into 12 squares, then divide each square into a triangle. Attach the candies and pretzels.
Final thoughts
We hope our list of easy Christmas recipes has done the trick. After all, it wouldn't be very practical for you to waltz into the office carrying a brown-sugar-glazed ham and mashed potatoes for everyone – if you did this, though, you deserve a promotion!
On a more serious note, studies have shown that the holiday period can worsen existing mental health conditions for some individuals. A lot of the time, this has to do with people experiencing intense stress or loneliness at Christmas. With this in mind, know that by preparing some festive goodies for the office, you could really be making a difference in how someone feels.
So, now that you've got plenty of Christmas dinner ideas to try out with your colleagues, family and friends, be off, be kind and be merry!
What are your favorite Christmas recipes for the office or home? Let us know in the comments section below.
Originally published on December 18, 2019.