With Christmas getting more expensive year on year, it's a time when many of us consider how we might be able to make a little extra cash over the festive period — for all the wine and cheese we want to buy, of course.
Luckily, this time of the year is great for jobseekers, as thousands of temporary seasonal job roles crop up, creating a unique opportunity to earn an extra bit of cash to cover the cost of the extra food and gifts we'll all be buying.
So, if you need to boost your bank account this festive season, or just want to avoid getting into debt, here are the top 30 Christmas jobs to consider.
1. Mall Santa

Average hourly salary: $21.54
The first top Christmas job to consider over the holidays is that of a mall Santa. Shopping malls the world over feature magical grottos that captivate children — and grown-ups. If you fancy taking on this role, you can earn a pretty penny over the festive period, with some freelance Santas raking in as much as $500 an hour! You'll need to pass a criminal record check and have a jolly disposition.
2. Retail worker
Average hourly salary: $12.03
While it might not be the most glamorous of professions, there are plenty of retail jobs around! Companies begin hiring for temp retail staff quite early to get ahead of the Christmas rush, so it's worth looking around at what's available. For this role, you'll need some serious conflict resolution and customer service skills. You may even get kept on permanently after the festive period if you work hard and do well in the role.
3. Personal shopper
Average hourly salary: $12.57
If you like shopping, you could turn it into a career by becoming a personal shopper. At least you'd be earning money by shopping instead of spending it shopping for yourself or your family! This is a great option around the Christmas period, as many people are hunting for gift ideas for their loved ones, and really need some help and guidance.
4. Window decorator
Average hourly salary: $17.08
Whether it's on a freelance basis, decorating clients' windows with various snow-spray artwork, or working for a retail store decorating their festive windows, this could be a great option for you if you've got an artistic personality. To be successful in this job, you'll need excellent creative thinking skills and have the necessary tools of the trade
5. Customer service representative
Average hourly salary: $17.75
Becoming a customer service representative over the Christmas period is a good option for those with great customer service skills and experience. You'll be dealing with enquiries about delayed packages, damaged or dysfunctional products, and general complaints. Many companies hire customer service representatives on a remote basis, meaning you can at least work from the comfort of your home in your fluffy Christmas socks if you so desire.
6. Christmas elf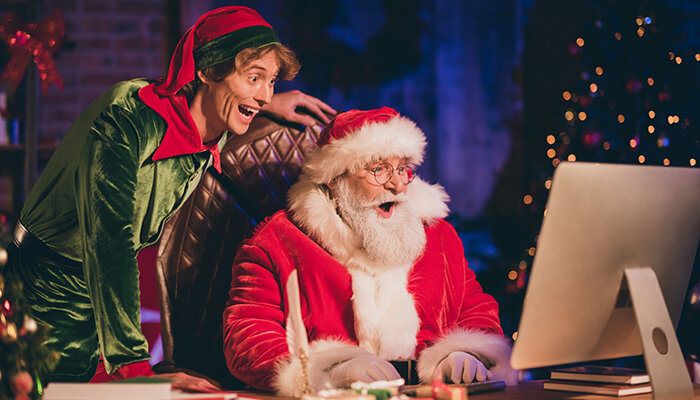 Average hourly salary: $19
As an elf, your job would be to assist Santa with errands and keep unruly children in line (literally) as they wait to see the big man. You'll likely need to pass a criminal record check, and the ability to sing merry songs is a bonus! Bringing joy to families is a wonderful job, and you'll make sure they leave full of Christmas spirit.
7. Ski instructor
Average hourly salary: $15.59
If you like the idea of working abroad, you could always jet off to become a ski instructor over the festive period. You'll need to have a Level 1 Ski Instructor qualification that's recognized by the International Ski Instructor's Association. If you don't have this qualification, though, there are other roles available at ski resorts, including leadership and customer service roles.
8. Ice-skating instructor
Average hourly salary: $29
If you're great on the ice, you could always look into becoming an ice-skating instructor for all the Bambi-like people out there. Temporary ice rinks seem to pop up all over during the winter period, so it's a lucrative time if you're a qualified and competent coach.
9. Butcher
Average hourly salary: $15.06
Christmas is known to be a gluttonous period, with birds and meats of all kinds gracing our tables over the festivities. Understandably, someone needs to prepare this meat for us, and that's where a butcher comes in. To become a butcher, you don't need any specific qualifications, but you'll need to get some on-the-job training and have an understanding of food safety regulations.
10. Christmas cracker joke writer
Average hourly salary: $20.73
So… This might be kind of niche, but bear with us. It's one of those things where you pull a cracker and think "Who writes these things?!". Year on year we're graced with the same jokes over and over. Why not bring some originality to the role and become a cracker joke writer? If you're a bit of a wordsmith, it could be an avenue into a career that you love.
11. Christmas tree decorator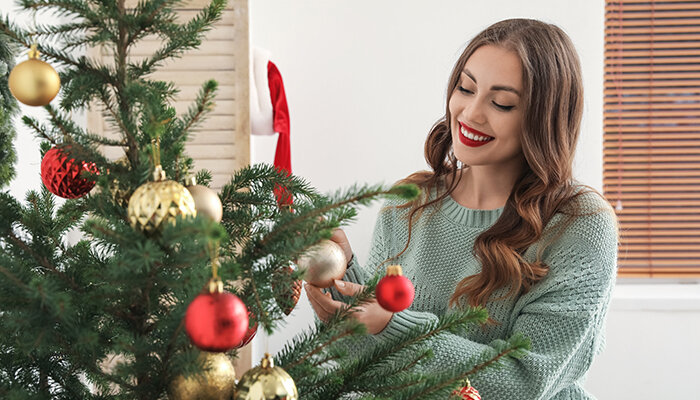 Average hourly salary: $15.41
Coming under the broader spectrum of merchandise displayer and window trimmer, Christmas tree decorators get to display ornaments and tree decorations throughout many businesses (and private dwellings) all over the world. If you have good attention-to-detail skills, this is probably a great role for you to consider.
12. Delivery driver
Average hourly salary: $15.96
Most smart people do their Christmas shopping online now — meaning, postal delivery couriers need an extra hand too. FedEx, UPS, Yodel and Amazon all advertise for thousands of extra positions during the festive period, primarily in sorting offices, but also in driving and driver support positions. Many of these temp roles can result in permanent employment too.
13. Uber driver
Average hourly salary: $18.05
A great way to monetize your driving license during the winter months is to work for Uber, the taxi service app where you can dictate your own working hours. If you want to get high ratings (and tips), you could even decorate your car like a grotto for some extra Christmas spirit. You'll be taxiing Christmas partygoers, and premiums are higher at this time of year, so it's worth considering for an extra boost to your part-time income.
14. Makeup artist
Average hourly salary: $18.57
'Tis the season for glitzy makeup and sparkling outfits, so why not use your makeup skills to help others by doing theirs for them? This is a lucrative time of year, and while you don't need any specific qualifications to become a makeup artist, you'll need to be up to date with current trends, and you could always take a makeup artistry course if you want to take it to the next level.
15. Pet sitter
Average hourly salary: $16
Although pet sitting is a year-round business, it's a particularly busy time during the festive period as people travel to visit family and go on vacation. Pet sitters look after clients' best pawpals while they're away, by either staying in their home or attending to them regularly throughout the day.
16. Reindeer handler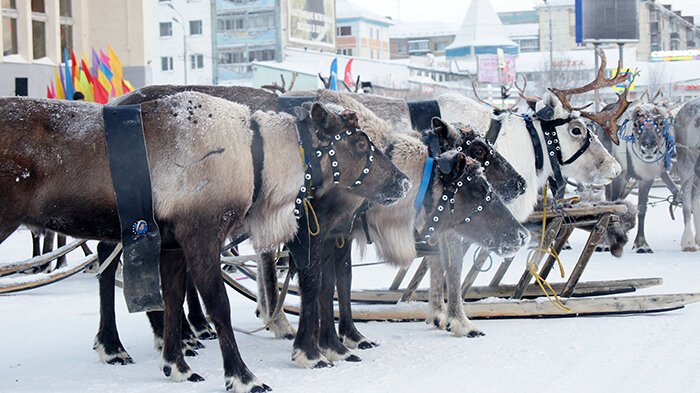 Average hourly salary: $14.32
What's more festive than reindeer? In this role, you'd be in charge of caring for the animals, including feeding them and cleaning out their stalls. You might also be responsible for transporting them to different events throughout the Christmas period. Reindeers are better in pairs, so be prepared to deal with Dasher and Dancer if you decide this role is right for you.
17. Lumberjack
Average hourly salary: $21.84
You've probably heard the song "Chestnuts Roasting on an Open Fire", right? Well, to get an open fire, there needs to be logs. That's why the winter period is a busy one for lumberjacks, and it's a great way to earn some extra money for Christmas. One thing to remember, though, is that this is a physically demanding and risky job. However, it's a rewarding one, too, knowing that you'll be bringing warmth (and coziness) to homes this Christmas.
18. Tour guide
Average hourly salary: $15.96
Many countries welcome an influx of tourists during the winter months. Whether they're traveling somewhere to enjoy the cold, snowy weather, or running away from it to sunnier climates, this is the perfect opportunity to become a seasonal tour guide. You could get hired by a local tour operator or freelance as a local tour guide, showing off snowy mountains or sandy beaches.
19. Food tester
Average hourly salary: $35.66
While some Christmas foods are an acquired taste, you could always turn it into a profitable job if you're a bit of a foodie. You would be taste testing food for different grocery stores, including staples such as Christmas puddings and other festive delights!
20. Choirmaster
Average hourly salary: $23.62
Imagine how beautiful your day at work would sound if you became a choirmaster over the Christmas period? It'd beat listening to the radio hands down. If you have experience working with a choir, there's no better time to look into becoming a choirmaster at your local church during the Christmas period. You'll help choirs reach perfection with your musical talents and get paid for doing it, too. Winner!
21. Christmas tree seller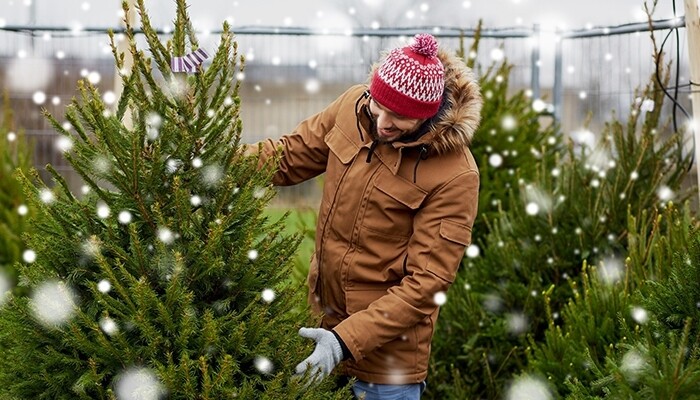 Average hourly salary: $10.05
Can you tell the difference between a Douglas Fir and a Norway Spruce? If so, you could become a Christmas tree seller over the festive period. You'll be responsible for finding the right tree for different families, including helping them choose the right size and species for their specific home and needs. Around 25–30 million Christmas trees are sold each year in the US, making it a million-dollar industry.
22. Bartender
Average hourly salary: $14.59
It's the time of year where Christmas markets and food festivals are rife. One role available is that of a bartender, serving Christmas cocktails and specialties like eggnog and mulled wine. If you want to go solo and set up your own pop-up stall at Christmas events, you'll need to apply for a temporary liquor permit, so make sure to check the requirements in your state.
23. Package handler
Average hourly salary: $14.88
With people sending gifts all around the country (and the world), mailrooms and mail centers are filled to the rafters. Someone needs to sort through these to make sure they get to who they need to, and that's why there's usually a big recruitment drive in this role in the run up to Christmas. If you're looking to earn some extra dollars, you could always look into lending an extra hand.
24. Mince pie chef
Average hourly salary: $15.57
If you're a dab hand at baking, you could always become a mince pie chef over the festive period. If you want to do this on a more permanent basis, you need to look into becoming a pastry chef. However, if you'd prefer to do the job from the comfort of your home, you could always just sell them locally to make a little bit of extra money for Christmas.
25. Turkey plucker
Average hourly salary: $16.63
This isn't a good option if you're vegan or vegetarian, I'm afraid. However, if you're not squeamish and you're willing to get stuck in, this could be a good way to earn some extra money this year. You'll be responsible for plucking the feathers from the dead turkeys so that families across the country can enjoy a roasted bird on Christmas Day.
26. Gift wrapper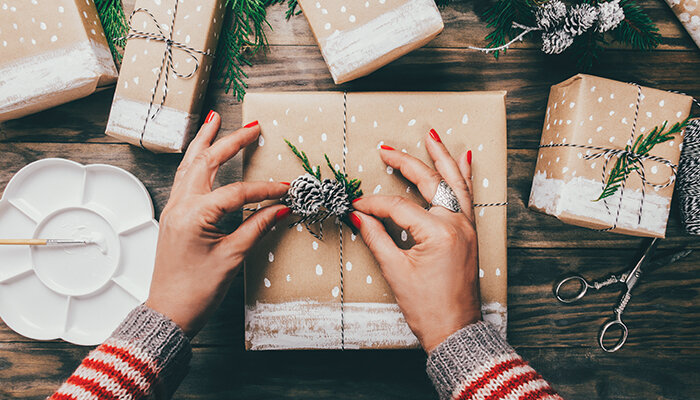 Average hourly salary: $16.64
I personally love wrapping presents, and if you do too, this could be a great (and temporary) job for you. In fact, many big-brand stores employ professional wrappers to train their staff to wrap to high standards, so you'll need a little je ne sais quoi to stand out and get hired.
27. Christmas photographer
Average hourly salary: $18.73
Whether it's getting a family photograph for Christmas cards or a photo booth at the office Christmas party, photographers are highly sought-after around the festive period. If you have good photography skills, why not purchase some festive backdrops and offer some photograph packages? Capture the Christmas joy, spread that Christmas cheer, and make money while you're at it.
28. Christmas card designer
Average hourly salary: $25.14
If you're an artist or a graphic designer (or both!), you could use your talents to design holiday cards. You could set up an online store via Instagram or through Etsy, or print out a few batches and collaborate with local businesses. You could also create a portfolio which features your card designs or offer custom designs and ecards!
29. Sprout picker
Average hourly salary: $14.27
Sprouts. You either love them or hate them. But you could earn some extra Christmas cash by getting up early and picking sprouts around the festive period. The best time to pick sprouts is after the first couple of frosty mornings, as it apparently makes them sweeter and more flavorful. Yum!
30. Christmas tree light untangler
Average hourly salary: Varies
Are you good at problem solving? If so, then hire yourself out to untangle tree lights for people. They might think you're joking, but if you get great satisfaction from untangling the mess of lights each year, you may as well earn a little bit of money while you're doing it. This is a real job, we promise. Don't believe us? Well, in 2015, Tesco hired a student for this exact position, so it's definitely a thing.
Final thoughts
And there you have it! While a couple of the entries are pretty outlandish, there are plenty of ways you can potentially earn some extra money this Christmas. There are always other non-Christmas-related jobs to consider, too, of course.
With the increase in people eating out, you could apply for plenty of hospitality positions that become available over the festive period, or you could transport goods with a job in logistics if you're looking for a job for the long-term. Sometimes you have to think about your overall career goals and go for something that you'll be happy doing until you're ready to take your next career step.
Have you ever worked in any of the roles in this list? Share your experiences with us in the comments section below!
Originally published on November 24, 2017.