Who said that an executive CV needs to be long and boring? Yes, you have a lot of work experience, but it doesn't mean that it needs to be plain. Just like any other type of CV, you need to make it stand out to recruiters, so they remember you.
If you think writing a CV for an entry-level position is too much hassle you are in for a shock. An executive CV usually requires even more effort. Luckily, if you are struggling, you don't have to start from scratch. A template is always useful to get started as it can give you all the essential details of what to include.
To make things even easier, we have prepared a list of 10 CV samples for different management positions to give you some inspiration…
1. Company Founder

Visual CV
Visual CV proves that there is a way to come up with good visuals and equally good content. Without going into too much detail it covers the essentials. It provides a strong career summary and includes key areas of expertise as 'core competencies' which are necessary to every executive. The photo isn't needed but when used in the right way it can add a more professional tone on your CV.
2. Executive Director

LiveCareer
The candidate has chosen the traditional style of CV, starting with the contact details, followed by key areas of expertise and a short but on point summary that talks about personal traits and qualities needed for the role. As expected, it then lists a long and detailed work history talking about achievements. The addition of numbers is obvious and very powerful in this example.
3. Marketing Communications Manager

Monster
One of the best features of this CV is that it has clearly divided sections that are easy-to-follow. But I also love the use of a specific section for awards and achievements for each role that demonstrates professional success and recognition. It also lists expertise in technology which shows that this candidate possesses strong skills and that he's got a lot of experience in marketing. It's long, but sometimes it needs to be if you want it to be relevant to the role.
4. A President

Visual CV
Avant-garde CVs often get a bad rap, and too much of anything can destroy your chances of getting that job. What you can do is take a look at what this candidate has done. Even though he has an extended work experience section, he focuses only on what's important, and that is explaining what he's has done in the past and what he can potentially do in the future. Also, you will notice that he includes a link to his LinkedIn profile and professional website which evidences that this candidate is active online.
5. Operations Manager

LiveCareer
Hobbies and volunteering activities aren't needed on the managerial or executive CV. Just like this example shows, you need to focus on experience and education. As a person with a long work management history, you need to focus on what you have done in your previous jobs, what you have contributed to your last employer(s) and presenting this information in a clean way by allowing enough white space.
6. Human Resources Officer

LiveCareer
What's unique about this CV is that it starts by highlighting key areas of expertise and accomplishments before it moves on to the work experience section. Accomplishments are shown with examples and numbers in percentages or dollars to make them more powerful. His name is placed quite prominently on the paper and helps self-branding, followed by a short but strong summary.
7. Director of Sales and Business Development

Visual CV
Another excellent example from Visual CV that provides a summary and details of the candidate's experience. Notice here that the structure has a sense of symmetry and follows a logical order, presenting the information from left to right starting with the name and contact details and then moving on to work history. The contact details column and the blue colour gives this CV a unique style.
8. General Accounting Manager

Visual CV
This candidate shows that he has strong experience as both an Accountant and General Manager. Unlike the previous examples, this CV has the column list on the right of the paper, and this positioning in advertising makes the skills section easier to spot. The CV has a humorous aspect to it, with the candidate describing himself as an Excel Wizard, Rapport Generator, and Xero Lover. Being creative on your CV can look good like in this example, but should always be used in moderation.
9. Business Manager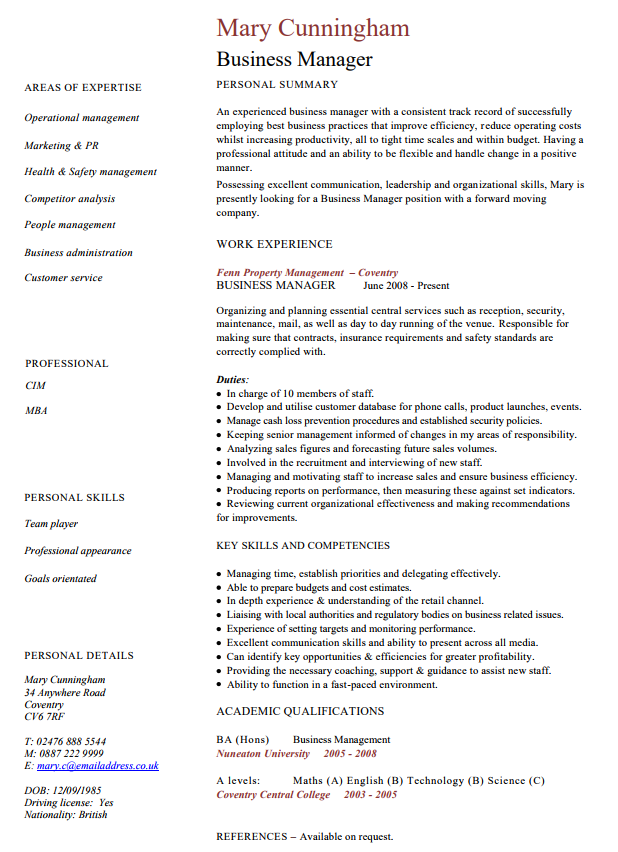 DayJob
A straightforward and visually clean CV that includes everything you need; areas of expertise, personal skills, personal summary, work experience, key skills, competencies and academic qualifications. Duties don't have to be included and the work experience section can be longer if needs be.
10. CEO

Visual CV
There is always going to be another person who has the similar qualifications as you but not everyone will present it in the same way. A CV that combines a unique design with information presented in a neat and easy to read format is more likely to create a good impression on employers! Also, don't forget to send your cover letter along with your CV!
So, are you looking for a senior position? Does your CV look anything like these examples? Let us know in the comments section below…