After working your way up the career ladder and earning your executive title, your skills, specialisations and business prowess become part of a long list of achievements which you need to somehow fit into a résumé, and this could prove to be a tricky task indeed.
Just like any other résumé, you need to make yourself and your career stand out, but as an executive professional, you must also keep your résumé at a desirable length and highlight the most important milestones of your career.
If you're looking for a source of inspiration to land an executive job, then, you're at the right place.
These 10 executive résumé examples and templates will help you create your very own professional document in next to no time!
1. Business manager
A business manager's duties and responsibilities can vary significantly depending on their industry and the company they work for. Your résumé, then, should provide the hiring manager insight to what your past roles have encompassed and highlight any quantifiable achievements you've attained.
This template enables you to create a straightforward and visually clean résumé that includes everything you need: areas of expertise, personal skills, personal summary, work experience, key skills, competencies and academic qualifications.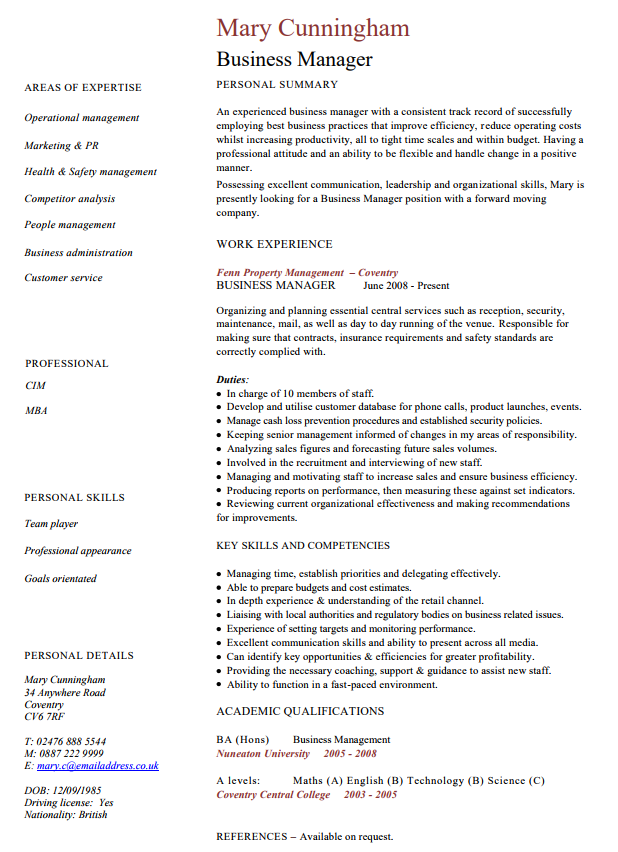 DayJob
2. Chief executive officer
As a chief executive officer, your CV or résumé should prioritise your experience within this role, as well as your accomplishments in your career thus far.
As an individual who has harnessed a lot of experience, your past roles, responsibilities and achievements should be the first thing a recruiter sees. Meanwhile, your education could be placed in the second page of your résumé, along with any other noteworthy information such as publications, memberships, certifications, skills and expertise.
As CEOs usually boast extensive work experience, their résumés tend to be packed with information, lengthy descriptions and chunks of text. As you can see, the template below follows a lean and straightforward structure, which allows recruiters to skim through information with ease while also retaining the most important details on your résumé.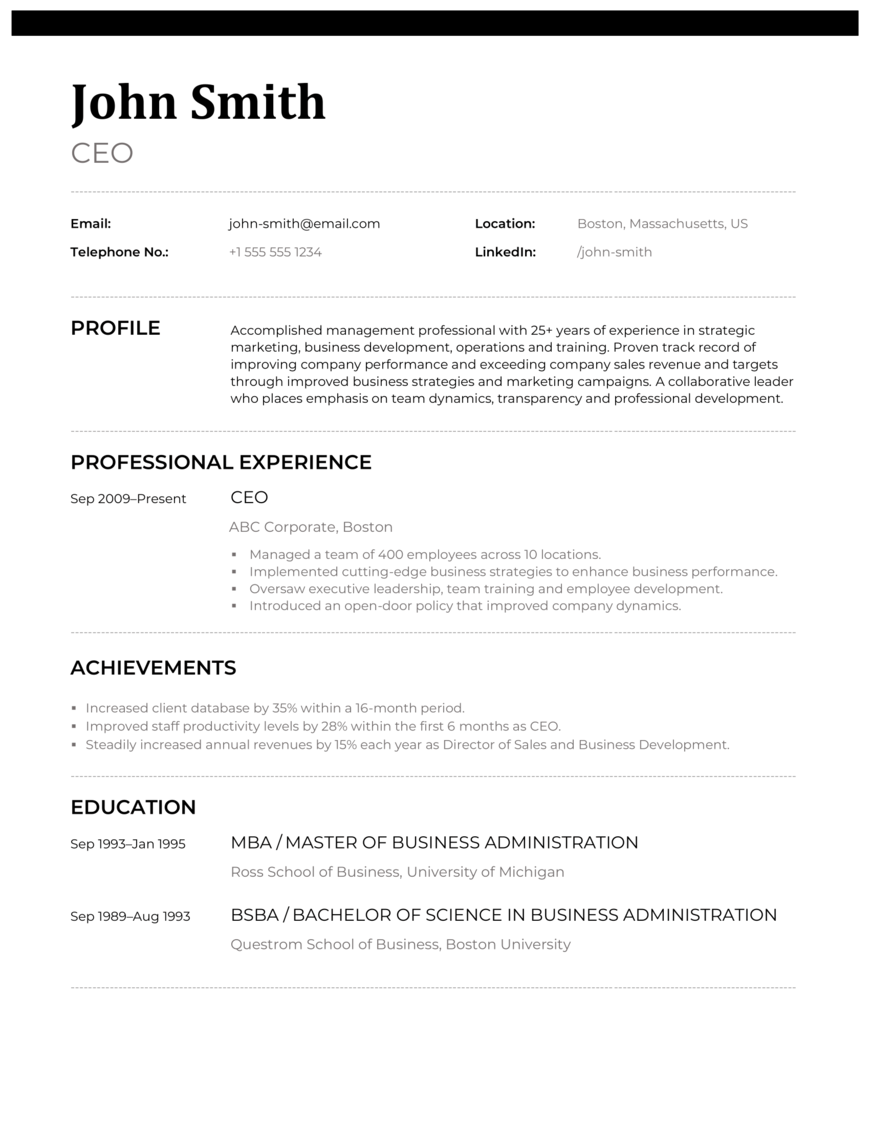 Download Template
3. Chief operating officer
There is no better COO résumé example than that of Sheryl Sandberg. The document manages to capture her experience, expertise as well as greatest achievements in a single page by optimising the space each section occupies and utilising smart graphics.
What is great about this résumé example is that Sandberg's character shines through along with her professionalism. For instance, her job title not only includes 'COO' but also 'Proud Mother & Women's Rights Advocate', creating a more personalised image of herself.
The 'EXPERIENCE' and 'MOST PROUD OF' sections both encapsulate Sandberg's professional journey by using quantifiable information rather than just a description of her duties. For example: 'Led Facebook in revamping its mobile ads strategy, bringing in$8 bn in revenue, 85% of Facebook's total revenue to date'.
You don't need to be Facebook's chief operating officer to create an equally impressive résumé. The key here is to focus on your own professional achievements and incorporate them within the content of your résumé, along with your most noteworthy skills and characteristics.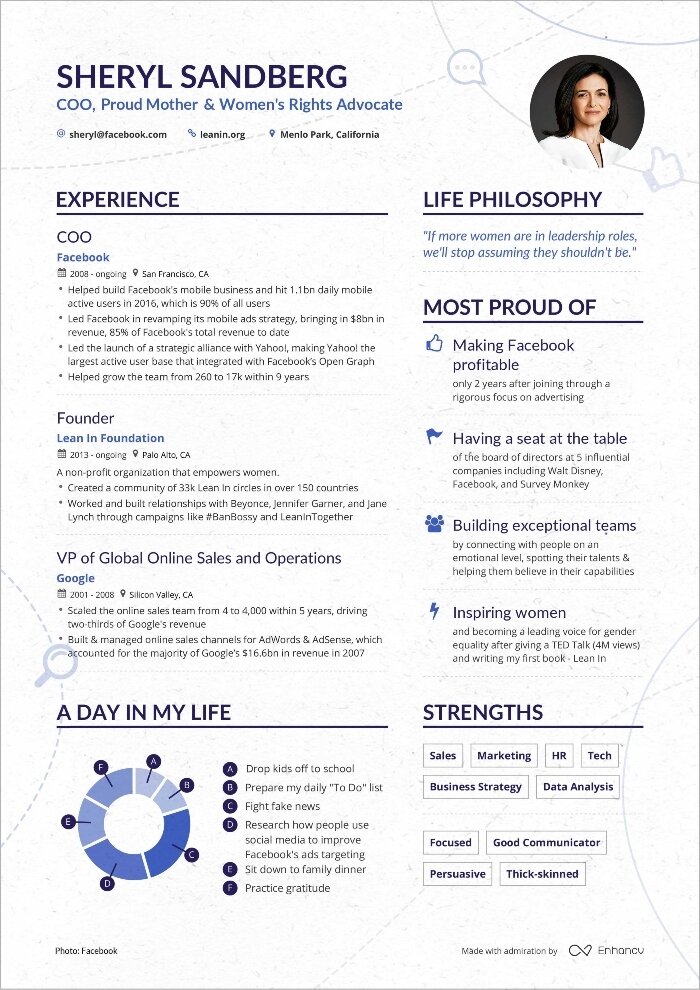 Enhancv
4. Chief Information Officer
As the senior technology executive within a company, you oversee the organisation's security systems and IT operations. Therefore, you must prove to recruiters that you're a tech-savvy individual who is in sync with new technological developments in an ever-evolving industry.
Your résumé is also a good indication of this, so a modern and up-to-date layout will certainly help sway recruiters. The specific sample below is separated in two columns, making information more accessible while also maintaining work experience as the main focus.
It's also worth mentioning how the personal summary is utilised in this example. Instead of stating generic objectives, Peter Smith uses this space to promote his skills and showcase his experience as CIO, which immediately creates a more impactful impression on the recruiter.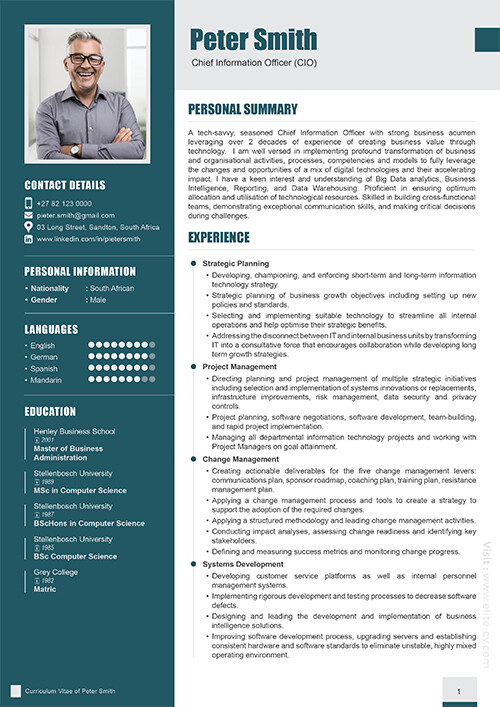 Elite-CV
5. Marketing executive
This résumé sample is focused and to the point. The candidate not only utilises her professional summary to talk about her professional experience but also backs up her claims with valuable data such as 'creating multiple Facebook Ad campaigns that generated $500k+ revenues and 700k views'.
The next section is strategically placed above work the candidate's work history, as it enables the recruiter to decipher the candidate's suitability for a marketing executive role through her areas of expertise. The presentation is also much more comprehensible than the conventional bulleted lists often used to exhibit skills and specialisations within a résumé.
As you move down the work experience section, you can see that the candidate uses the given spaces to illustrate not just her duties but also her achievements within each role, once again emphasising her prowess within these roles.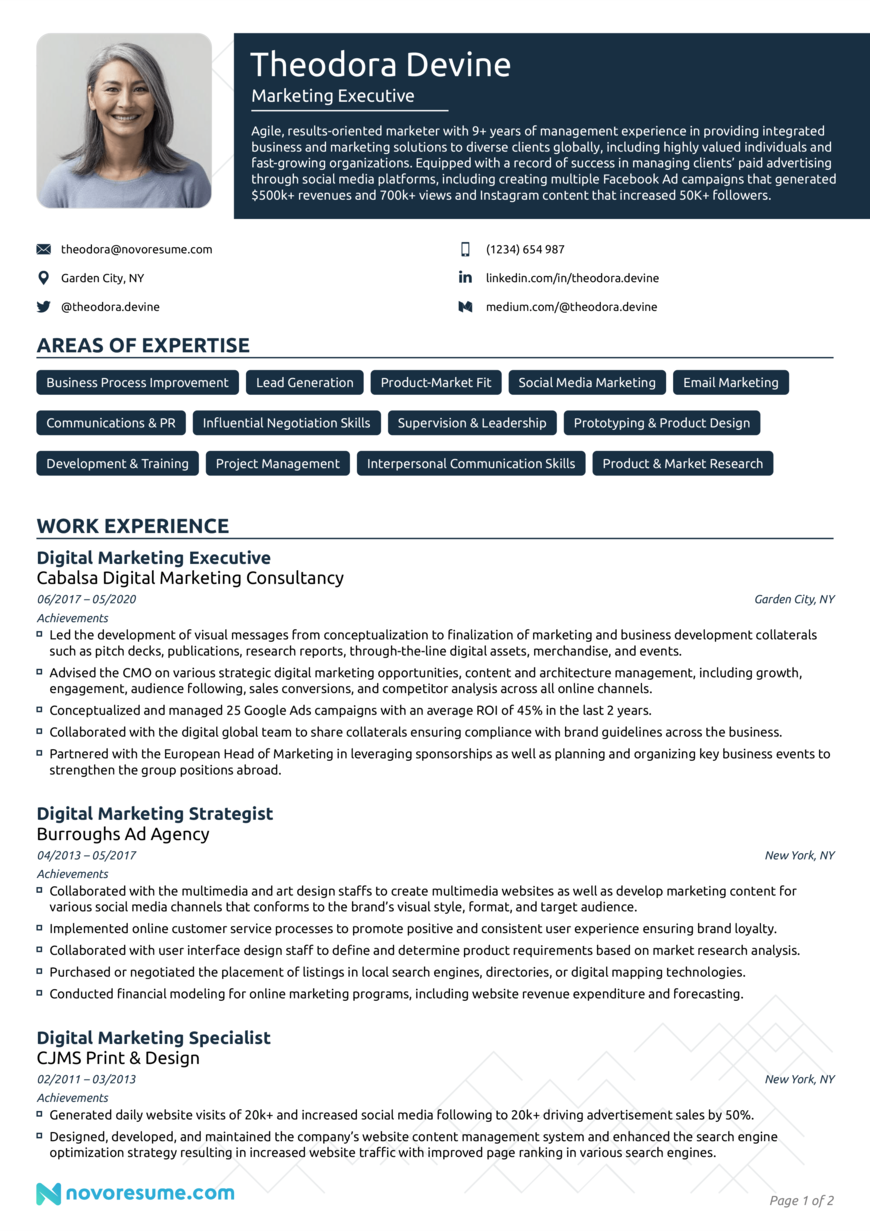 Novorésumé
6. Chief financial officer
As a chief financial officer, your role involves overseeing the financial operations of an organisation. It's important, then, to present powerful, fiscal achievements within your résumé. That said, make sure that the content of your résumé isn't overwhelmed by numbers and statistics – remember: your application will be reviewed by both financial and non-financial recruiters, so it should be comprehensible to both.
In the template below, the candidate combines numerical data with wordier descriptions under each of their previous roles. This allows the recruiter to gain a more detailed insight into the candidate's experience as well as their key achievements and responsibilities without excessive financial jargon.
The template's minimalist design also pairs well with the content, giving it a clean and polished look.

Download Template
7. Vice president
Like CEOs, vice presidents tend to have a lot of experience to show off on their résumé.
You don't necessarily need to use bullet points to summarise your duties and achievements. For example, this particular example showcases the applicant's experience and also captures her professional objectives and achievements throughout her profile as well as in each job description. 
This résumé template illustrates the person's experience in great detail, but due to its simplistic and clean design, the information is digestible and easy to get through. The template's monochromatic tone also makes it an elegant and professional choice for someone within an executive rank.
8. President/Founder
As a company founder, you need to ensure that your résumé captures your business acumen as well as your background knowledge in the industry you're in. Founders usually have diverse educational backgrounds, so it's also important to indicate your career journey thus far.
In this particular example, the two-column layout allows the applicant to showcase his technical skills, expertise and interests all while featuring his work experience, personal summary and education.
What's great about this design is that you can exhibit your suitability for an executive role in a single page, capturing the recruiter's attention from the get-go.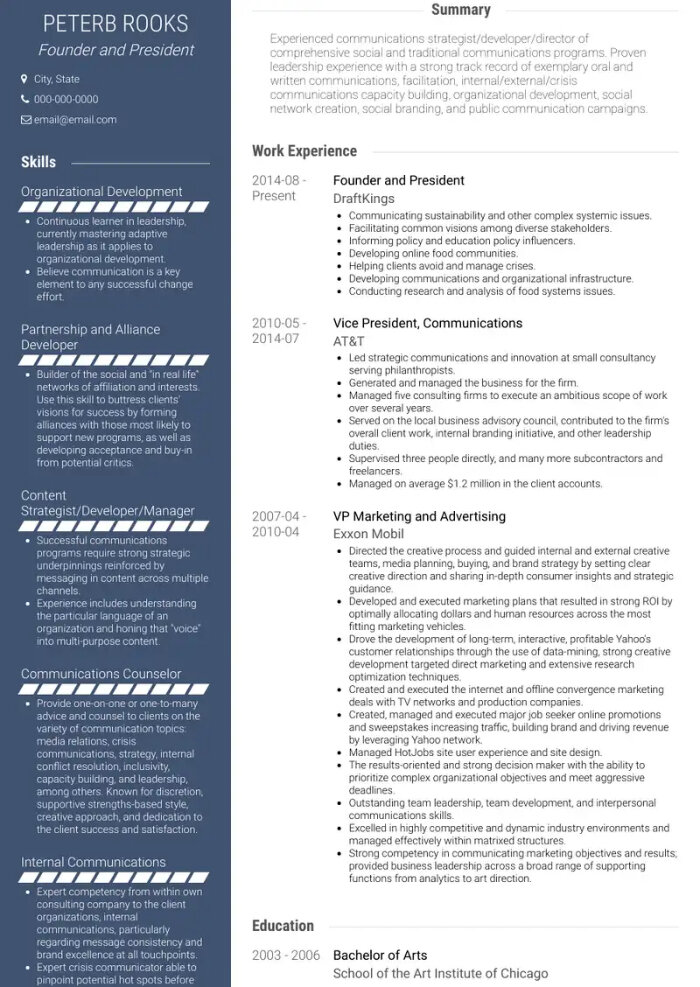 VisualCV
9. HR officer
What's unique about this résumé is that the candidate's key areas of expertise and accomplishments appear before the work experience section. This is quite a wise move, as the applicant uses quantifiable data to make themselves stand out.
As for its design and résumé structure, the applicant's information and work history are neatly presented throughout the document and the dash of red font also helps to create a bold and prominent résumé. All these become factors which, when combined, can make a lasting impression on any recruiter looking for their next HR officer.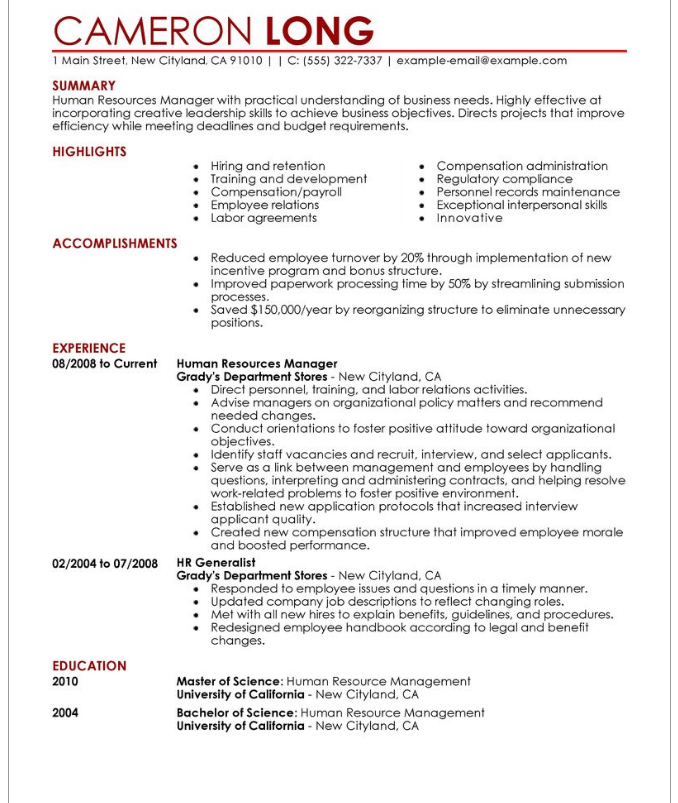 LiveCareer
10. Sales director
As a sales director, you'll know the important role that presentation plays when it comes to sealing a deal. Well, the same rule also applies to your résumé.
This is a modern and fresh design which helps all the information within it to stand out.
This résumé sample not only encapsulates the person's experience in a neat and straightforward manner but also highlights crucial key points about the candidate that are presumably tailored to the role's requirements.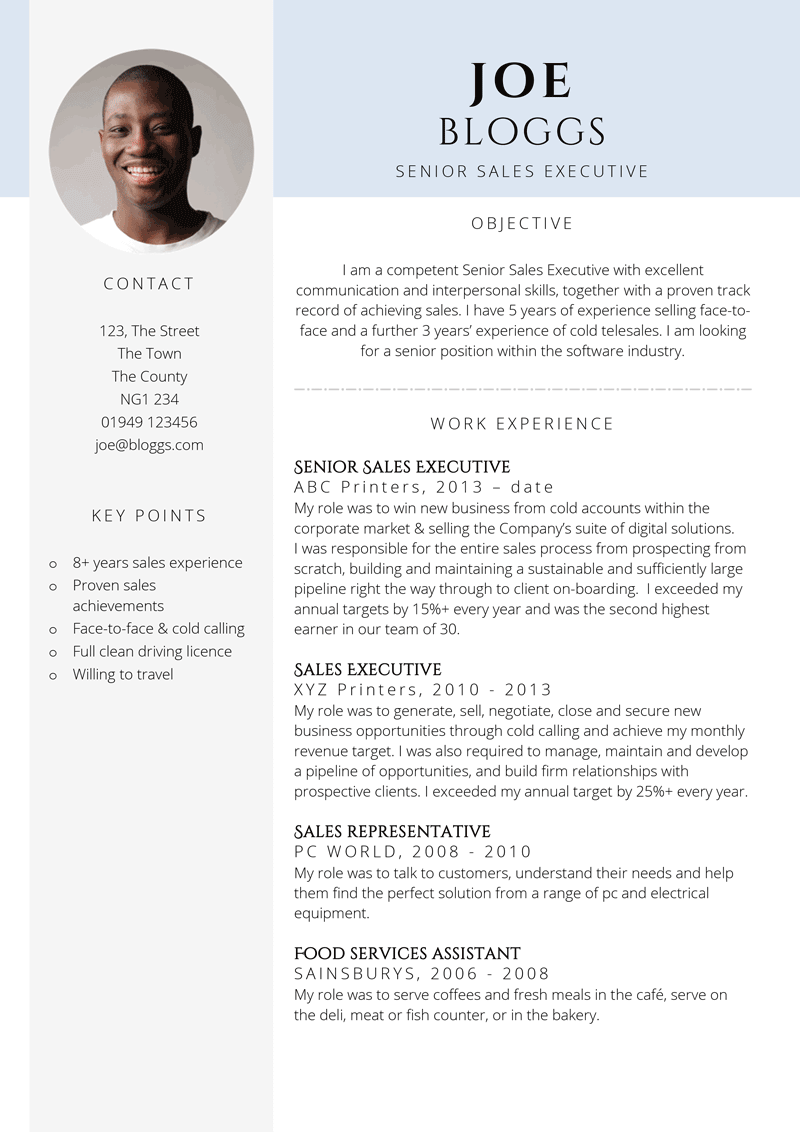 CV Template Master
Final Thoughts
To create the perfect executive résumé, you need to consider multiple factors. The information you choose to include, but also how you choose to present it, will play a major role in your application success. Before you begin, then, consider the most noteworthy information about yourself as an executive, and prioritise them like so.
Don't have the time to write your résumé? Get a professionally written résumé with the help of CareerAddict's specialists. View résumé packages
Which of these templates caught your attention? Let us know in the comments section below!
---
This article is an updated version of an earlier article originally published on 4 October 2017.