Many who are looking to build a professional presence online often go to LinkedIn as their first social networking solution. With over 58 million companies and 930 million members using the platform, it's a good choice for growing a professional network! But in terms of potential outreach and successful personal branding, no other social media platform competes with Facebook.
At nearly 3 billion active monthly users (over one-third of the world's population!), Facebook is the most popular and most active social network in the world. By comparison, LinkedIn's number of users is over three times less than Facebook. It's also an easy process to start a Facebook account, with as little as a name, date of birth and email address.
Here's our complete guide to creating a professional Facebook profile.
Why you should be on Facebook
Well, a few pieces of data show clearly why you should have a professional Facebook presence:
2 billion daily active users
Most users are of professional age (25–34)
Possible to reach upwards of 1.98 billion people by using Facebook ads
In short, while professionals and businesses frequently turn to LinkedIn as the first source for networking with potential colleagues, Facebook provides a larger audience and greater potential for outreach, networking and building your personal brand.
Profile vs page: Which is better?
There are some notable differences between Facebook profiles and pages, and each has their own unique set of pros and cons — all of which are explored here.
Facebook profiles
Facebook profiles are used mainly for individuals to share information about themselves. This includes images, personal interests, life events, location, hometown and videos. Profiles are descriptions you can share with friends, family members and possible connections. It's your way of giving personal details you want others to know about you.
If you're looking to build your personal brand, profiles can be turned into professional profiles by turning on professional mode. Professional profiles use your existing account to manage a professional following while also maintaining your existing friends and family connections.
Pros
Useful for maintaining personal connections
Comes with features not available on pages, like Chat and gaming
Cons
Have to manually accept users for them to see your content in their newsfeed
Not separate from your main profile
Facebook pages
Pages are a great way for companies or individuals to develop effective personal branding. Public figures, artists, businesses and non-profit organizations can all benefit from building a page. With pages, users simply have to hit the "Like" button, and they will be able to see your content on their newsfeed.
Pros
Useful for businesses
Can be separate from a personal profile
Cons
Not as useful for personal connections
PRO TIP
While both offer tools to help build a professional presence, the primary difference between the two is that profiles are for people and pages are for companies or businesses.
How to create a professional Facebook profile
Starting a professional Facebook Profile is a straightforward process which can be done in less than a minute or so from your main account. Below are the four steps to follow in order to turn on professional mode:
Step 1: Open Facebook
This one's pretty straightforward. If you're using the app version on your phone, then open the app. If you prefer using Facebook on a desktop browser, then go to the Facebook site in the search engine of your browser of choice.
Step 2: Go to your profile
Once opened, log in to your Facebook profile (if you're not already logged in). Once logged in, click on the icon of your profile picture. This will appear in different areas depending on whether you're using the Facebook app or the desktop site.
On the home screen of the desktop site, click on your profile picture on the top right corner of the screen. Then click on your name, which will appear below your profile picture.
On the app, click on your profile photo on the bottom right-hand corner of the screen. Then click on your name, which appears at the top of the screen.
Step 3: Click on or tap the menu button
You can find this on the right side below your profile header.
Now that you're on your profile page, open the menu button (…) by clicking on it. This will provide you with a dropdown list of more options. The most important item for now is the dropdown item "Turn on professional mode."

Step 4: Click on "Turn on professional mode"
When you've located the "Turn on professional mode" dropdown menu item, click on it.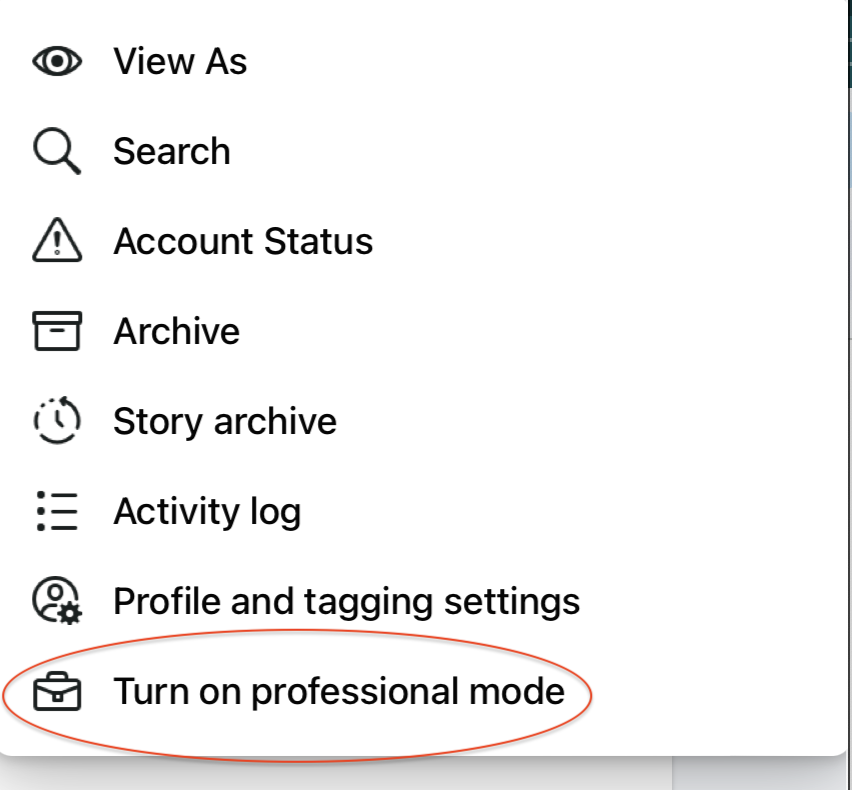 Step 5: Confirm your choice by clicking "Turn on"
After you've clicked on "Turn on professional mode," a pop-up box will appear that gives you two choices: "Learn more" and "Turn on."
If you're still not sure you want to turn on professional mode, then click on "Learn more" to prompt another page to appear, which gives more details on what turning on professional mode entails.
If you feel like you're ready, though, then simply click on "Turn on".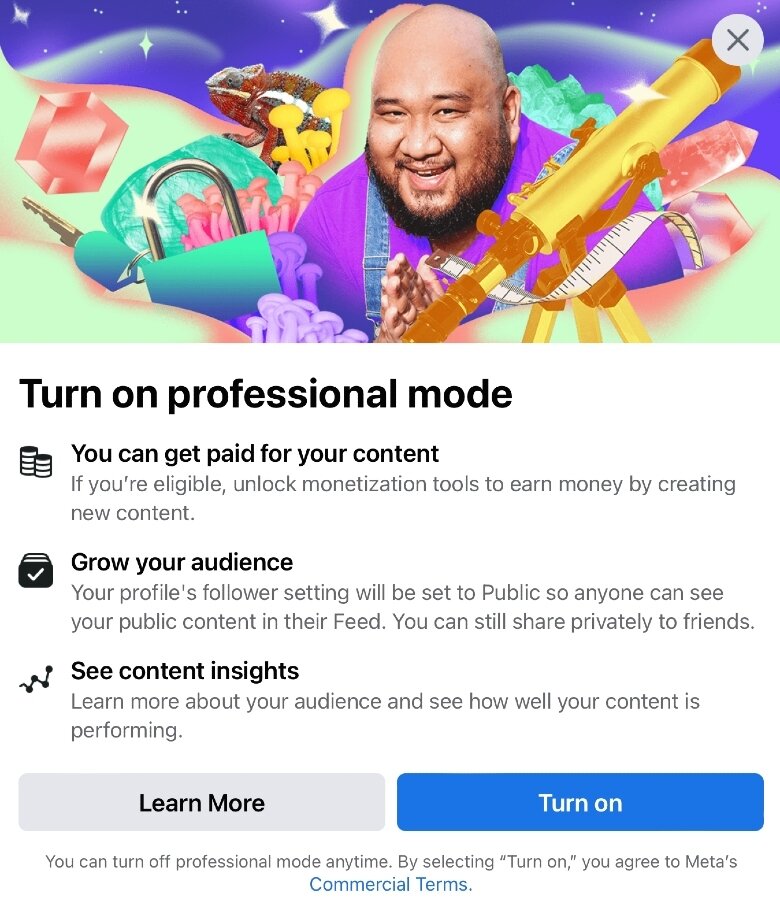 Step 6: Sit back and enjoy the ride
And that's it! You're now ready to get started with your new professional profile!
Bonus: Turning professional mode off
If you're not sure professional mode is right for you, then you can easily reverse your choice by turning it off at any time. This will have no effect on your friends, followers or profile content, but it's important to note that you'll no longer have access to tools specifically designed for professional mode, including enhanced safety features (Moderation Assist) and discovery opportunities, as well as future monetization.
Turning professional mode off can be done in three simple steps:
Go to your Facebook profile page.
Click on or tap the menu button (…) under your profile header.
Click on or tap "Turn off professional mode" and finish the remaining steps.
How to create a Facebook page
So, you've decided it's time for your company to start a Facebook page. Fortunately, you're in luck, because we've also got tips for how you can go about doing it!
There are different steps for doing this on the app and doing it from your computer. For the sake of ease, we'll be showing you how you can start a page from your computer.
Step 1: Open Facebook
As above, the first thing you'll need to do is open Facebook on a web browser of your choice.
Step 2: Click on or tap the Pages section
From the homepage of the Facebook desktop site, click on the "Pages" section. Note that this can appear differently depending on how wide your browser is. If it doesn't appear, you'll have to click on the dropdown menu for more choices:


Scroll down until you find "Pages":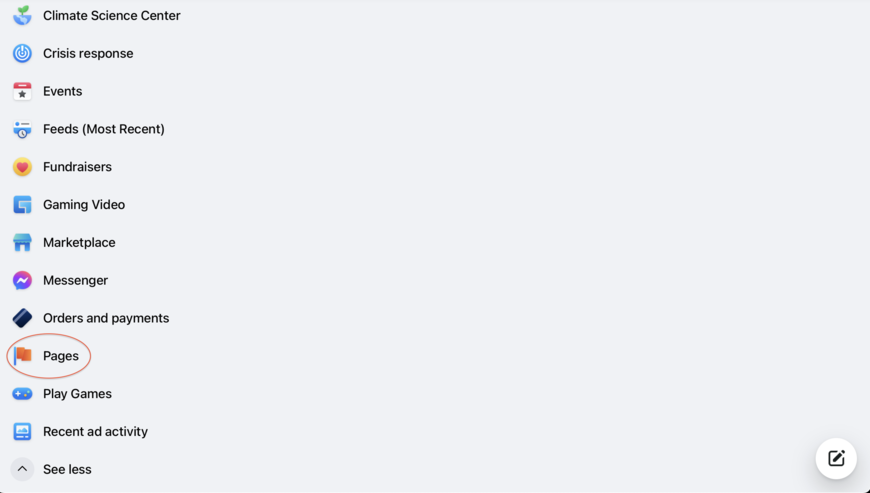 Step 3: Click on "Create new Page"
Once you've located and clicked on the "Pages" section, you'll now be able to create a Page by clicking on the "Create new Page" section just below "Your Pages":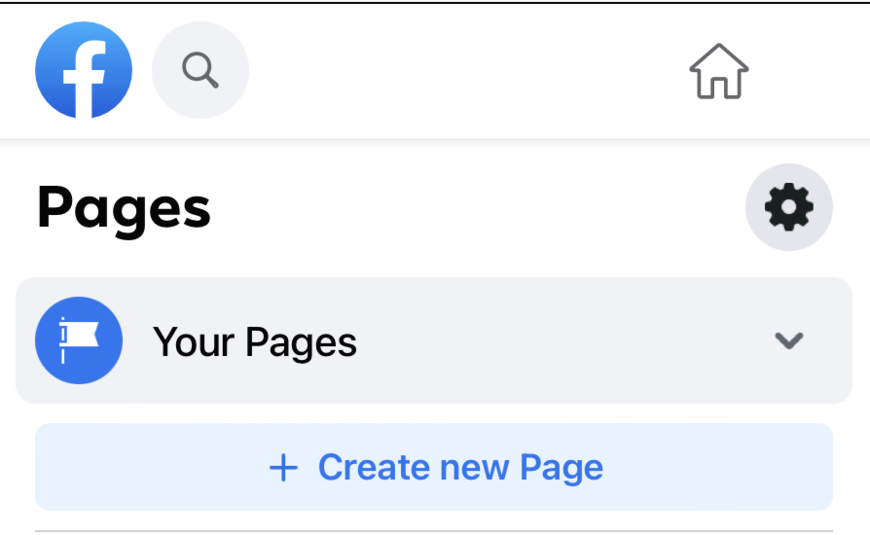 Step 4: Enter a Page name and category
Here, you'll need to decide on a name and category for your Page. Simply start by typing the category for your business, and Facebook will start auto-filling. In the example below, typing "home" prompts a list of scroll-down options which all fall under the category of businesses relating to the keyword: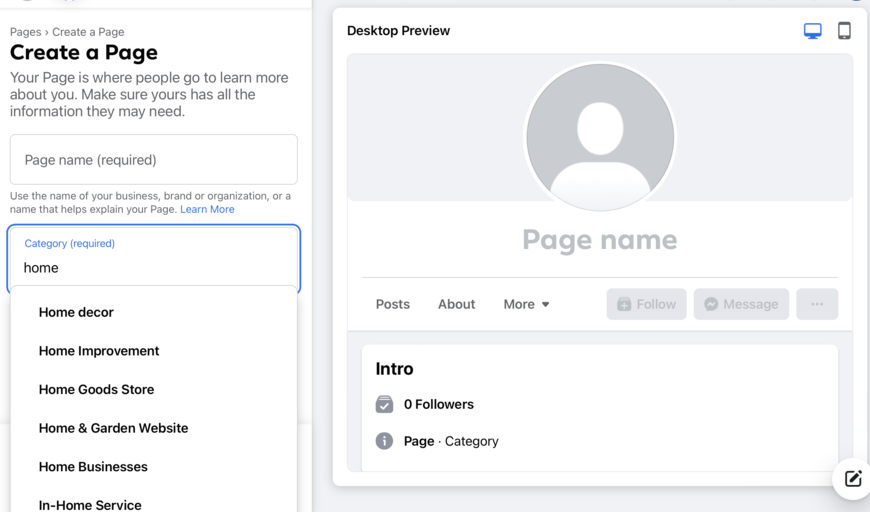 Step 5: Click on "Create Page"
After choosing a name and category for your business, the "Create Page" button will turn blue, allowing you to finish the process and create your Page. Note that only after you have chosen a name and category will Facebook allow you to create a Page: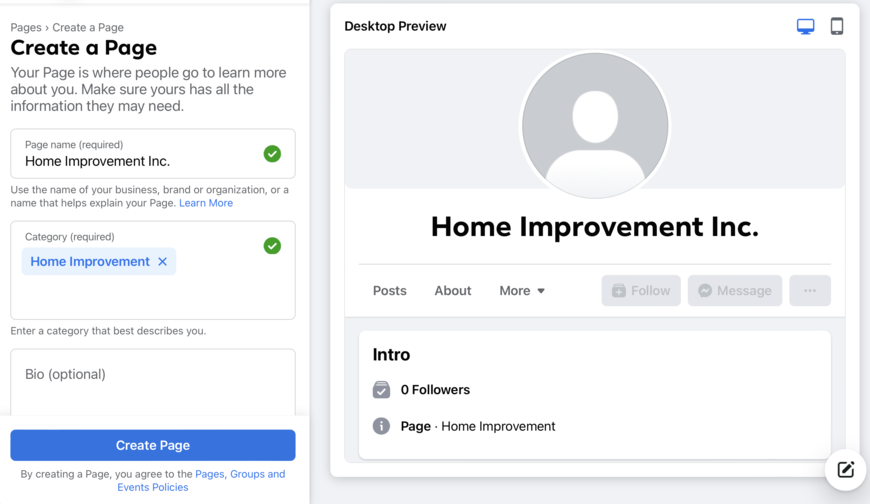 While the Bio section is optional, it wouldn't be a bad idea to hit the ground running by letting your future clients know what you're all about!
Step 6: Customize as needed and start creating content
If you haven't done it already, take the time to find an appropriate picture and cover photo, and add a Bio section to let people know more about your business. Remember: it's about writing your business's story, creating a company profile that sets you apart from the competition, and creating content that is both engaging and unique.
Examples
Now that we've covered the basics, let's look at a couple of examples of great Facebook profiles and pages to get an idea for why they work.
Starbucks
With over 35 million followers, you might be thinking there's no way a smaller company can compete with the profile of a company that has the reputation that Starbucks does. But they can teach small companies a few things about social media presence. For one thing, what they know is that they're selling not just a product, but a lifestyle.
Let's look at this post:

Why does it work? It's simple, yet brilliant. It shows the company's basic approach by giving customers what they want while also reminding them they want it. The next time their followers find themselves out for a walk on a sunny day, they'll think: "Mmm, Starbucks!"
Facebook
At first glance, there's nothing about Facebook's Facebook's very own Page visually that makes you say "Wow!" Have a look at the cover photo below: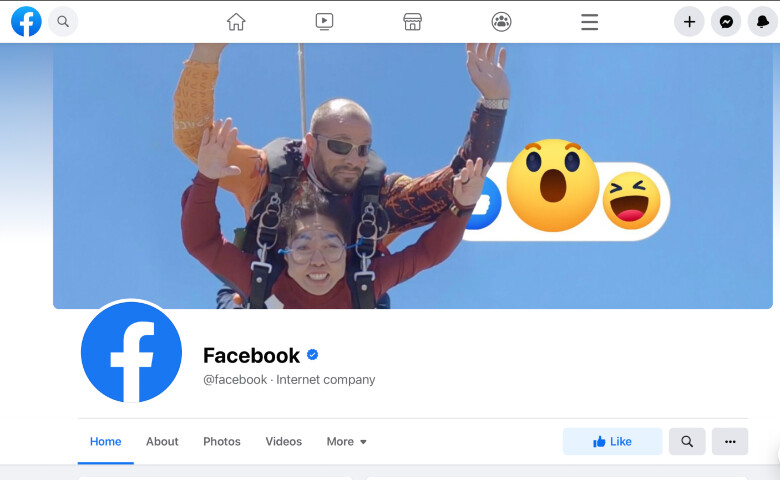 You might be thinking: why not have a cover photo that is more about the company: their headquarters in Silicon Valley, a picture of Mark Zuckerberg, or even a short inspiring message?
But that would take away from the real focus: YOU (the user). By making their cover photo in the form of a story, they're trying to tell you that this could also be you, sharing your own content, and getting likes and wows of your friends and family. There's even a call-to-action in the caption: "Live. Laugh. Love. Like. Wow." 
The hidden message: with your content, the sky's the limit (literally!). So, keep on doing things, and don't forget to post and react!
Tips for using Facebook for career growth
Now that you've started your professional profile or Page, now you need to start employing some strategies to leverage the platform for professional growth. Let's start with a few tips:
1. Use Groups for learning and upscaling
With over 10 million Facebook Groups aimed at helping users connect with others who have similar interests, you can be sure there's something out there for everyone! Facebook Groups are great resources for learning new skills, with groups both large and small dedicated to everything from coding to career growth.
2. Land more clients
Rather than creating a Facebook Page or professional profile and letting it sit unchecked, use Facebook's Ads tools. You can actively get to know who your clients are and stay connected with Facebook's Ads Manager. You could also start your own Facebook Group and land clients organically that way!
3. Research industry trends
Another way of using Facebook for career growth is to research industry and company trends on the platform. Industry leaders, companies and upper management willingly post information about their products, services and relevant consumer news on social media. By following these accounts, you'll be privy to all the latest industry news.
4.   Network with people in your industry
Instead of viewing Facebook as something that could get in the way of your career, actively use it to advance your career. One of the best ways you can go about doing this is by networking with professionals in your line of work, or potential clients. But before you start doing that, make sure to clean out your profile of any potentially damaging activities or posts!
Final thoughts
Facebook is an indispensable resource for boosting the online presence of your business or personal brand. But for an effective personal branding strategy both online and offline, it's important to leverage its features in an optimal way while avoiding common mistakes.
The choice between creating a Facebook Page and a profile is, ultimately, a personal one. It all comes down to the specific use and function you have for your Facebook presence.
If you have an existing profile and you're looking to make a professional account without losing your current connections, then a professional profile is the way to go. If you're looking to use Facebook's marketing tools and large user base to get the word out to your target audience, though, then starting a Page is the way to go!
Thinking about creating a professional Facebook profile or page? Let us know in the comments!
Originally published on April 7, 2017.