Congratulations! You've found a new job and you're preparing to move on to greener fields. But before you start packing your belongings and gleefully call out "CYA!" on your way out the door, there's one thing you need to take care of:
Your letter of resignation.
This little document is basically a formality that helps you share your intent to resign with your employer, as well as preserve a positive relationship with them and move forward in your career.
But what exactly should you mention in your letter (aside from the fact that you quit)? 
Find out how to write a resignation letter with our in-depth formatting, style and content tips, plus get inspired by our sample letters to start writing your own and quit your job on a professional and positive note!
The structure of a resignation letter
There are some general layout and format rules to follow when writing your formal resignation letter to ensure its clarity and readability.
Essentially, formal notification letter should include the following:
Your contact information: This should include your first and last names, home address, phone number and email address. Ignore this part if you're resigning via email.
Date: The date you wrote the letter — you can skip this if you're sending an email resignation.
Company name and address: Again, ignore this part if you're sending an email.
Salutation: As this is a formal letter, avoid opening with "Hey Julie" (even if you and Julie are best friends) and instead use "Dear Ms Smith". Make sure you address your letter to the appropriate person.
First paragraph: Cut straight to the chase — mention your position, your intention to resign and your last day of work.
Middle paragraph: Use this section to say "thank you" for the opportunities the company and the position have provided you with during your employment.
Final paragraph: Conclude your letter by offering your help to find and train a suitable replacement and generally assist with the transition.
Closing: Avoid closing with "Cheers" or "Later" and instead choose a more professional close, such as "Kind regards" or "Yours sincerely".
Your name and signature: Use a handwritten signature if you're writing a physical letter. This should go above your typed name. If you're sending an email, simply type your name, followed by your contact information.
Tips for writing a resignation letter
You naturally want to leave on good terms and keep your professional reputation intact. Here are some quick pointers to help you achieve that:
1. Speak to your boss first 
Before you set out writing your resignation letter, arrange a meeting with your boss to tell them about your plans to resign. Only once you've done this should you submit your letter. You might also consider submitting a copy to HR — especially if your boss is unavailable (ie: they're out of the country) and you need to hand in your resignation immediately.
2. Keep your reasons brief 
While you're not obligated to tell employers why you're resigning (like starting a new job, for example), there's no need to add lengthy explanations if you do decide to share your reasoning. Make sure that you remain professional and positive throughout. You'll only come across as bitter if you decide to go on a tirade of insults and complaints against your employer or co-workers. Remember: if you would like to voice any grievances, speak to the company's HR department or bring them up in your exit interview. (On a relevant note, make sure your letter doesn't exceed one A4 page!)
3. Type it
Your letter should be typed and printed — do not handwrite it! Also, remember to use traditional fonts such as Times New Roman, Arial or Calibri at a clearly legible size (between 10 and 12 points).
4. Mind the formatting 
This is a formal letter and should, therefore, follow the conventions of a standard letter. This includes adding a margin of one-and-a-half inches around the page.
5. Proof and edit
Make sure your letter is grammar-perfect and typo-free — after all, you don't want to accidentally list the wrong end date and end up having to work an extra month!
Sample letters
There's no such thing as a one-size-fits-all resignation letter, as your reasons for resigning and overall circumstances could vary greatly from those of the next reader. Having said that, though, we've put together the following resignation letter templates to help you out if you're struggling to put your thoughts into words.
Resigning via email
If you're resigning by email, here's an example of how to do it: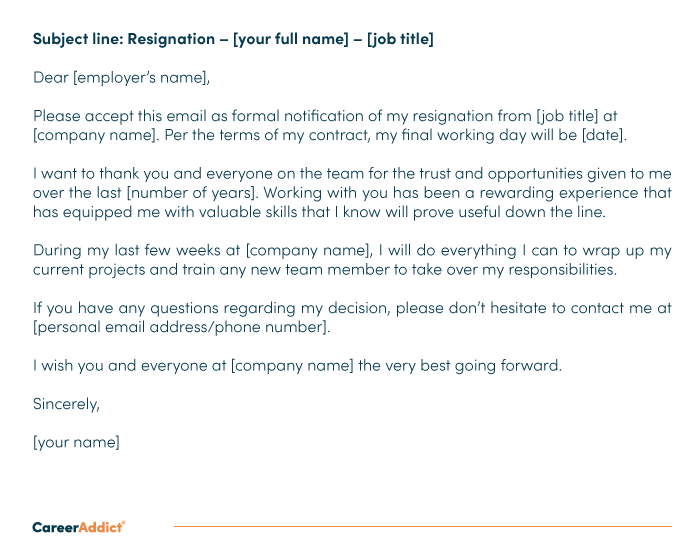 Resigning via letter
If you're handing your notice in by hand (in paper form), then this is how you should structure your letter: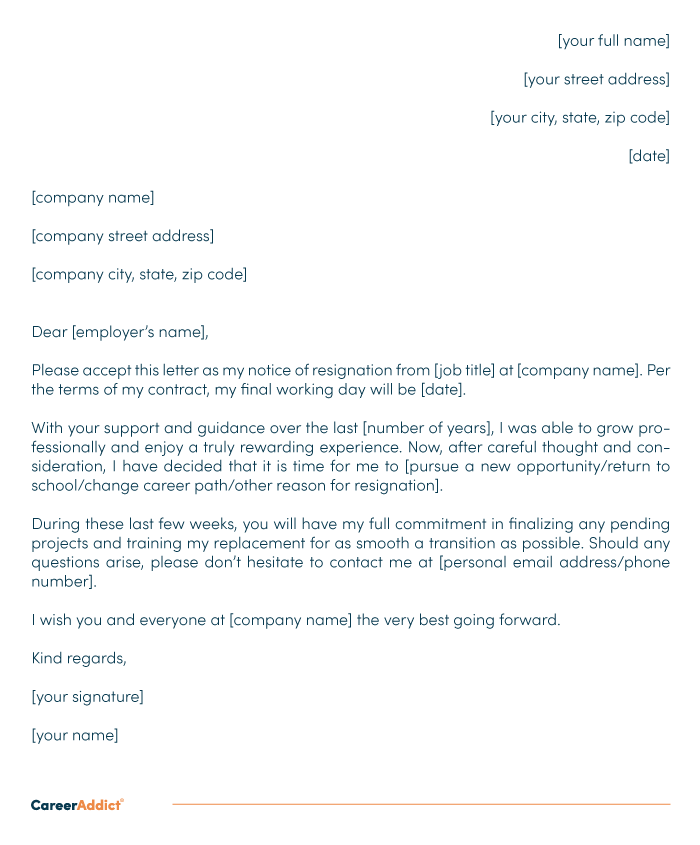 Resigning with short notice
Need to leave sooner than expected? Follow this example to write a short notice resignation letter: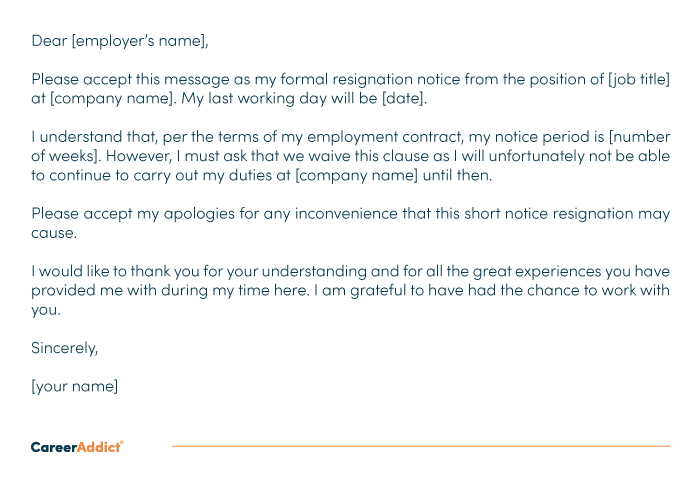 Resigning with advance notice
If you have some time to play with and can work your full notice period, you could go with something like this: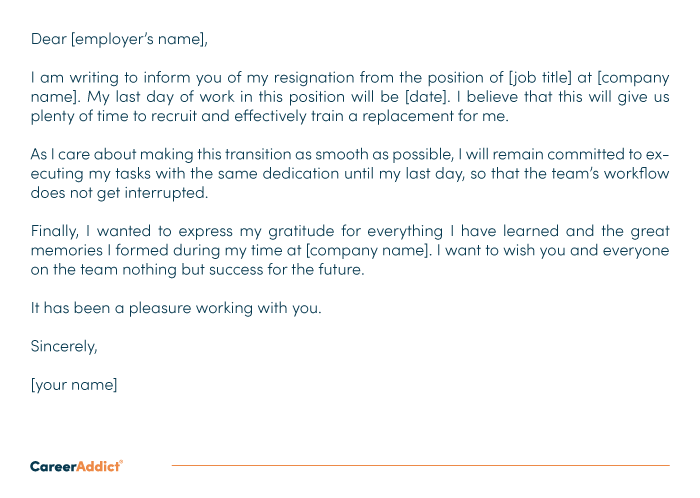 Resigning for a new job
It's best to go with something like this if you're leaving for a new job: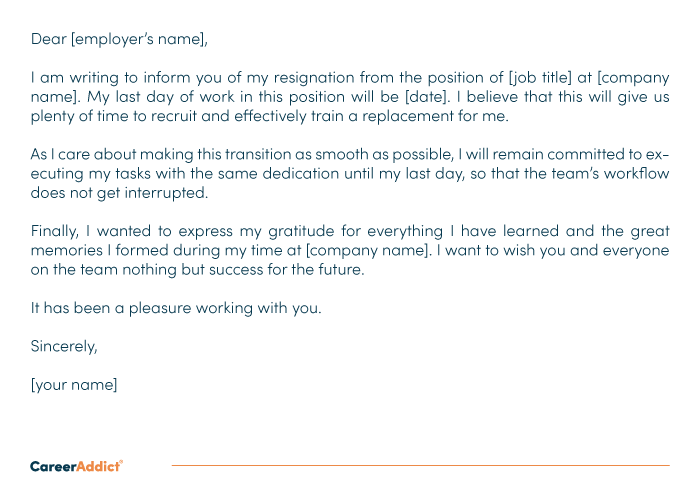 Resigning to further your education
Studying and working at the same time can be tough. If you need to resign due to furthering your education, use this as a guide: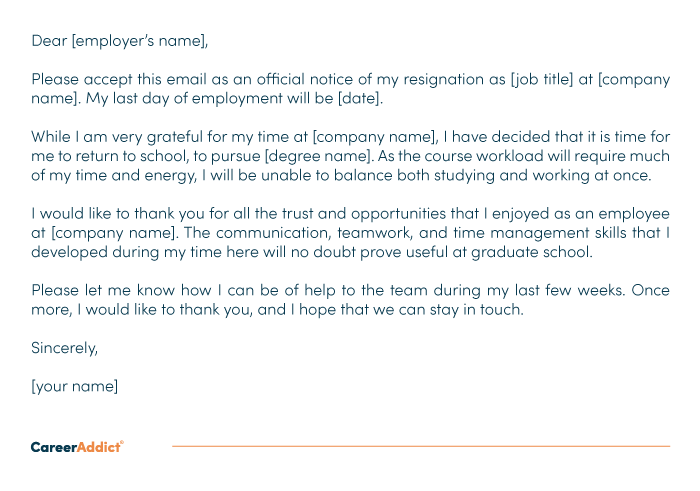 Resigning to care for a sick family member
Sometimes, we need to put our family first. If you're resigning because you need to care for a sick relative, here's a template to follow: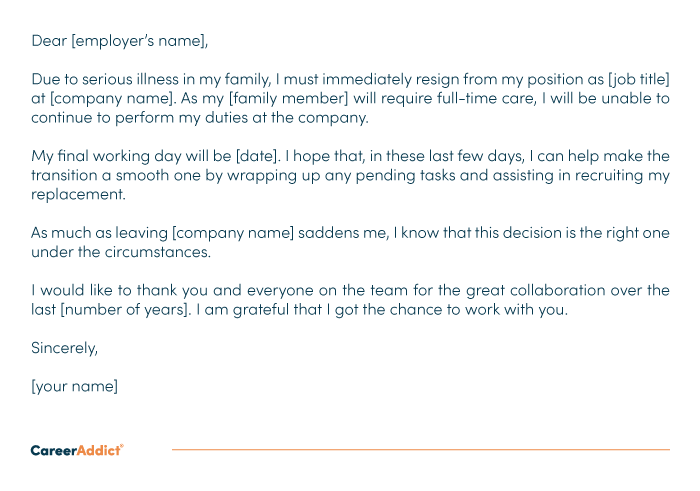 Resigning to change careers
You might just be wanting/needing a change. If you're changing careers, use this as a guide: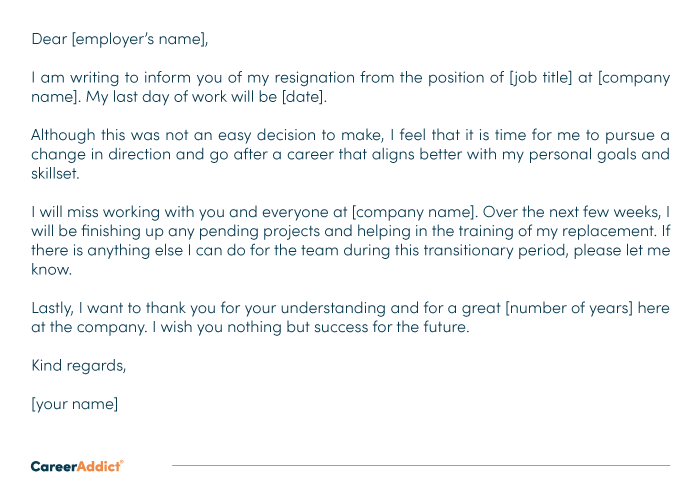 Resigning for career growth
Professional advancement and growth are important to you, and you need to resign your current position to succeed. If that's the case, follow this template: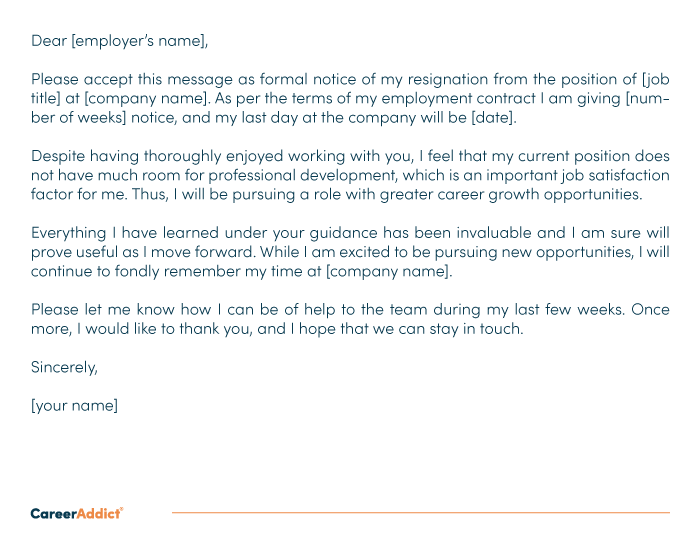 Things to remember
Here are some final tips to keep in mind about quitting your job in general.
1. Give the appropriate amount of notice 
How much notice you need to give will depend on your job and the company you work for. This will usually be stated in your contract of employment or employee handbook. If it is not, then by law you must give a minimum of one week's notice if you've been in your job for more than a month. Remember that you may be in breach of contract if you don't give enough notice.
2. Ask for a reference letter
Although you might feel a little uncomfortable asking your boss for a reference letter after quitting your job and you might not presently need one (if you've already got another job lined up, for example), it's best to do so now while you're still fresh in your employer's mind. It's also a good idea to start asking for LinkedIn endorsements and recommendations.
Never ask for a reference in your resignation letter. The best time to ask for a reference is during a private talk with your boss or during your exit interview.
3. Find out about employee benefits
Make sure you ask your employer about unused sick and paid leave, and anything else you might be entitled to before leaving your job. Seek legal counsel if things do not add up.
4. Handle counter offers appropriately
If you're a valued employee at the company, your employer may choose to make a counter offer to keep you on. For example, they may offer a salary increase or a promotion. Whether you choose to accept or decline such offers is completely up to you, and you're advised to carefully think about your particular circumstances and career goals before reaching a decision. Make sure you notify your employer of your decision (and the new employer, if you've decided to stay on).
5. Don't burn bridges 
Even if you really hate your job and your boss is the worst ever, it's important that you leave on good terms. You just never know what's in store for you further down the line. For example, you might end up working with your boss again in a different company (awkward!) or you may want to return to your old company if you later come across a once-in-a-lifetime opportunity there (fat chance).
6. Don't quit in the heat of the moment 
If you did (during an argument, for example) but have changed your mind about leaving, then you could retract your resignation by sending your employer a written request to remain in your job. However, they are not legally obligated to accept your retraction.
Key takeaways
While writing out a light-hearted resignation letter might seem tempting, it's best to stick to what's generally considered good resignation letter etiquette. Before you resign from a job and bid your employer farewell, joining millions of others in the Great Resignation movement, make sure you have the following tips in mind:
Start the resignation process by arranging an in-person meeting with your boss or supervisor. Discuss your plans to resign with them before submitting your written notice letter.
While writing your email or letter, mention your reasons for leaving briefly if you must. No long-winded explanations are necessary — and neither are insults, even when you are seething on the inside.
As this is a formal exchange, adhere to the standard business letter format. This means a professional layout and tone. A traditional, legible font, along with error-free, to-the-point sentences can go a long way in maintaining friendly relations with your (as of now ex-) employer.
Although giving two weeks' notice isn't a legal requirement, it's common practice to do so to avoid burning bridges. If you decide to leave earlier than this, apologize for the short notice!
If you're about to hand in your resignation, we hope this helped — and good luck with whatever your next steps are!
What do you think is the best way to resign? What are you including in your resignation letter? Let us know in the comments!
Originally posted on 19 September 2017. Updated by Electra Michaelidou.