It's no secret that university tuition fees in the United States are among the highest in the world, with average annual tuition costs for an undergraduate student at a private college estimated at around $35,000 in the past few years. This dwarfs even the UK, where undergraduate tuition prices are currently capped at £9,250 per year for domestic students, while many European institutions – including the world-renowned Karolinska Institute and ETH Zurich – charge next to nothing for EU students.
But while investing a great deal of money in a degree doesn't necessarily guarantee a first-class education, it does certainly help – especially if you're looking to build valuable networks and kick start your career at a top institution.
To give you an idea of the priciest, here are the top 10 most expensive universities in the world, with one clue: they're all in the US.
10. Harvey Mudd College

Harvey Mudd College
Estimated annual undergraduate tuition fee for 2019/2020: $57,401 (£43,986)
Based just east of Los Angeles in Claremont, California, Harvey Mudd College is one of the seven elite Claremont Colleges and primarily specialises in STEM fields. As such, it occasionally engages in prank exchanges with the nearby California Institute of Technology, although its high production of science and engineering PhD graduates suggests a more serious academic rivalry.
Notable alumni of Harvey Mudd include NASA astronauts Stanley Love and George 'Pinky' Nelson, as well as SQL co-inventor Donald Chamberlin, Audacity creator Dominic Mazzoni and professional poker player Joe Pelton.
9. Franklin & Marshall College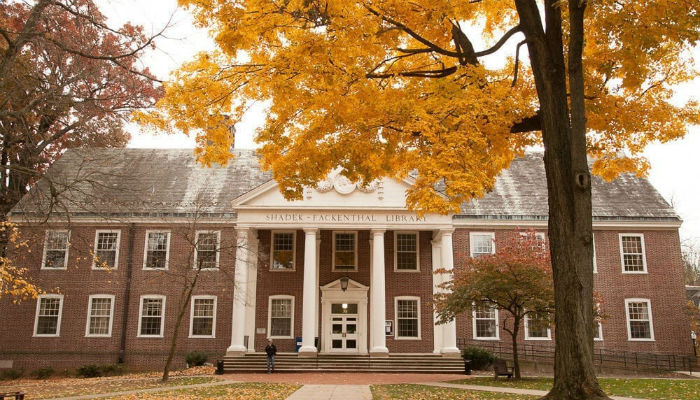 College Consensus
Estimated annual undergraduate tuition fee for 2019/2020: $57,624 (£44,157)
A private liberal arts college located in southern Pennsylvania, Franklin & Marshall College was chartered in 1787, with its initial trustees including five signatories of the Declaration of Independence. It merged with nearby Marshall College in 1849 to create the modern-day institution. Bizarrely, the university's name and logo are also a licensed global fashion brand, following an agreement with an Italian fashion house in 2003.
Notable alumni of Franklin & Marshall include HBO CEO Richard Plepler, decorated army officer and author Richard 'Dick' Winters (as portrayed by Damien Lewis in 2001's Band of Brothers) and Ken Mehlman, the former campaign manager of George HW Bush.
8. University of Chicago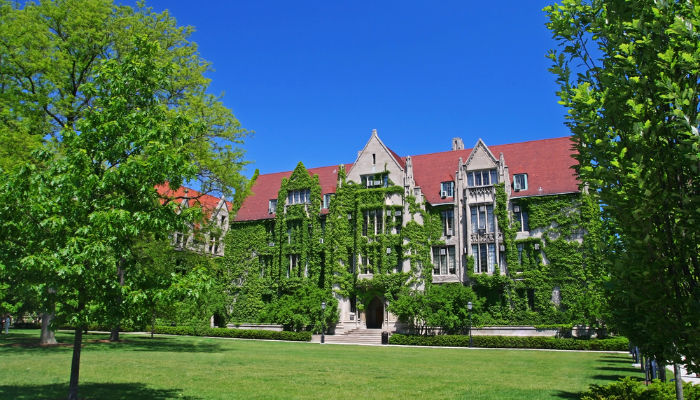 Estimated annual undergraduate tuition fee for 2019/2020: $57,954 (£44,410)
Founded in 1890 by John D Rockefeller, the University of Chicago is one of the largest universities on this list, both in terms of student population and endowment. It boasts an impressive 98 Nobel Laureates among its alumni, as well as 4 Turing Award winners, 23 Pulitzer Prize winners, 16 billionaires and numerous global heads of state – hardly surprising, given the university's reputation for demanding standards, intense workload and academic rigour.
Notable alumni include astronomer Carl Sagan, best-selling novelist Philip Roth and noted economist Milton Friedman.
7. Trinity College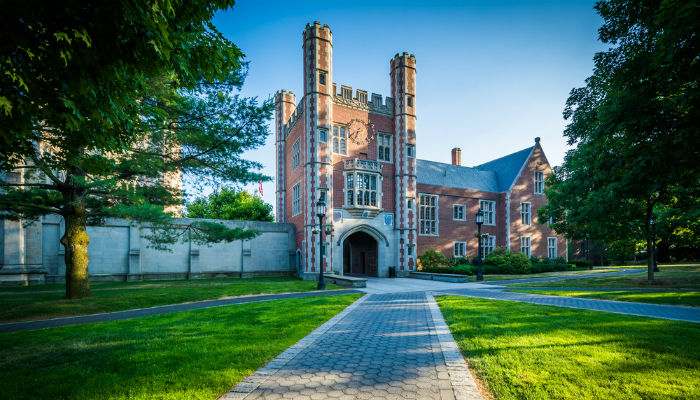 Estimated annual undergraduate tuition fee for 2019/2020: $57,991 (£44,438)
A small liberal arts college in Hartford, Connecticut, Trinity College (not to be confused with Trinity Colleges Dublin, Oxford or Cambridge) was established in 1823 as an alternative to the more celebrated Yale. In its modern-day guise, Trinity is one of the few liberal arts schools to offer engineering courses.
Studying abroad is also a focal part of the student experience; the university has programmes in Paris, Barcelona, Vienna and Buenos Aires (among others), with undergraduates heavily encouraged to spend time abroad before graduation.
Notable alumni of Trinity include political commentator Tucker Carlson, Pulitzer Prize-winning journalist George Will and Boston Red Sox president and CEO Sam Kennedy.
6. Reed College

Reed College
Confirmed annual undergraduate tuition fee for 2019/2020: $58,440 (£44,782)
A small, independent liberal arts college in Portland, Oregon, Reed College is known for its academic intensity, mandatory focus on humanities studies (especially classics) and its unusually high proportion of graduates who go on to pursue PhDs. There are no sororities or fraternities (and few NCAA sports programmes), meaning that there are no extracurricular distractions from study.
Notable alumni include Wikipedia cofounder Larry Sanger, Pulitzer Prize-winning poet Gary Snyder and former US Navy Secretary Richard Danzig. Apple cofounder Steve Jobs, meanwhile, briefly studied at Trinity, too.
5. Boston College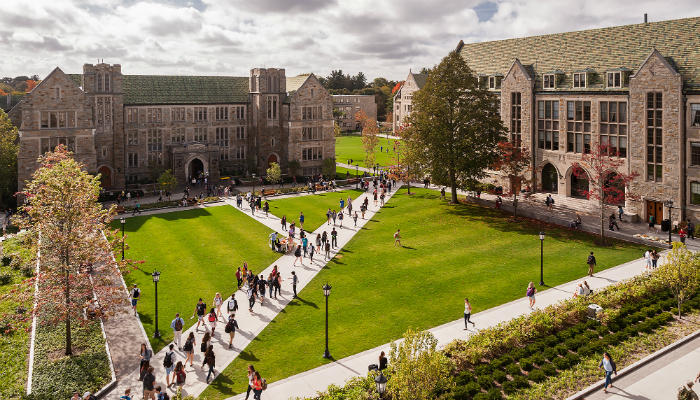 Stimson
Confirmed annual undergraduate tuition fee for 2019/2020: $58,485 (£44,819)
Located in Chestnut Hill, Massachusetts, Boston College is a Roman Catholic private research university, perhaps known best for its athletics programmes. Competing at NCAA Division I level, numerous high-level athletes – particularly within the NFL and NHL – have graduated from Boston, including Brian Gionta, Brian Boyle and Anthony Costanzo.
Other notable alumni include former US presidential nominee John Kerry, Star Trek actor Leonard Nimoy and comedienne Amy Poehler.
4. Amherst College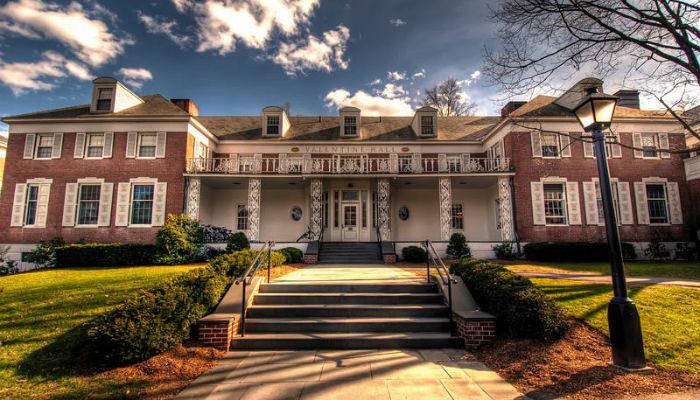 Amherst College
Confirmed annual undergraduate tuition fee for 2019/2020: $58,640 (£44,938)
Yet another private liberal arts college in the American northeast, Amherst College (not to be confused with the University of Massachusetts, Amherst, or UMass) was founded in 1821 and only offers undergraduate programmes. It maintains close ties with Williams College (which it was originally intended to replace) and Wesleyan College, and regularly performs well in US university rankings, leading to its reputation as one of the most selective college programmes in the country.
Despite its small size, Amherst has graduated many notable alumni, including former US President Calvin Coolidge; Tony, Emmy and Golden Globe award-winning actor Jeffrey Wright; and two former Prime Ministers of Greece: Antonis Samaras and George Papandreou.
3. Columbia University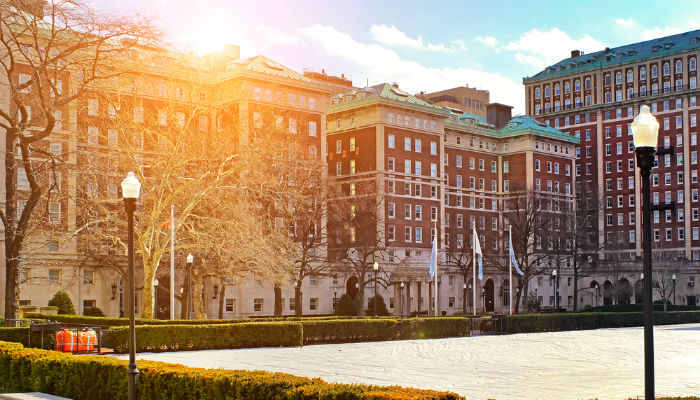 Estimated annual undergraduate tuition fee for 2019/2020: $59,416 (£45,533)
Perhaps surprisingly the only Ivy League entry on this list, Columbia University – located in Upper Manhattan, New York City – was established in 1754 by British royal charter, before changing its name after the Revolutionary War. Since then, it has contributed to numerous scientific breakthroughs, including the Manhattan Project, nuclear fission and the laser.
This is reflected in Columbia's alumni list, which includes 96 Nobel Laureates, as well as 5 Founding Fathers, 3 US Presidents, 29 foreign heads of state, 10 Supreme Court Justices, 38 living billionaires, 11 Olympic medallists, 39 Academy Award winners and 125 Pulitzer Prize recipients. Phew.
Among these glittering alumni are former US Presidents Barack Obama, Theodore Roosevelt and Franklin Roosevelt; writers Jack Kerouac, Hunter S Thompson and JD Salinger; and entertainers James Cagney, Art Garfunkel and Richard Rodgers (of Rodgers & Hammerstein fame).
2. Tufts University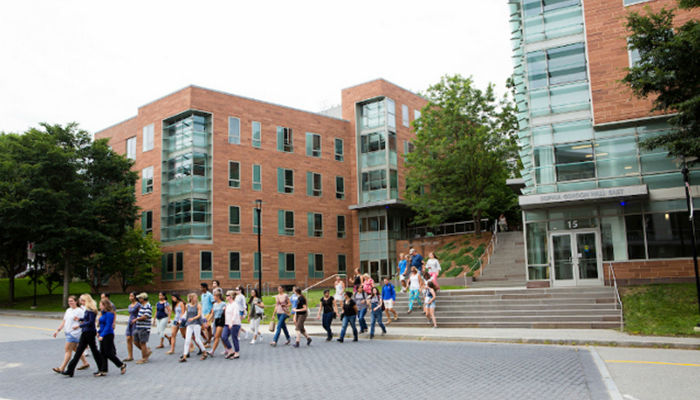 Tufts University
Estimated annual undergraduate tuition fee for 2019/2020: $59,599 (£45,673)
Located in Medford and Somerville, Massachusetts, Tufts University was founded in 1852 and retains academic affiliations with nearby Harvard and MIT. Like Trinity, it is also noted for its emphasis on studying abroad, with an overseas campus in south-eastern France. The university also boasts a thriving acapella scene, with the Beelzebubs (of Glee fame), the Amalgamates and the Jackson Jills all originating from Tufts.
Other notable alumni include eBay founder Pierre Omidyar, figure skater Michelle Kwan and actor Hank Azaria.
1. Vassar College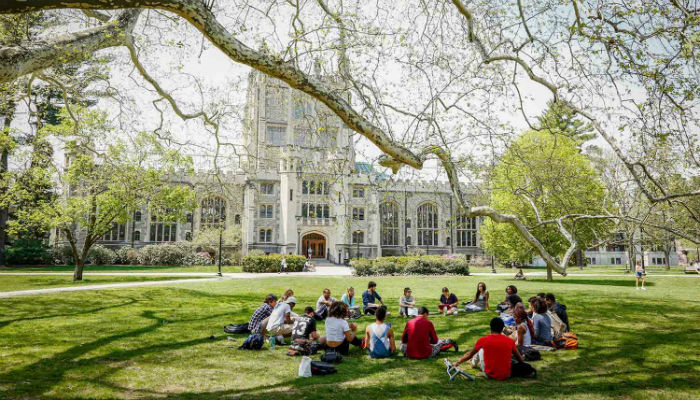 Vassar College
Estimated annual undergraduate tuition fee for 2019/2020: $59,887 (£45,894)
Described as one of the most selective schools in the entire US, Vassar College – located in the rural town of Poughkeepsie, New York and named in 1861 for its founder Matthew Vassar – is well known for its wealth of extracurricular groups and associations, particularly within theatre, comedy and acapella. Students are also encouraged to learn a language while at Vassar, as well as spend a semester elsewhere in the US or abroad.
Notable alumni include Friends actress Lisa Kudrow, Academy Award-winning actress Meryl Streep and journalist Evan Wright, while notable attendees include celebrity chef Anthony Bourdain, actress Anne Hathaway and musician Mark Ronson.
Of course, just because the universities on this list cost top dollar doesn't mean that they're necessarily the best. Indeed, when choosing a university, you should take into account the course that's best for you and the surroundings that you'll be most comfortable in.
There are plenty of ways to make money while you're a student, too, especially if you budget well. Don't forget to check out our guide on how to pay back your student loans, either!
Are you considering an education at any of these pricey universities? Join the conversation down below and let us know!
For the universities on this list that have not yet provided 2020 tuition fee figures, totals are estimated by applying an increase of 1.9% (the average growth rate for private tuition fees between 2017 and 2018) to the existing 2018/2019 tuition fee figures.
All figures stated are for tuition fees and mandatory costs, and do not include living, boarding or personal costs. All figures are for undergraduate fees only.
Currency conversions are based on rates supplied by XE.com.
This article is an updated version of an earlier article originally published on 20 April 2015.
Sources