With the average corporate job opening receiving 250 applications, it's clear that jobseekers are up against a competitive job market.
As recruiters become increasingly overwhelmed by the sheer number of applicants for any given job post, résumé design, format and style will continue to take precedence in a candidate's chances of landing a job.
Sifting through countless custom résumé examples that boast everything from creative to executive layouts can be tiring. It can take hours to find the one that hits all the right notes: inspiring to recruiters, yet professional.
Fortunately, we're here to help. Read on for 10 great résumé designs to use in 2023.
1. Simple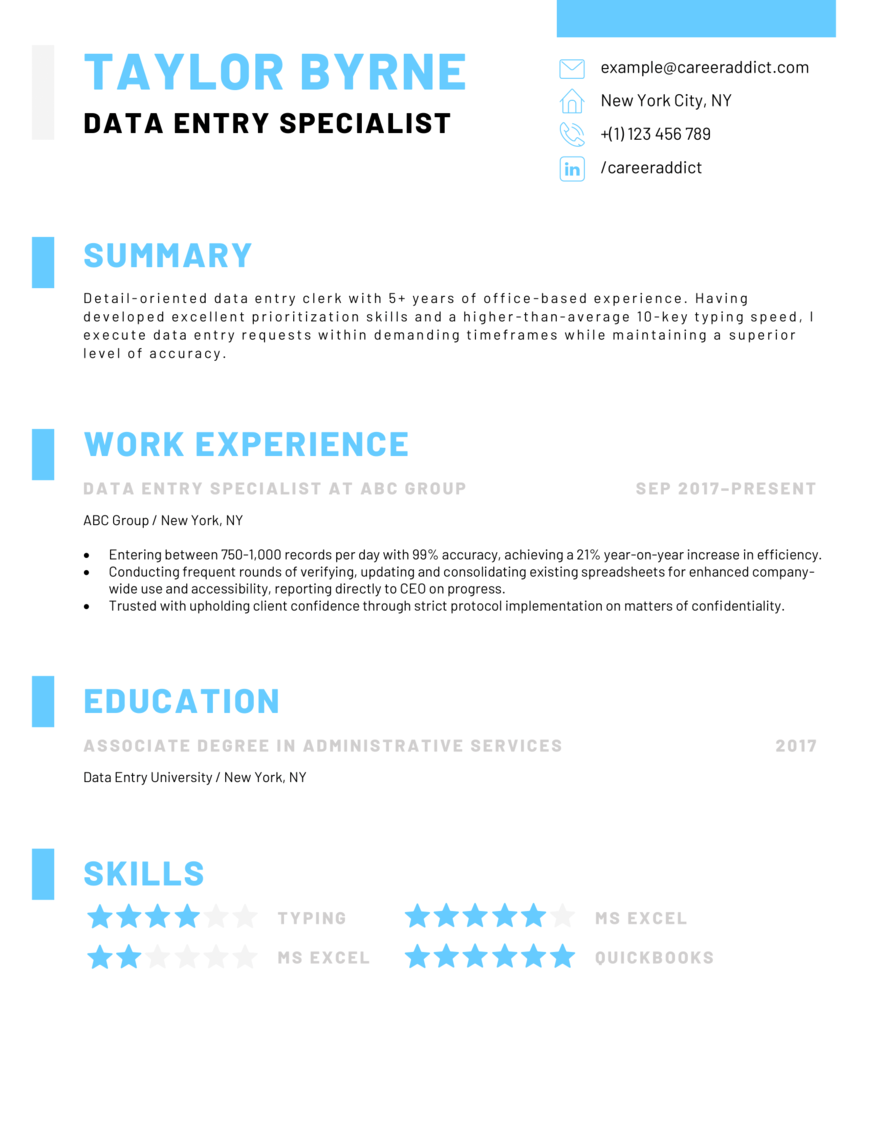 This is an effective layout for individuals with limited job experience, or for applicants transitioning from the entry-level phase of their career.
Its strength lies in the fact that, though the candidate has limited work experience, they show consistency, having worked with the same company for over 5+ years. Its straightforward design includes a section that highlights the candidate's relevant skills with an infographic. This template also makes great use of space to avoid large blank sections, and focuses on tangible results in the experience section.
2. Classic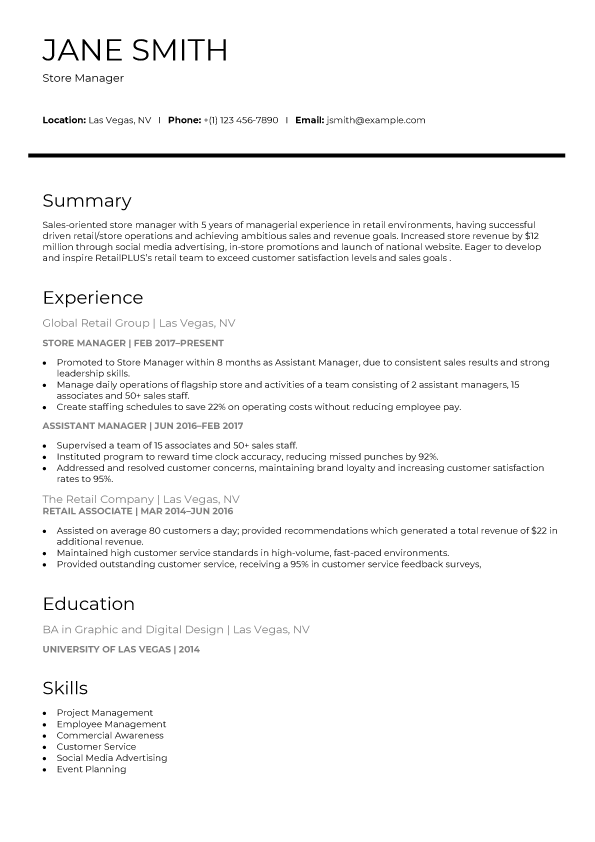 It's tempting to want to stand out from the crowd and go a non-traditional route with a résumé format and layout. But for managerial roles, the most important thing is to showcase results that are easy to find. This résumé makes use of a traditional template style. And that's exactly why it works.
When searching for management, companies are looking for someone who is consistent, reliable and who quickly show the positive contributions they've made in the past. Since employers look for consistency, give them a traditional résumé that gets consistent results.
3. Pictorial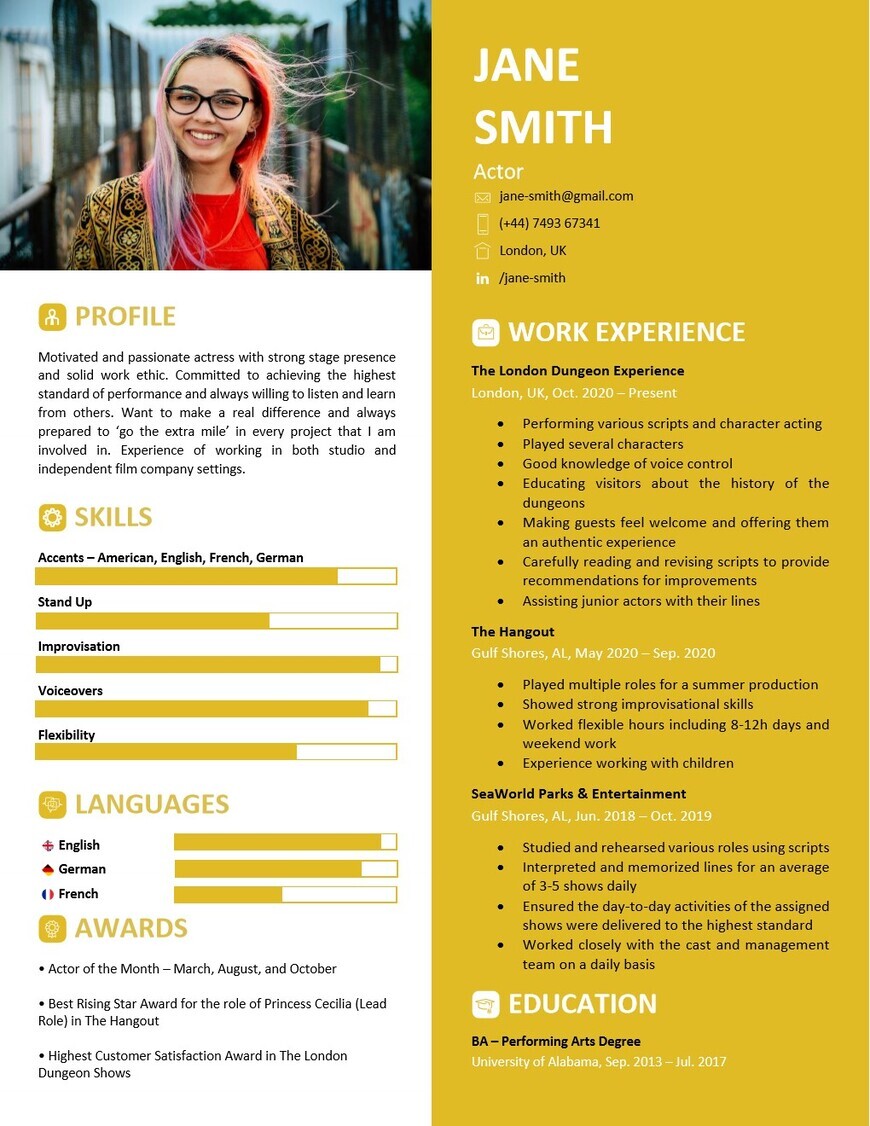 The strength of this example lies in the fact that it's both creative and visual. It makes use of bright colors which are inverted on each side, creating a visually appealing layout. It leverages a creative design that brings the applicant's profile and skills to the forefront.
Note that this template breaks one major convention: it includes a headshot. But while including a personal photo is strongly discouraged in most contexts, it's an essential feature in an actor's résumé.
4. Accentuate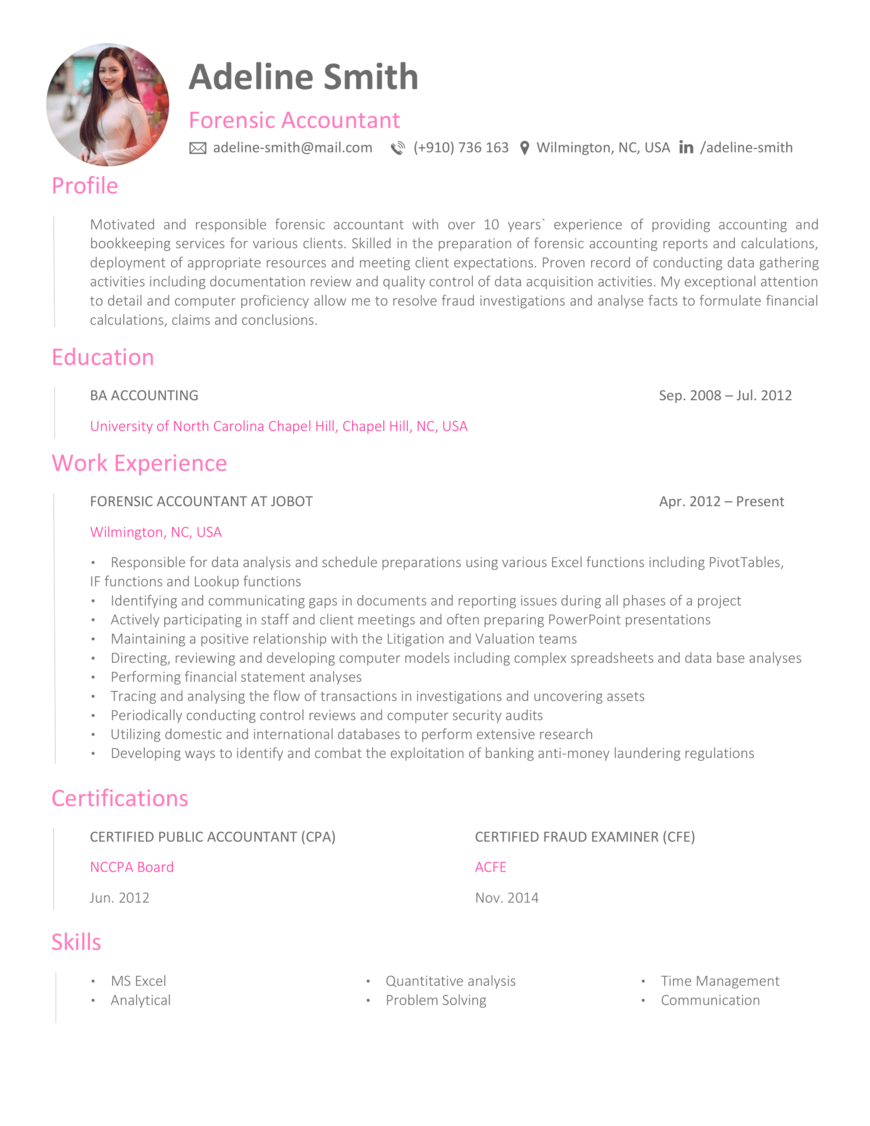 This résumé design stands out as a great accountant résumé example. What we can learn from it is that it's possible to be creative when applying for work in an office setting, and that there are cases when you can break away from conventions.
It makes sparing use of a bright color scheme to highlight individual sections, as well as a chronological layout that shows career progress. The candidate's inclusion of a photo and choice of color show trustworthiness and the ability to stand out in a career that can be serious.
‌5. Monochrome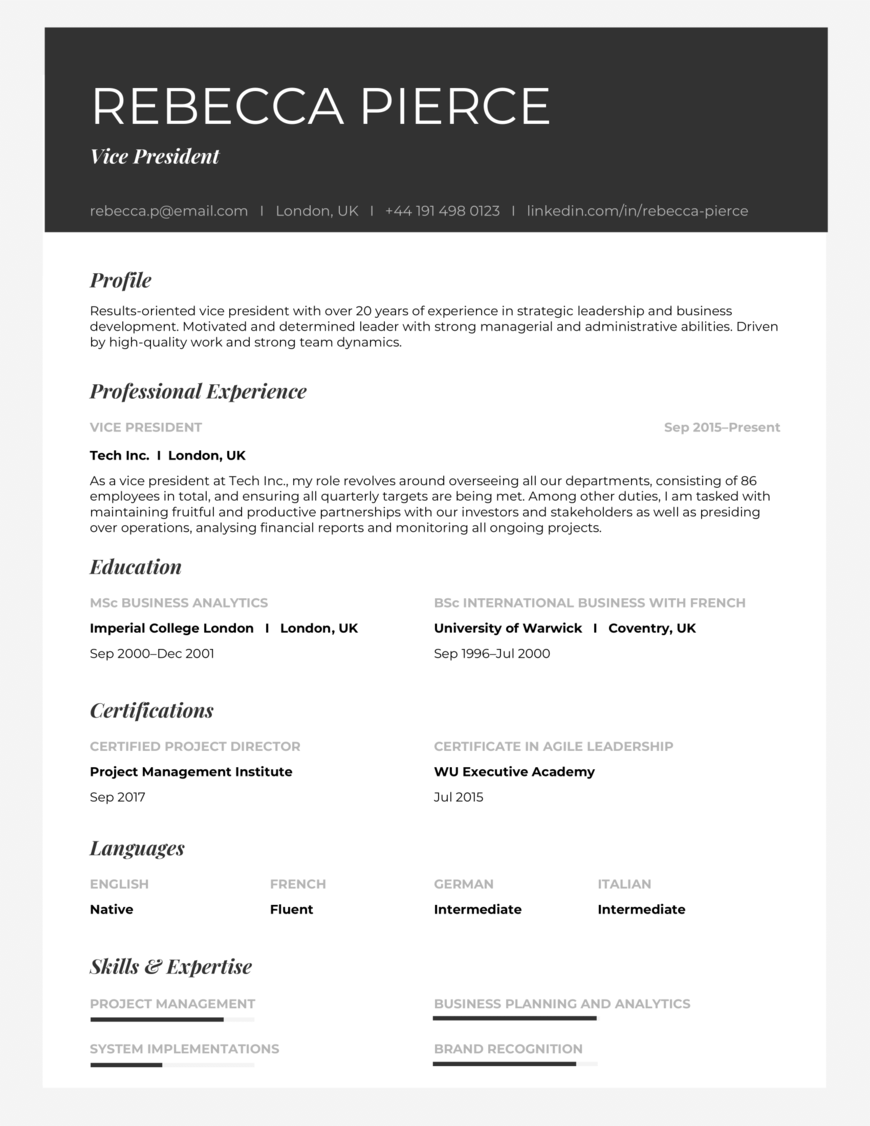 For an executive layout, you can't go wrong with this example. The font itself shows that the applicant means, well… business. The imposing header could serve as a business card, with the following sections serving to build on the applicant's title.
Since this individual has over 20 years' experience in leadership and business development, the résumé doesn't need to use bullet points. Instead, it includes a short paragraph that makes explicit reference to all the things that recruiters want to hear from a potential VP: leadership, stakeholders and quarterly targets.
6. Chic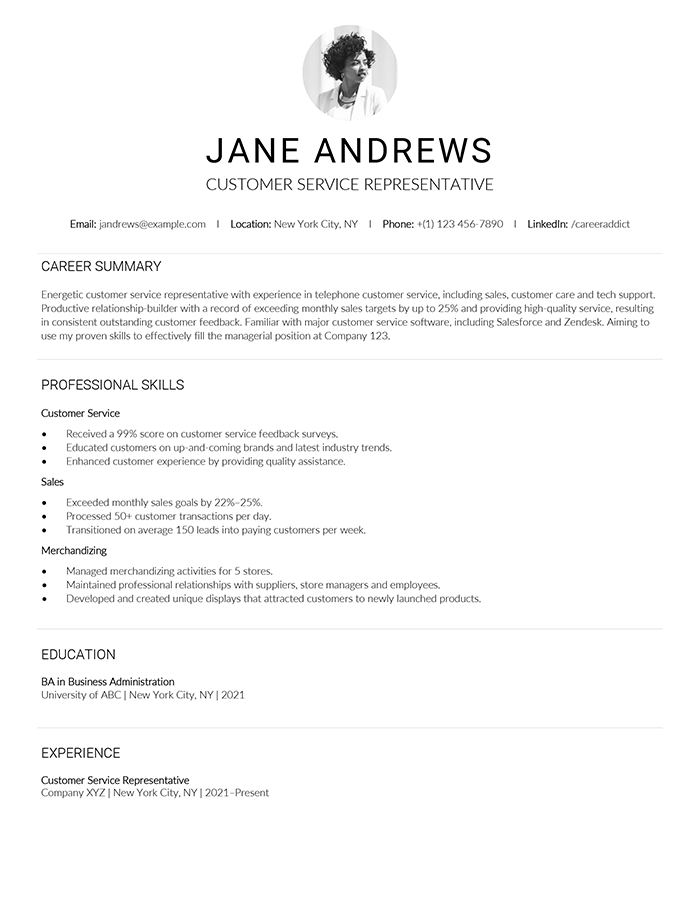 If you're a recent graduate or have limited professional experience, then this résumé template is an absolute must. It avoids a standard chronological layout in favor of a skills-based layout. This way, the jobseeker can showcase their skills while avoiding an immediate rejection due to limited working experience or a break in work history.
Since the applicant is trying to leverage their current experience in customer service into a managerial position, they've also included tangible results and projects in sales and merchandising in addition to customer service.
7. Active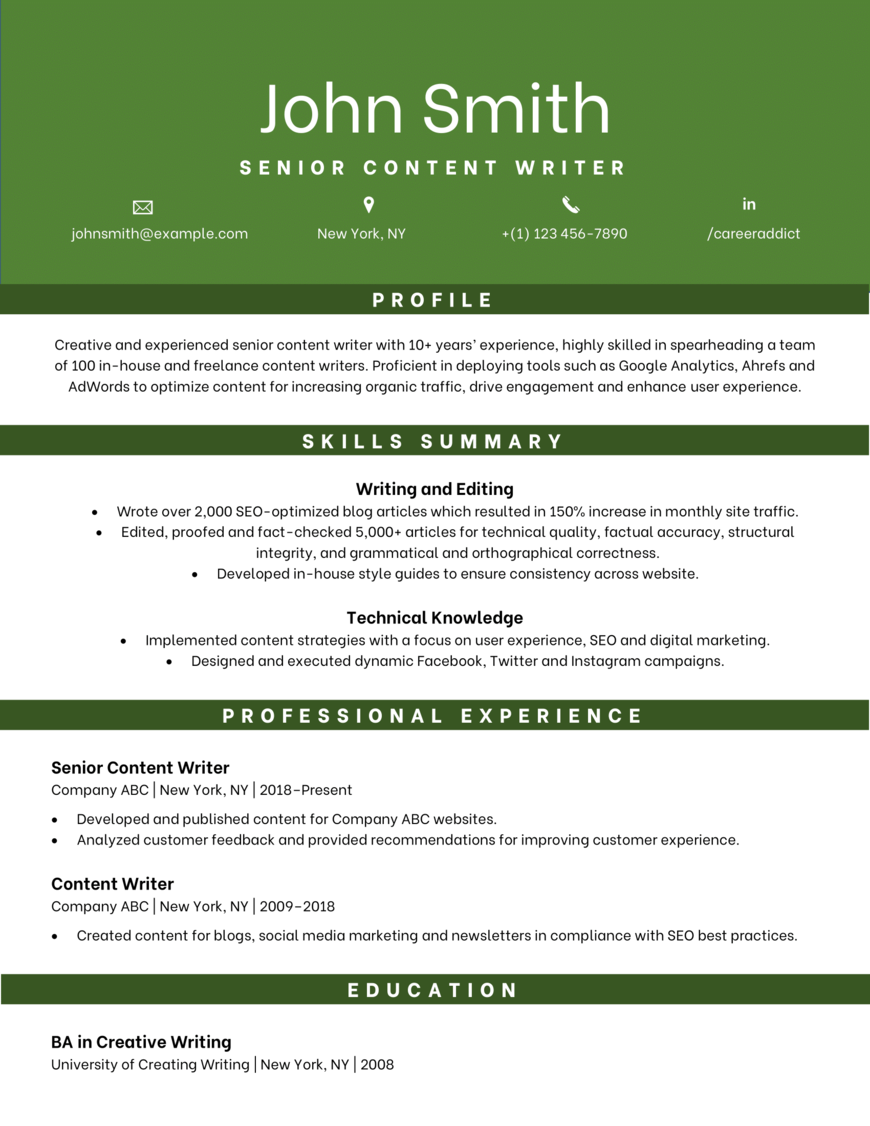 Speaking of skills-based résumés, this example brings the candidate's skills to the forefront to secure work in an industry that is dependent on skills-based hiring. It shows that focusing on skills is a great way for applicants with extensive experience to demonstrate what they bring to the table.
At the forefront of this résumé is a profile section that details the applicant's experience in the field and showcases the skills they have that apply directly to the role. This is followed by a skills summary section that summarizes the applicant's hard skills that are related to the role of a copywriter.
8. Cloud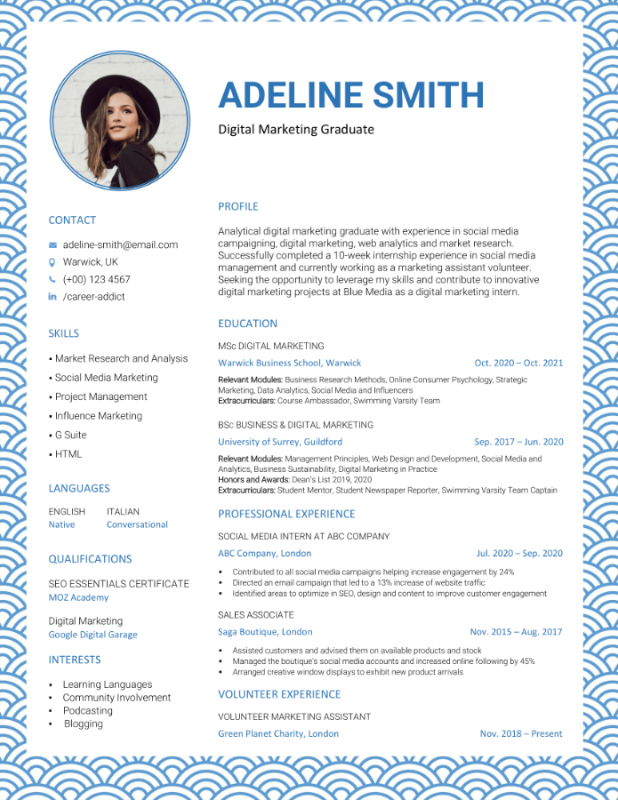 This template makes use of a colorful, artistic border, given the applicant's intended role as a digital marketing intern. The candidate is just entering the workforce, so the section detailing education is given precedence over professional experience. This counterbalances their limited professional experience.
A prominent skills and volunteer experience section are included, both of which show skills directly related to a role in digital marketing. Note that an interests section is also included, primarily because her interests complement her desired internship role.
‌9. Basic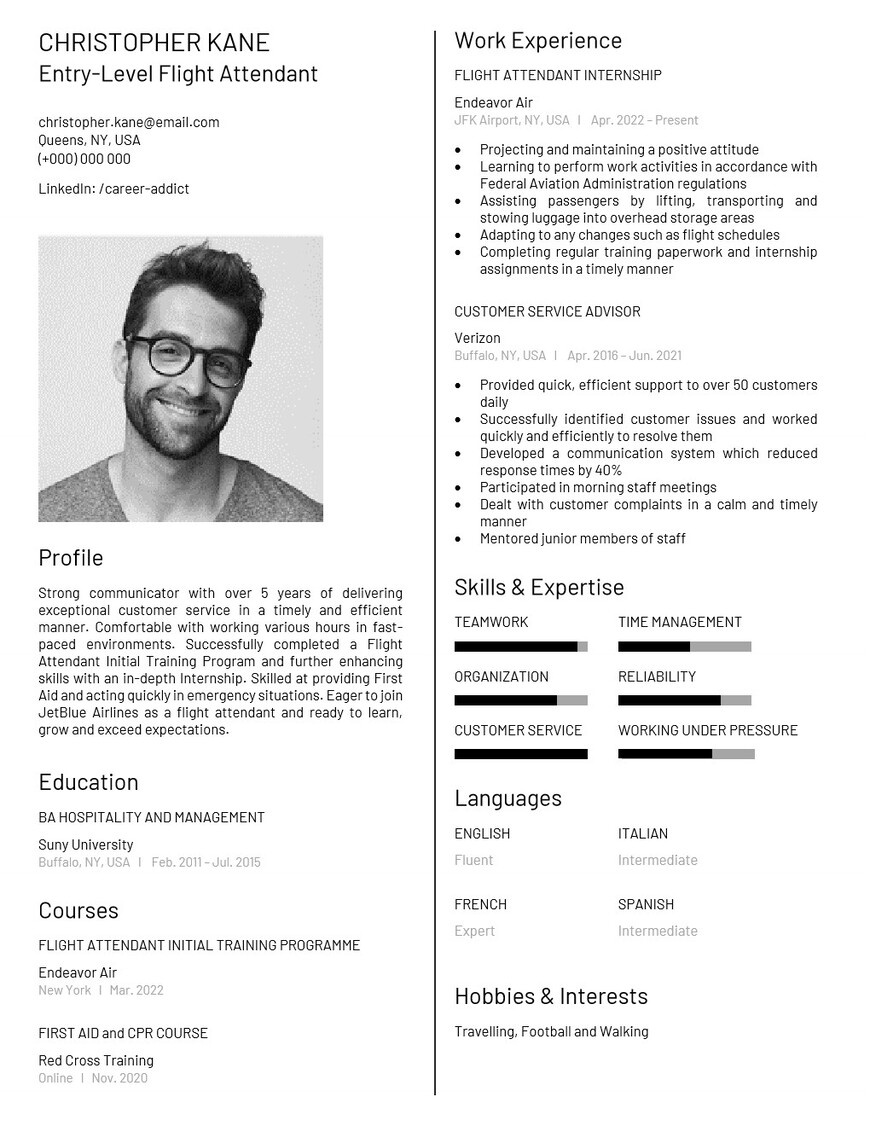 In situations where you don't have extensive experience, it's important to format your résumé to showcase the skills you have that can land you a job in your intended field.
In this example, the applicant makes it clear that they're looking for an entry-level position as a flight attendant, and highlights the experience they have that can land them work as a member of a cabin crew. As an example, beyond a flight attendant internship, they highlight their role as a customer service advisor, which gave them hard skills that translate directly to the role of a flight attendant.
10. Pink Aesthetic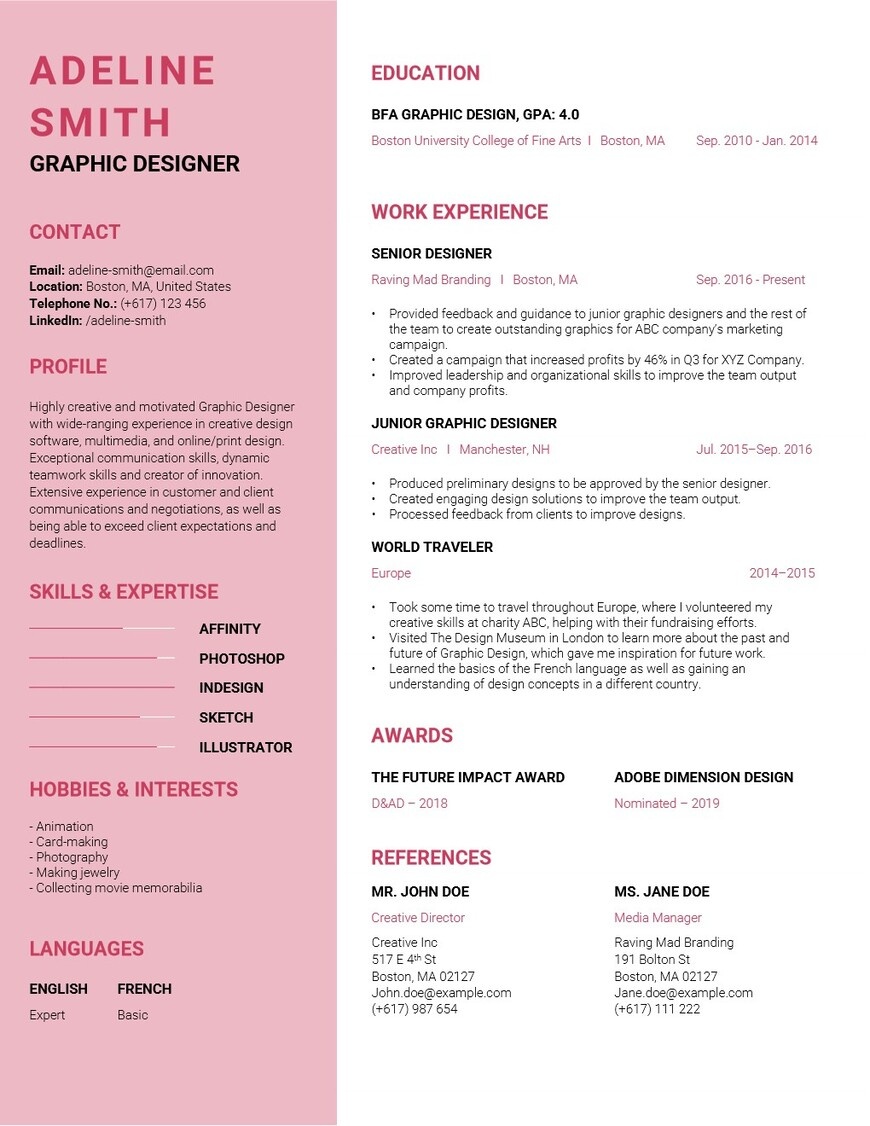 Get the Pink Aesthetic template
As a graphic designer, it shouldn't come as a surprise that this applicant's résumé doesn't fit into the traditional résumé format. The applicant makes use of bullet points, a skills infographic and multiple subheadings to make their résumé more appealing and increase their chances of landing an interview.
The résumé is also a great example of making a gap in work experience work for you. "World Traveler" is used to explain a gap in their résumé between graduating from college and starting a career. Note, however, that even this experience is related back to design and critical skills, both of which are assets for a role in media and graphic design.
Final thoughts
When choosing a résumé format, the most important thing is to choose a format that works for you and the job you're applying for. As an example, it's both standard and even expected that you'll include images and color when applying for a role as an actor or in customer service.
For corporate and office roles, including headshots and color may be a distraction to recruiters, and a waste of precious space that could be used to highlight your skills and relevant experience.
Which of these résumé designs are your favorite? Let us know in the comments section below.